IWONA RADZISZEWSKA: Let's start with your musical beginnings. How did you and the violin come to meet?
MAREK MOŚ: The violin and I? We met in first grade.
Did the meeting happen on its own?
My parents always wanted me to play an instrument and sending me to music school was their decision. In kindergarten I was more interested in theatre than music. I even had a neighbourhood stage set up in Piekary Śląskie, where I'm from. I mobilised the kids and together we staged scenes, sketches, stuff like that.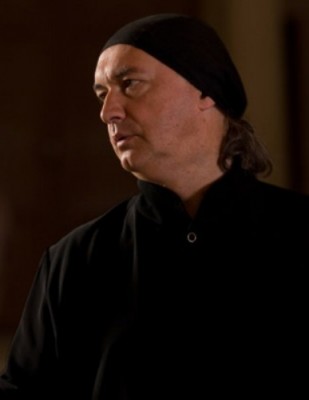 Marek Moś, photo: AUKSO What were these scenes about?
It was mostly text we thought up for the kids from other neighbourhoods. It was probably kids stuff, but after a few years that experience helped me realise that I have been able to unite people behind a common idea and direct them since early childhood.
You mean that under your influence they wanted and were able to express themselves as one?
I could instill in them desire to collaborate. One other memory from kindergarten is the afternoon rest period, which I absolutely hated. When we were lying on our cots I used to tell the other kids that I'm going to learn how to play music. Choosing the violin was mostly incidental. During the entry exams the staff checks your hearing, your psychomotor abilities, and they also look at your hands. The story goes that when they saw mine, they said: "This one can play the violin." It's nice that I was good for something and that someone decided that the violin will suit me fine. That was my start in music. If this was only a coincidence, I guess it turned out okay for me.
But nothing really happens by chance, does it...?
...in that case I would have to say that it was meant to be. Nowadays, my experiences with the violin help me when I'm building the orchestra, because a string quartet is its core. If you don't have a string quartet, you don't have any foundations to build on.
The relationship between you and the violin was tumultous. The tough love seemed to work both ways, although sometimes it went unrequited.
Marek Moś
Conductor, artistic director of the AUKSO Chamber Orchestra since its foundation. Eminent Polish violinist and chamber musician. Educated in Bytom and Katowice, studied under teachers such as Kazimierz Dębicki and Andrzej Grabiec. Founder and longtime first violinist of Kwartet Śląski (The Silesian Quartet), which in a very short time has become one of the preeminent string quartets in Europe. His output includes multiple archival recordings prepared for Polish Radio and Television and other recording companies (CD Accord, Olympia, Patridge, Thesis, Wergo, Nonesuch). Received the "Fryderyk" Award for his recording of H.M. Górecki's compositions (1995) and string quartet compositions by Szymanowski and Lutosławski (1997).

In March 2012, the legendary Nonesuch Records label will release an album of works by Krzysztof Penderecki and Jonny Greenwood made in association with the National Audiovisual Institute.
Love's like that, isn't it? We had moments of tremendous happiness, but they were decidedly shorter than the periods filled with suffering, pain, and tears. Fighting yourself is especially difficult. Working in confined spaces, the dissatisfaction, the difference between what you want to hear and what reaches your ears, it's all tough. And when you think you made some progress, you enter an amazing, albeit short-lived, state of happiness. Then you pick up your instrument and start all over again. You keep thinking: "No, this is not the way to do it." I fused with my instrument quite late in life, many years after graduating college. That's the reason why I never rule anyone out. If a musician isn't all that great after graduating college, it doesn't mean that he or she won't open up, after two years he might turn into a wellspring of talent. It's just another stage in life and some people never reach it. Some people reach it early, some later in life, while others never reach it at all.
What does this "opening up" mean in your profession?
Take singing, for example. You are born with a voice, and while you can shape it, you can work on your enunciation, you can't imbue it with certain characteristics, no matter how hard you work. You speak with that voice, it's you, basically. You have to take the instrument you play – whether it's the flute, the tuba, or the drum – and you have to make it into your voice. With that voice you will communicate with other people. When you play, you speak words. Placing your fingers, blowing through the clarinet, and moving the bow across the strings is only scratching the surface; when you feel that you're speaking to others will your full voice, only then are you truly open. There are those chosen ones, who are born, pick up an instrument and speak a full voice. Others have to work tirelessly, without letting up, to accommodate that ability within their bodies. That painful struggle can go on for years. It was a long road in my case.
Have you reached a level at which you felt fulfilled?
Yes and no. If you're passionate and serious about what you do, then you never reach the finish line. The process of honing your general skill is over – you mastered the instrument. But then other problems arise – you need to reach the text, and you need to be able to retell it to somebody else. You have to be able to read any score and familiarise yourself with the content written by another composer. If you want to give other people music, it is absolutely necessary you move about it. Also, the audience needs to feel that this is a happy process for you. But behind the scenes everything looks a little different. And it gets bad when you're wrapped up in a feeling of happiness for too long. That state should be a red light for you.
But it turns out that life itself drew a finish line for you.
Yes, more than once. The first time happened when I was 25. After my heart surgery, the doctors recommended I find a way to retire comfortably. I was completely surprised. The surgeon and I picked the most quiet valve there was, I didn't want to hear the mechanism churning inside of me. But it wore down pretty fast, so it had to be switched out every time it got too loud. For a person sensitive to sounds, eliminating that kind of noise is crucial. Every 12 years I had to face the question: what if the next operation will make it impossible for me to work? There's only one way to deal with it, and that's by perceiving yourself as a completely healthy person.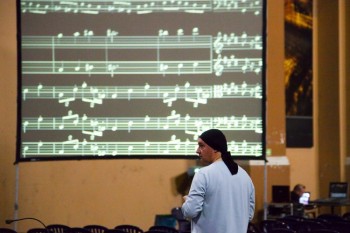 2010: A Chopin Odyssey, photo: AUKSO
Today you're reflecting on that period of your life with calm. But when you were 25, you probably reacted very differently. Were you angry, rebellious?
I had to grow up very quickly. I lost both of my parents when I was 10, and I went on to live with my grandparents. That kind of experience totally changes the world of a child, it becomes more responsible. I don't want to frame my entire story with mourning or to glorify myself just because I grew up an orphan. But the death of both parents sweeps the rug from under you when you're a kid and you lose the feeling of safety forever. You start to build up your strength, because you want to survive.
Getting sick can also damage those feelings of relative safety.
Getting sick might be a true blessing. We don't have time to drop everything and just stop once in a while. My ailment allowed me to look at myself from a different perspective. The time I spent in the hospital eliminated some stages from my life, while it complemented others. It became a turning point. A cleansing of sorts. And it allowed me to start from scratch. Each time the sickness enabled me to ask myself whether I'm making use of the talent that I was given to the fullest possible extent. Today I'm much more sure that I'm doing what I'm supposed to than when I was only 25. Although back then the world of theatre and the written word was much closer to me than the world music. I felt at home in these two places. Still, however, one question seems to bother me: does my life – its direction and how it absorbs me – distorts the truth about me? I don't know.
You came back to playing the violing after both of your surgeries. When did you decide that its time to walk away?
I didn't decide anything. There was something brewing inside of me, and finally, when these feelings were mature enough, my students proposed that we band together and form an orchestra. We decided to give it a shot. Only when I try something out, I always give it 100%. Of course, the newly formed group was frowned upon – there were no posters or banners that would voice the disapproval – but the musical circles clearly weren't happy about the new state of affairs.
Did they perceive it as a threat?
People don't like changes, they're scared of them. Founding our group could have threatened the way of life some people were clearly used to. On one hand it was unpleasant, because I don't like it when people don't like me, especially without some valid reason. On the other hand, I took that as a compliment, that when I attempt to do something, it shakes the foundation and makes people tremble for their beloved status quo.
Your separation with the violin.
It had to come someday. All of my decisions in life were definitive and radical. They just couldn't have been any different.
Walking away had to hurt. It was a long relationship.
Yes, but pain paves the way to liberation. When you get a tooth taken out, at first it's painful as hell, but later you're happy that the pain is gone.
...but you're still left without a tooth.
That's true. But in return you get space where something new can be created. When you're doing something, you need to be fully convinced that's you're on the right track, there is no space for doubt. Right out college, a few of my friends and I started working at the National Symphony Orchestra in Katowice, and back in the day that was a very lucrative job: we traveled abroad, we were paid on time. We were admitted to the Silesian elite. But we also played in a string quartet, and to keep playing in one you need to practice. There just wasn't enough time for that. I don't know where I found the strength to not only leave the orchestra, but to convince a few friends to leave with me, friends who had families, obligations. Playing with chamber ensembles was back then considered a straight way to poverty. We were mostly living off the money we made with the orchestra. That went on for a long time.
Where did the certainty come from in the moment of truth?
I worship only one altar – and that's skill. It's painful, but everywhere I look I see institutions and persons entangled and depended on their connections. I don't consider all connections evil, but our world would be so much better if only the wisest of us would be up there, on top of the pyramid, making decisions.
I think I'd call you a conservative experimenter. On one hand there's a strong attachment to the classics, on the other an inspiring openness towards anything new that music can bring.
That's the way life is leading me, I guess. I'm no experimenter. It might seem so from the outside, but from the inside the picture is very different.
So not only do you have to hone your skill, but you have to keep your mind open as well?
Yes. Be open to other people. I've never made any radical selections in life, like, I'm going to play this, but not this other thing, because it's bad. I performed a wide variety of compositions, not all of them stellar, but I only had one rule: to perform as honestly as I possibly can. So that things written on paper can transcend and become sounds, taking shapes that I'm able to conjure up in that given moment. To put it another way, it doesn't matter whether I'm playing a masterpiece or just a normal piece, I'm always giving it all I've got.
Let's talk about other musicians who are important to you. Wojciech Kilar? Are you two friends, acquaintances, or maybe music is the only thing linking you?
We're many things at once. It's the friction, the atmosphere, imperceptible things. I learned a lot from my contacts in the musicology world; learning contemporary music not only by playing it, but also through conversations and disputes running long into the night. Listening to friends-theoreticians became an accelerated music history lesson. I met Kilar relatively late in life. I've played in a string quartet for over 20 years, and he never wrote anything for a quarter. Usually, I tend to meet composers when I perform one of their pieces. Thus, we met late, but we're making up for it now, I appreciate his friendship very much. I feel special because of it. But he isn't the only important musician I know. There's the Silesian circle of composers, with Eugeniusz Knapik, a composer and pianist, with whom I spent long hours playing Shostakovich and Schumann. His musicial intuition and talent have been inspiring me for years, they still do. Recently I met Krzysztof Penderecki. Filip Berkowicz had an idea to clash the world of classical music with the world of music that's popular among young people, it seems I don't know the correct terminology...
Mykietyn calls it "teen music".
Does he? I guess that works. He was inspired by the 50th anniversary of composing Threnody and Polymorphy, which back then were part of the Polish avant-garde, our attempts at sonorism. Nowadays, compositions from 50 years ago are a sort of reference, a banner for young people playing in rock bands. This is a clear illustration of the fact that eminent composers are often ahead of their times, that these sonoristic rasps and glitches are more acceptable today than they were 50 years. Back then they were absolutely shocking.
Today, that clash is...
...still interesting to me, although I'd have to agree with some of the critics. Often referencing a composition that isn't your own can result in losing oneself, in a way. By trying to reference Penderecki's music, Greenwood was forced to straddle the divide between what he's doing with his band and what he wrote for strings. But, I have to admit, there's a lot of nifty ideas in what they've done.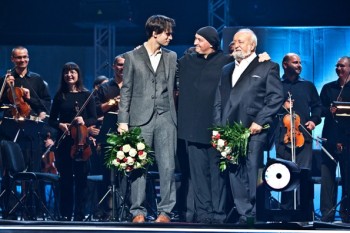 Marek Moś with Krzysztof Penderecki and Jonny Greenwood
photo: Marcin Oliva Soto
But you, in your role as conductor, also had to straddle that sort of divide. For example, during your collaboration with Scott Herring?
You mean that DJ?
Exactly. And judging from the reviews it wasn't straddling a divide as much as trying to manage chaos.
The effect of that collaboration was completely surprising to me. I didn't really know what to expect. At first we received some recorded material, which seemed incredibly monotonous and dull. And we were supposed to play at a festival with lots of DJs, fat beats, huge crowds of people, and towering security guys. So, you know...
It was supposed to be a pop concert with people standing up.
Exactly. I was fully expecting some fights to break out. People wanted a sonic strike and we gave them more of a flow than a powerful blow. The audience's reaction was shocking. I didn't expect them to connect so well with music that even I didn't connect with. The material didn't seem that emotionally attractive to me, that's why I was so surprised with the way people reacted after hearing only one track.
You mean that they were enthusiastic.
I was afraid that they'll going to chase us out of there or fall asleep. And what I saw was frenzy.
Mykietyn's Symphony No 3. A bizarre creation: poetry written on napkins, text messages, a rapping singer, music that at times seems to imitate a beat laid down by a DJ.
I think it's a masterpiece and that only the first performance failed. I dreaded our December concert. Will we be able to convince the skeptics? Will they remain distant and distrustful towards the piece? It's the kind of music that requires unbelievable precision. Only then can you bring out everything that's written down in the score. If the performance is messy, the music seems to be totally chaotic with recitations of text messages thrown into the mix. The piece itself is a pastiche of rap...
What do you mean by "pastiche"?
In the rhythm layer, its pulse.
Maybe "pastiche" isn't the appropriate term in this case?
I didn't discuss it with Paweł.
You're a conductor, so you can say it with some authority.
The worst thing that can happen is the composer hitting me in the face for that... Some lines can't be crossed, but the text has to rapped – and I asked our soloist to do just that. Mixing rap with the mannerisms of a classically trained singer is risky, but you have to trust the composer's instincts. That fusion might just work splendidly. If we can't make it work, maybe someone else will. You have to keep searching and keep trusting. The music part of the Symphony – that's Paweł, all right. We were in a completely different place when we were making Passion – and I'm talking about the aesthetics and textual value. But Paweł, as a composer, hasn't changed so much that we could talk about him turning a new leaf.
While we're on the subject of Passion – does music replace the sacred in that composition, does it express the sacred, or maybe is sacred itself?
It's everything. There're as many kinds of music as there are stars in the sky. There's music with impenetrable doubt and music that best fits events like the Olympics. Each of us has beats in his heart that bring him closer to what is sacred. Music, despite seemingly expressing nothing, speaks volumes about what's unique in us all. What's divine. I have the ability to sense matter and move deep inside it. On this foundation I build my strength, which in turn enables me to lead people. I'm not sliding over the surface. When I'm conducting, I can't give in to emotions, but I touch upon the space where things are expressed, things that truly move people. Things that are impossible to name. There are parts in compositions by Mozart, Shostakovich, and Mykietyn, that make your soul tremble. In these parts I see the presence of a supernatural force, which some people call God. Kilar once told me – we often talk about the Church, because Kilar is a deeply religious man, and I'm not; but that doesn't preclude us from talking about it – that you have to learn to pray by yourself if you want to pray with others. Apparently, I can't. I'm unable to collectively experience something that is personal. There are moments, especially if I'm alone in a church, when the spirit of this place reaches me in a way that the tired routine of Sunday mass never could. For me, the best way to experience the divine is to listen to music and work on it. Music speaks to me a lot better than participating in church rituals ever does.
translated by Jan Szelągiewicz