"I do not come from a musical family," J.M. Coetzee confesses in the essay What is a Classic, which opens his Stranger Shores. He continues: "There was no musical instruction offered at the schools I went to, nor would I have taken it if it had been offered: in the colonies classical music was for sissies."
I. High Risk Opera
It is indeed a rare occurrence for a writer – and on of J.M. Coetzee's calibre, at that – to go back to a novel of his own (the first one published after winning the Nobel Prize), and to find in it the inspiration to write a libretto. It is equally rare for an author to then find a composer capable of penetrating the mental processes of both the writer and his characters, flawlessly interpreting their status and deriving from them the music, which is at times rough and dry, as in Paul's first aria (Paul Rayment, after all, "awakes in a cocoon of dead air. He tries to sit up but cannot; it is as if he were encased in concrete"), and at other times angelic, as in the phrase sung by Elizabeth Costello (Lani Paulson): "We bring in Marijana", repeated by a choir hidden behind the stage.
Coetzee's libretto doesn't span the entirety of the book; together with composer Nicolas Lens, the author shifts his focus to three characters – characters whom director Maja Kleczewska describes as "suspended in lasting". Slow Man is an important and – I dare say it – a beautiful operatic piece. In the remarkably talented singers and dancers, in Kleczewska's subtle treatment of words and sounds (the director has expanded the piece with suggestive film footage by Wojciech Puś), and the charismatic Basem Akiki, Lens and Coetzee have found a team that has met the challenge of this high risk piece.
II. The Interior of the Body
In many languages, the exceptional nature of the human body is emphasised in semantic distinctions: the German word Leib refers to the human body, while Körper is reserved for other bodily forms. The 20th and 21st centuries have ushered in a dominant theme of the body being eaten away by age and disease. This approach to the body, also an expression of defiance against its deification and reification in contemporary media, lies at the heart of Coetzee's writing. In her poem Tortures, Wisława Szymborska wrote: "Nothing has changed. / The body shudders as it shuddered / before the founding of Rome and after, / in the twentieth century before and after Christ." It does shutter, though more strongly and less hopefully. "When we get trembly, trembly" writes Coetzee – not merely at the end of the libretto, but incessantly.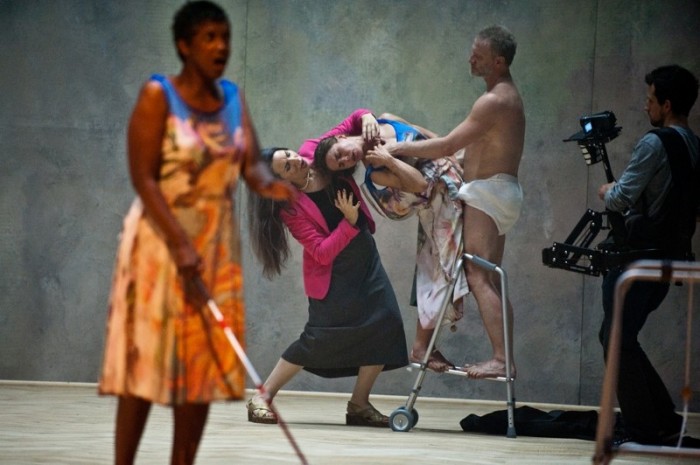 Nicholas Lens, Slow Man (libretto: J. M. Coetzee after his own novel), Bassem Akiki (conductor),
Maja Kleczewska (director), soloists: Mark S. Doss (Paul Rayment), Lani Paulson (Elizabeth Costello),
Claron McFadden (Marijanna), Teatr Wielki in Poznań and Malta Festival Poznań,
world premiere: 5 July 2012, photo: Maciej Zakrzewski / Malta Festival
"Can you imagine old age? Of course you can't. I didn't. I couldn't. I had no idea what it was like. Not even a false image – no image. And nobody wants anything else. Nobody wants to face any of this before he has to. How is it all going to turn out?" we read in Philip Roth's The Dying Animal. There is much that ties this book to Coetzee's work, particularly Disgrace. In fact, David Lurie, one of the characters in Disgrace, devotes a book to Boito and his opera Mefistofele; he also works on an opera of his own, titled Byron in Italy. "Through his mind, while he faces his Communications classes, flit phrases, tunes, fragments of song from the unwritten work."
Whenever I read the novels of John Maxwell Coetzee, I am reminded of a fragment from Rilke's Eighth Duino Elegy: "We set it in order. It breaks. / We put it in order again and break down ourselves." The body ceases to run like a well-organised monastery when it is torn by lust and disease, or – in the case of Paul Rayment in Slow Man – both disability and lust.
Coetzee creates an entire gallery of bodies opened up by violence: ravaged, racked with disease, disfigured. The aging mother of the Cape Town gardener in Life & Times of Michael K falls ill and dies. Describing a drifter, Coetzee writes in Age of Iron: "He held out his right hand. Thumb and forefinger stood out; the other three fingers curled into the palm. 'I can't move them,' he said." In the same novel, Coetzee quotes the words of Marcus Aurelius: "Living (…) calls for the art of the wrestler, not the dancer. Staying on your feet is all; there is no need for pretty steps." Indeed, his characters have not mastered the art of pretty steps, but they also struggle to stand on their own feet. Or – in the case of Paul Rayment, who loses a limb in a bicycle accident – on his own foot.
Jerzy Jarniewiecz interprets Age of Iron as a novel about three homes: a building, the body (the smaller home), and the country (the greater home). Each of these falls apart with great precision. A few fragments of Age of Iron deserve to be quoted in the context of Slow Man:
What do I care for this body that has betrayed me? I look at my hand and see only a tool, a hook, a thing for gripping other things. And these legs, these clumsy, ugly stilts: why should I have to carry them with me everywhere? Why should I take them to bed with me night after night and pack them in under the sheets, and pack the arms in too, higher up near the face, and lie there sleepless amid the clutter? The abdomen too, with its dead gurglings, and the heart beating, beating: why? What have they to do with me? We sicken before we die so that we will be weaned from our body. (Age of Iron, p. 11 – bold inscription by JR)
We begin to be restless for a separate life. Yet this first life, this life on earth, on the body of earth – will there, can there ever be a better? (Age of Iron, p. 11)
To each of us fate sends the right disease. Mine a disease that eats me out from inside. Were I to be opened up they would find me hollow as a doll, a doll with a crab sitting inside licking its lips, dazed by the flood of light. (Age of Iron, p. 103)
Augustine claimed that the body is the prison of the soul, while Nietzsche, in contrast, believed that it is the soul that envelops the body. The latter must be dearer to Coetzee; in Canto 2, Elizabeth Costello sings: "Push! Push! You must push the mortal envelope!" The creators of the opera examine this relationship between the body and the soul. The list of characters has been shortened to just three: Paul, Marijana and Elizabeth Costello. Yet the libretto calls for Paul and Marijana to be a double role. Meanwhile, Costello, the main character of Coetzee's 2003 novel, is a writer born in 1928 who achieves success with the publication of a novel titled The House on Eccles Street.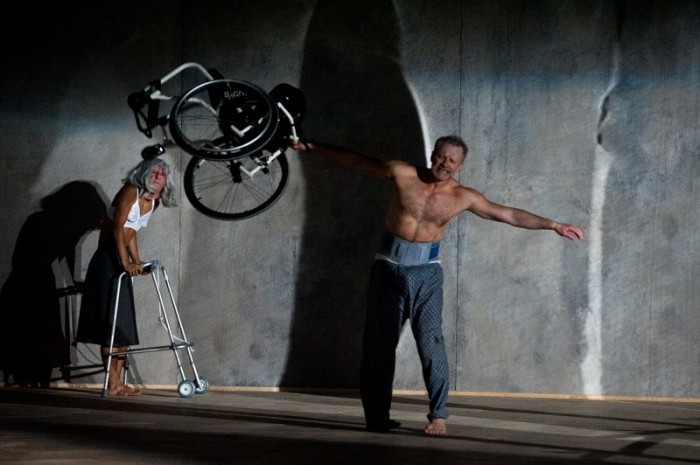 photo: Maciej Zakrzewski / Malta Festival
In Slow Man, Costello appears in Paul's life with a "box of authorial tricks", explains Nicolas Lens in an interview with Dorota Semenowicz. She makes her appearance when the main character of the book she is writing can no longer bear the burden of his own life – nor hers. In constructing the character, Costello attempts to come to terms with her own passing. In constructing the characters of Costello and Paul, Coetzee faces the same challenge (in his latest novel, Summertime, the author turns himself into a paper figure). As he revealed in an interview with David Attwell, "in a larger sense all writing is autobiography".
The libretto, all the characters of which are devoid of strength, also reveals this limited authorial power and the writer's fear of losing his strength and becoming a stranger in his own, aging body. Sensing that he has hurt both himself and the blind Marijana by engaging in a sex act, he hurls accusations at Costello: "You got my name out of the telephone directory. You are just playing with me."
To what end does Coetzee disassemble his characters (into psyche and soma? into the real and imaginary? into the body and spirit?), using a double or doppelgänger? Why do the characters see themselves out of the corner of their eyes? Perhaps this strengthens their belief in their impending doom. While the Nobel Prize winner's story-within-a-story novel deals with itself, with the artistic process, and a person without qualities (Paul lives in the lifeless world of a 19th century photography collection), the opera itself is piece about old age and homelessness, just as unbearable in the creative process as it is in real life.
III. The Coda and the Code
In one of the opening scenes, in which Paul attempts to hobble his way across the stage and Castello lends him her own leg, Kleczkowska appears to be quoting the project An Eye for an Eye (1998), in which Artur Żmijewski portrayed disabled people being lent limbs by the abled. Neither Żmijewski nor Coetzee give us any hope of a biblical miracle: "They saw the mute speaking, the crippled made well, the lame walking and the blind seeing" (Matthew 15:31).
While we're on the subject of biblical reference, there is another fragment of the libretto that deserves our attention. At the end of the opera Slow Man, the novel's goddess/puppet-master asks Paul, her marionette and invalid, "Should I abandon you?" Though her question isn't as powerful as "My God, why hast thou forsaken me", it does bring to mind Jesus' cry of despair on the cross. While some might argue that the reference is an overinterpretation, in the next scene Paul does describe himself as a small fish – a popular expression, true, but one that reinforces the Christian imagery (Jesus – ichthys – fish).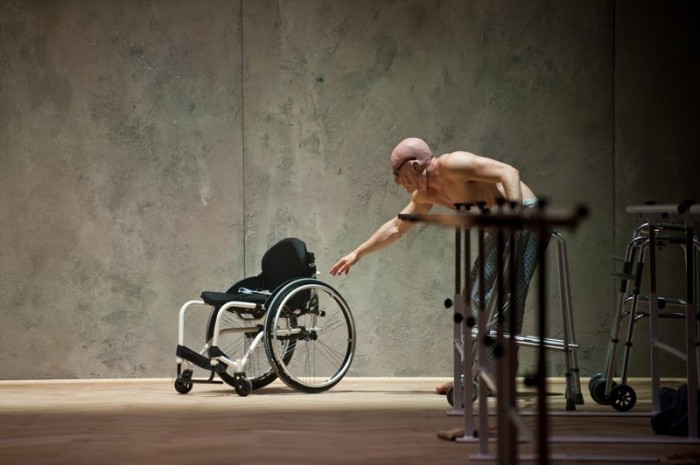 photo: Maciej Zakrzewski / Malta Festival
In Kleczewska's rendition of Slow Man, the man dancing the role of Marijana in this fragment is styled to resemble the Pietà: it is in him that all of the opera's characters converge. Is this the care that Costello sings about in the final scene: love not in the sense of eros, but agape, love that brings comfort in the downfall that inherently comes with the body?
We, we do not need love,
old people, old people like us,
what we need is care.
Someone to hold our hand,
someone to help us down the stairs,
someone to close our eyes for us
when the time comes.
Care is not love.
When we get trembly, trembly. […]


translated by Arthur Barys