In the age of the acronym – "if it ain't got a logo, it's a no-go" – the city of Kraków, and, in particular, the district of Podgórze can now proudly announce the opening of MOCAK – the Museum of Contemporary Art in Kraków. Its Polish name, Muzeum Sztuki Współczesnej w Krakowie would have given us MSWK which, let's face it, wouldn't have looked anywhere near as sexy on the canvas bags, t-shirts, and pendrives already circulating among the city's cognoscenti.
And cognoscenti is the word; the architect, Claudio Nardi, is Italian. Keen to maintain as "much historic fabric as possible", Nardi has created a spacious interior, or, following the Italian theme, "a diffused museum", of over 10,000m2 at a cost of 70 million złoty, half of it covered by EU funds. Alongside the extant administration building of the Schindler factory, which now houses the Museum of History's account of the Second World War, MOCAK is a humble one-storey building in an elegant and economical black cladding, retaining the shed-roof shapes (in titanium-zinc) of the original factory which also spell out an elongated "M". Indeed, an architectural alphabet is important for Nardi here, for the plan of the site is shaped in an "S".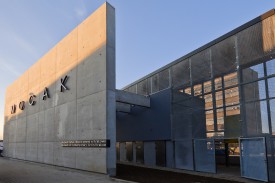 MOCAK, photo: Rafał SosinIt is an impressively modest exterior, its slight gloominess offset by plenty of glass, one stretch of which seems to preserve a brick wall of the former factory, though given a post-industrial touch-up. You wind your way along the s-shaped gravel path to reach the discreet entrance which, along with the anthracite wall shielding the building from the street, rather goes against the architect's statement of accessibility, "a fragment of the city itself". Indeed, Lipowa street, and this part of Podgórze in general, is an area of contrasts, its identity still in abeyance: a crumbling street of meagre shops and abodes lost in the shadows of stylish but empty new apartment blocks. Which also raises the question of access from the centre of the city. It's only a short tram-ride, but then you have to find your way across this forgotten area, through two gloomy underpasses, over a disused railway-track and along the aforementioned street. You have to hope that the city council works with the museum to make this route clearer, brighter and less daunting for the first-time visitor.
Once inside MOCAK (thankfully more Mozart than muzak), you could be in Berlin: glass floors, complex walk-ways, slanting roofs with skylights. Big cold warehouse spaces (which, due to their emptiness, can feel like an underground car-park) turn a corner to find smaller, much more intimate rooms with elegant cladding, or a corridor looking out through glass. There's a large dark room for films, and a long staircase leading down to a capacious basement (and here the glass ceiling is crucial to counter the slightly claustrophobic underground atmosphere), all adding to a multi-layering effect designed to elicit perception, dialogue, ideas.
The real test for MOCAK, of course, will be the exhibitions themselves: which artists they get, how they hang them, how they light them (which may prove problematic in one or two of the building's darker recesses). So far, the museum's permanent collection includes Tomasz Bajer's installation The Minimalism of Guantanamo (2008), Józef Robakowski's video Walking (1973) and paintings by Bartek Materka. The director also announced that she is negotiating the temporary custody of a collection from the Neues Museum of Nuremberg.
But oh for a Hopper, Picasso, Chagall! Just to get this great space up and running, on the map, in the public conscience, and not just in the minds of the city's slightly elitist artistic circles. Yet such is MOCAK's energy and forward-looking dynamism that surely it won't be long before they capture a big name to light up Lipowa street.