AGNIESZKA SŁODOWNIK: You have been producing video and animated commercials, music videos and video art films for twelve years. Two years ago you started making 360-degree films and virtual reality experiences. Can you tell a story using VR?
WOJTEK MARKOWSKI: At first everybody thought it was about empathy. That VR is perfect for drawing people's attention to horrible things, making them explicit. One of the first VR films, the document Clouds over Sidra by Chris Milk, tells the story of a young girl who was living in a refugee camp in Jordan after she had to flee Syria. A sad, touching work. But VR is also great for other kinds of stories, such as stories told from the character's point of view which show how it feels to slip into a specific person's skin. You're looking at the body you slipped into, you can see the hands in front of you. You're not watching the character – you are the character. VR can tell a story much better than film, theater or art.
Is there any difference between a 360-degree film and virtual reality?
Some think that 360-degree video alone is not enough. That VR happens only when the recipient can touch things, influence what he or she is seeing, and walk through a virtual world, which is made possible by infrared cameras that are following you. I think that a well-made 360-degree film or animation is virtual reality, as long as the experience is total, immersive.
Rather than about VR, we're now talking about XR, meaning 'extended reality'. This includes all types of extended, virtual and mixed reality phenomena, in other words, those that merge real and virtual environments, and man-machine interactions enabled by computer technology, also using wearables.
Wojtek Markowski
Film, animation, theatre and VR producer graduated from Polish National Film School in Lodz Poland. Produces virtual and augmented reality experiences, 360 degrees videos and new media projects as founder and producer at Flux-VR. Producer of Sharon Lockhart's films presented in MOMA New York, Berlin Film Festival, Tate Modern, Venice Biennale. Music videos producer including cooperation with Snoop Dogg.
But isn't it simply about entering the represented world through your senses?
What we have here is a new understanding of the medium. Before VR, artists also wanted to engage their audiences as much as possible, but you could always turn your eyes away. There has never been as much illusion as now. Thomas Wallner, a director and cross-media artist, describes it as suspension of disbelief, which means that viewers forget that they are in a place used for watching.
Many of the VR things I saw were irritating, overblown. I felt literally sick. At the Millennium Docs Against Gravity festival I saw a document called In Auschwitz. At one moment, the camera is in the house of one of the female characters saved from the camp. In another moment, it is already in a barracks just above the ground. In another, it goes high up. I can't focus on the content. I'm starting to be afraid of looking down because I'm not sure what I will see. My legs? Empty space? But I take a look, and there's nothing there. God, what's happened to me? [laughs]
You don't have a body.
Besides I'm supposedly transported to another world, but there are subtitles on it with translations of what the characters are saying.
This is terrible in theater too.
Sudden changes of perspective. Cuts. I had the impression that it was made by filmmakers taught to work on cuts. And that is a bad kind of baggage when you switch to VR. I thought that they were not up to it yet.
There are few who are. People started to work in the medium just two years ago. Even people who claim they are experts are lying because they are only just experimenting. But there are some exceptions. This year I worked with the team of Polski Theater in the underground during the New Horizons Festival. We streamed 360-degree video from the container where actors performed Lady Macbeth, directed by Krzysztof Garbaczewski. The camera was hanging from the ceiling, mounted on a special structure right in the middle, while the actors were walking around it, treating it almost like a viewer with whom they have a very close relationship. Krzysiek extremely consciously uses all the possibilities of VR, as well as its drawbacks and limitations, and does a great job. The audience saw the play live through a window in the container, but some of them were standing there with their phones anyway. They could see more on the screens, and the actors were really close but after a slight delay [laughs].
Can you still see it anywhere?
You can see it on the Facebook profile of Polski Theater in the underground. There's also another performance there, Globus Polski, by Oskar Sadowski, who was invited by Krzysiek. We should pay attention to how the new media are used in theater, although there are few artists who can introduce them in their works in a reasonable way.
Editing is not an issue in theater.
It's much easier to talk about VR with theater artists. Filmmakers think in terms of frame composition and editing, but film and VR are worlds apart. Meaning in cinema is created by juxtaposing images. Composition on the screen is something completely different than in 360 degrees. In VR there are no close-ups, editing is limited, and the composition needs to take in the action around the viewer, as well as depth. Cinema uses different types of shots too, but it is more important in VR. Theater directors have less difficulty imagining that the camera is the viewer. They can stage their play around it. Maybe not exactly all around. There would be more action here and less there, but this is not the point. A similar approach is employed by film directors who like using a single long master shot.
If somebody puts you somewhere from the point of view of a child, then, an adult, and finally, a giant, you're entitled to feeling uncomfortable. If you're moved from place to place within a fraction of a second, in other words, during a single frame, it will not work either. I think that abrupt cuts and sudden shifts are possible, but only when they are well-grounded in the story or intentional. Only super-conscious artists know the boundary between an error and a new quality resulting from this error. The most important thing is and will be the idea.
I saw an experiment by my friend, director Paweł Jóźwiak-Rodan, who in his VR experience Out of body showed the story from the point of view of a person's eyes, so you can see the hands and feet. This character has an accident and dies. This is immediately followed by a shift of perspective from POV to an external camera which slowly rises over the dying figure. It is well-grounded in the story and it works.
I'm sure that in VR less is more. Simple stories and ideas are much better than an excess of special effects and action that is happening everywhere at once. A good VR director will make the viewer look in a given direction, in other words, they will not create action everywhere. It's cool to take advantage of the option to make things happen at the back at one moment and on the side at the next moment, but it is more important to make this change in a well-planned, conscious way, so that you avoid going for pure effect.
You go to a lot of festivals that show VR. What things work? What things are the most exciting for you?
VR in contemporary art. At the Berlin Art Biennale in 2016 I saw Jon Rafman's View of Pariser Platz. The installation is a series sculptures arranged around a pair of Oculus Rift goggles placed on a balcony of the Akademie der Kunste facing the square mentioned in the title. After you put the goggles on, you can see the square as it is every day, as if you were watching it without VR. Some people are walking on the sidewalk, sitting on a bench. Life goes on as usual. But soon human figures start falling from the sky, the building that we're standing on is falling apart, and the viewer is plunged into an ocean full of deformed animals devouring each other, which additionally are animated copies of the sculptures I mentioned before.
Unpleasant.
According to Rafman, this represents the contemporary need of being engrossed, fully immersed while consuming the media. Everyone wants to see a movie that will be totally engrossing. We consume large amounts of information, media. In this case the artist's vision can be fully expressed only through VR. This work corresponded well with the theme of the entire Biennale. It was simply impressive.
This year's Biennale in Venice showed C.S.S.C. what is your name? Mary and Eve VR experiment by Paul McCarthy. It continues another work of his, Coach Stage Stage Coach, a reference to Stage Coach, the Western movie starring John Wayne. The viewer is thrown into a strange room with moving walls where multiplied female figures, Mary and Eve, are molesting each other, walking around, or even through the viewer, and screaming 'fuck you' the whole time while watching you. It's powerful. And tiresome. These women are aggressive, brusque, and they get very close from time to time. Here, a couple of characters taken out of a Western movie about the Wild West, where they played a subordinate role, are overwhelming, intimidating.
I also remember La Apparazione by Christian Lemmerz, a virtual meeting with a crucified Jesus. His entire body is made of shining gold, and liquid gold is flowing from his wounds. It's dark, and only luminous sparks are falling from above. The sound drums up the terror you feel in there. Jesus' body is covered with wounds that open every now and then, and you can hear that, as if he was a piece of wood that is breaking. And he's groaning, you can hear that he's in pain. And finally Jesus dies, and you can do nothing about it. Lemmerz said that thanks to VR he could show what was inside of his head for the first time, and it's true that it can transport you into an artist's head. As if into a dream.
Sometimes a dream is so powerful that you want to wake up. Have you ever seen something that you could not stand?
Jordan Wolfson's Real Violence, presented during the Whitney Biennial in New York in March 2017. It's maybe a 90 second shot of a figure viciously beating another person kneeling in front of them with a baseball bat. There's no context, no story, no reason. The choice of the VR technology was not arbitrary as the artist attempted to draw attention to the phenomenon of violence.
A completely different atmosphere can be seen in Lucidreams, which you produced.
It's an experience about sexuality, conceived and directed by The Kissinger Twins, that is Kasia Kifert and Dawid Marcinkowski. After putting the goggles on, you find yourself in a beautiful place, in a natural setting, right in the middle of a small river. There's a fallen tree over your head and the sun is shining softly. You get the vibe that the scenery is very friendly. Once you get your bearings in this place, you hear a voice. A woman's soft, pleasant voice. It is specific, talking to you as if it was your private therapist, a personal advisor. It leads you through the story. It tries to make you relax. It asks you to take a breath and let it out slowly. Suddenly there's a minor glitch in the system. The voice warns you that you may experience mild visions. A woman appears in the stream. She passes you by and you get the impression that she is the distortion, the piece that does not fit the puzzle. Lucidreams is an example of cinematic VR. It will be continued in Distortion. It will be a series of waking dreams. The Kissinger Twins describe it as a poetic virtual reality. It's a cinematic experience but the mood is that of a fairytale.
Are there any works where the space where I actually exist, assuming that I actually exist anywhere at all, imitates the virtual reality? Example: you're falling from a balcony in Berlin and your body is actually falling. Your brain and your inner ear agree.
Alejandro G. Innaritu's latest work, Carne y Arena, or Flesh and Sand, was the first VR experience shown in Cannes ever. There's no swivel chair and all you have to do is take your shoes off and step on the sand. Only then you find and put on the goggles. You find yourself on the U.S.-Mexican border, becoming one of the illegal Mexican immigrants trying to get into the United States. You're in a desert. You can feel the sand under your feet and you can move around it, which totally intensifies the experience of being a person who, for various reasons, wants to cross the border. The fear you feel when staring into the barrel of the gun that a border guard officer is pointing at you and the helplessness in the face of the faulty system are much stronger. This is where really horrible things happen, like families being separated, children being taken away from their mothers.
Tree by Milica Zec and Winslow Porter was presented at the Tribeca festival in New York. It won in the VR experience category. An artificial tree was standing in the festival space, and you could walk up to it and touch it, and in virtual reality you could find yourself inside of the tree and actually smell the forest.
Besides you can always have contact with real objects in VR. You can touch or move them. A company called Ultrahaptics uses ultrasound to enable people to sense non-existent objects.
New things appear all the time. Isn't it frustrating for a VR artist? You come back from a vacation only to find a brand new technical solution. You must be always watching out for things like that.
It's difficult but fascinating. In the 1950s, Hollywood made movies with budgets worth millions, requiring an entire industry. In 1969, Dennis Hopper made Easy Rider with equipment that fit into two small trucks [laughs] and it was a breakthrough movie. VR is similar. In 2013, so not too long ago, a VR production cost half a million dollars and required a team of between 50 and 100 people. After just a few years, it costs a fraction of this sum. We now have cameras, software, distribution platforms.
Huge VR centers have appeared in many countries, giving multiple users the opportunity to live a virtual experience simultaneously, for example, at Imax Vr in Los Angeles, So Real in Beijing, MK2 in Paris, or The Void in Lindon, Utah.
Government institutions, EU agencies and private investors have started to provide massive financial support to companies and research programs in the area of VR. Even U.S. congressmen began working on legal regulations on VR. It's a medium that has such a strong effect on people that we may need a new law to regulate it. I hope it will not involve censorship.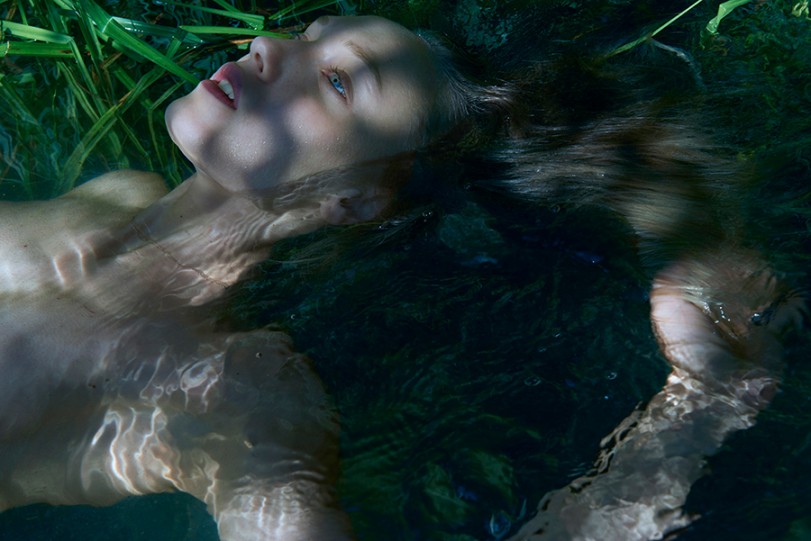 "Lucidreams" by The Kissinger Twins / photo © The Kissinger Twins
An XR community has emerged in Poland. These people, and there really is just a handful of them, have been sharing their knowledge with others. The developers of the Unity engine have a cool approach. The engine is available for free. You want to give it a try? No problem. And this is another reason why it is developing so fast. There are plenty of training movies on YouTube, too. So, there are more and more independent productions.
Besides cinema, where else do people come to XR from?
From games, contemporary art, theater. Edward Saatchi from Oculus Story Studio, which was closed down recently, says that the best VR, which will be made soon, will combine these genres. Until now these have been separate worlds. Guys who spend 12 hours a day in front of the screen probably did not go to the theater too often [laughs]. Theater lovers have no idea what Doom or other cult games are. VR will combine fun from game-like interaction, the actor's physical closeness in theater, and cinematic drama, and a lot of people are waiting for it. Then people will stop talking about a fad and asking whether VR is just a gadget.
So, it is still a kind of a newborn.
A newborn, yeah [laughs]. An experiment. We must build and tear down, build and tear down.
Where can you see the best VR art projects?
The most interesting projects can be seen at the Tribeca, Sundance, CPH Dox, Sheffield Doc Fest or IDFA festivals, as well as in museums, galleries, theaters and, increasingly often, in VR cinemas.
What about Lucidreams?
Lucidreams was presented at the Experience festival in Brussels in June 2017, and at Digital Decade in London in August. The Polish premiere is coming soon.
Translated by Michał Banasiak