Young Polish writers are returning more and more to poetic styles, such as so-called turpism (designed to be anti-aesthetic by introducing tones of ugliness) or surrealism, that were most popular about a half century ago. It may be that the selection of forms of expression that rely upon the deformation of reality signals a disenchantment with the palpable "here-and-now" as well as an unwillingness to engage with running socio-political debates. Either way, Siedlecka's stories are not based in any defined time or space. Admittedly certain set pieces connect some of them to the twenty-first century, but there are also tales in the collection that take place in other worlds (such as the remarkable story "Children").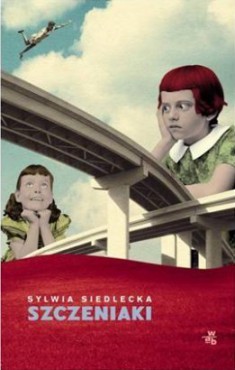 Pups, Sylwia Siedlecka,
W.A.B. Publishing House
Warsaw 2010, 232 pagesAlthough many characters and situations described in these stories have an oneiric provenance, and the development of the plot follows the logic of dreams, in other cases what we have is really discreet surrealist staffage. But what connects these works is the fact that for the most part their protagonists are sick people, physically or mentally deformed, abandoned, forced into the margins — of literature, too. In exhibiting their world, the author commemorates their existence, which we see especially in those stories in which the narration is entrusted to a sensitive young woman trying to alter the order of things, to return a sense of humanity to those condemned to inertia and oblivion ("Plaster", "Last-Minute", "Hotel Barcelona"). Although the behavior of the self-appointed "sisters of mercy" is irrational, at the same time that serves to motivate them: it comes from a deep-seated sympathy. The gestures of the women protagonists seem crazy only because they differ sharply from the indifference generally shown to those wronged by fate.
Pups is an exceptionally coherent collection. It's held together by the same philosophy, the poetics of surreally distorted reality, as well as Siedlecka's engaging, lyrical language. The evocative sequences depicted here are simply captivating, and they remain in your mind for a long while, forcing you to rethink your understanding of the world. This book cannot be ignored, nor its author, who has shown herself to be a truly unique personality from the very start.
translated by Jennifer Croft
The review was originally published on the Book Institute's website.