Does design have to be expensive? Do high quality and high prices always go hand in hand? Is there such a thing as a good design for everyone? Market research shows that consumers want their products to be cheap, good quality, and classy. The exhibition 1 Euro Design at the Institute of Industrial Design proves that this can be done.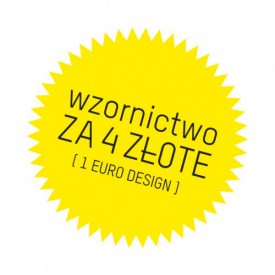 In the exhibition catalog, curator Beata Bochińska predicts that excellent design will soon be available for free or at low cost — just like today's 1 złoty cell phones. Or like Facebook, where we pay for a high quality product by providing our personal data. For the time being, price tags of zero are limited to the internet, but Bochińska claims that "a similar business model could be used outside the internet, […] as long as the transaction is beneficial to both the buyer and the seller."
While there is a dearth of free, high quality design, many specimens can be found for pennies. 1 Euro Design was created by people who work with both the theory and practice of design every day. Their aim was simple: to find mass-produced, everyday objects of remarkable quality that are also excellently designed and are the cheapest in their category.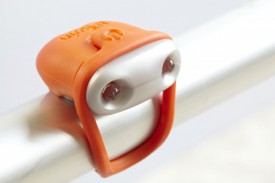 Bicycle LED - B'Twin V i00,
B'Twin group, proj. Maxence CouthierThe organisers selected eight categories: from transportation to education, high-tech, and hygiene. Selected products were further sorted into three "zones", reflecting our biological rhythms: morning, day, and evening. The purpose of the exercise was to emphasize the everyday applications of the objects and highlight the fact that examples of beautiful design can be found in our own homes.
The symbol of the exhibition is a wooden shaving brush with natural hair, priced at less than 3 PLN. Simple, durable, and practical, the brush is a prime example of timeless design. And it's cheap, too. The same "morning" zone also features a classic white mug with a comfortable handle (5 PLN) and a slightly retro, enamel bread basket from Olkusz. Each of the exhibits is labeled, providing the manufacturer, the price, and the name of the person who suggested the object, as well as a short explanation for the choice and the price range of similar products.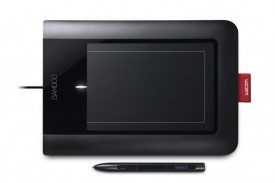 Bamboo Pen tablet, Wacom,
proj. Wacom groupThe last bit of information seems to be the most relevant, as it shows us how often we overpay for well-advertised products whose quality is comparable to that of the cheapest alternatives. One good example is the Bamboo Pen tablet (199 PLN). Prices for similar products can reach 1,000 złoty, while this one costs a mere two hundred and appears to be a decent quality device designed for both right-handed users and "lefties". The tablet is black and simple, with a small logo and ergonomically placed buttons. It's classic design and elegance in one.
The most expensive product, also part of the day zone, is the Škoda Yeti (63,000 PLN), which was chosen car of the year in 2010 by the thrifty Czechs. The massive and spacious vehicle makes quite an impression, as does the Polish-made "Jantar" bicycle, which is deceptively similar to the Dutch bikes prized by hipsters. The only difference is that the "Jantar" is much lighter, costs 648 zł, and is guaranteed not to fall apart in the middle of an intersection.
Notable products in the evening zone include children's books, particularly the sixties-style story About Mr. Tralaliński, by Julian Tuwim, as well as an educational title that just happens to be about design. We'll also find pretty lamps, a comfortable and eco-friendly mattress, and a classic, navy-blue striped beach chair.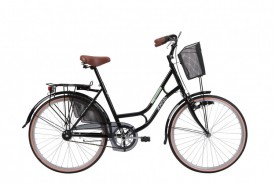 Municipal bicycle Jantar S 2010, Kross,
proj. Kross New Product and
Technologies DepartmentThe exhibition forms a labyrinth. Each subsequent zone features a darker shade of green and an increasingly complex spatial arrangement. The corridors lead us towards a large screen presenting products discovered by visitors — anyone who finds a cheap and well-designed object is encouraged to share.
The 1 Euro Design exhibition is well thought out. At the door, each visitor is given an audio-guide that helps navigate the labyrinth of exhibits while providing an accessible explanation of the concept behind the exhibition. The inspiring mini-catalog accompanying the audio-guide provides space for notes (visitors are encouraged to rate the objects). Pictures submitted by guests of the exhibition make it a constantly evolving project, one that we can view again and again, since admission is free. As you can see, the exhibition itself is a "zero euro design".
1 Euro Design. Institute of Industrial Design, Warsaw, 27 January – 31 March, 2011. Curated by: Beata Bochińska