KLAUDIA BARANOWSKA: What inspired you to write an opera about Maria Skłodowska-Curie?
ELŻBIETA SIKORA: There's a story behind why we chose her as our character. I was getting ready to retire from my career in education about six years ago when I decided that my next piece was going to be an opera. I also knew that I was going to look for a character that would be a contemporary woman with a very strong personality. And so I set off to find her, searching in literature, history, etc. One day I was talking with my close friend Krystyna Szuminin, who is a scientist, and we began brainstorming names of women. One of us said "Maria Skłodowska-Curie". And that's when I said, "I think I've just found my character."
But it was actually an intuitive decision. First of all, Curie was Polish, and second, she was a person who set off into an unknown world where achieved great success, and we all think of her as a strong woman, and that's just what I was looking for.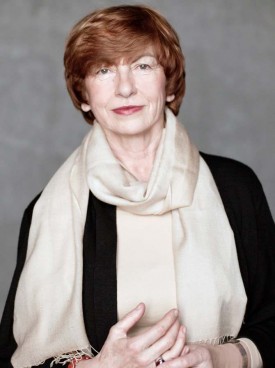 Elżbieta Sikora, www.culture.plWhy did you choose Madame Curie to open the new "Opera Gedanensis" series at the Baltic Opera?
MAREK WEISS: I was good in chemistry as a young boy and I wanted to grow up to be a scientist. Maria Skłodowska-Curie had always been my idol, not just an example of a distinguished scientist, but also a fantastic person and great woman. I was raised by my mother, whom I looked up to very much, and in a sense I treated Marie Curie the same way — she was like a mother to me. My admiration was a bit over-the-top, but she was very important to me.
I'm very happy that the new "Opera Gedanensis" series at the Baltic Opera opens with this particular piece. Although I must admit that Marie Curie was one of many characters that Elżbieta Sikora and I were considering. But then it was announced that 2011 would be the Year of Marie Curie, and everything just fell into place naturally.
Can a character like Marie Curie serve as a magnet of sorts, a figure that attracts a broader audience? Does the opera demythologise Marie Curie in the way it presents her? What was the concept behind the character?
Marek Weiss
Marek Weiss is a theatre and opera director, the general and artistic director of the Baltic Opera since 2008 and a full-time stage director at the Warsaw Chamber Opera since 2006. He was previously associated with the Music Theatre in Słupsk (1978–81), Teatr Wielki in Warsaw (principal stage director, 1982–99 and 1992–95), Teatr Północny in Warsaw (1989–91), and Teatr Wielki in Poznań (artistic director, 1995–2001). He is the author of the novel Boskie Życie.
MW: She actually isn't very well known in Poland. People tend to think of Marie Curie as an old, grey-haired chemistry teacher, a noble but boring woman. That image has nothing to do with the real Maria Skłodowska-Curie, whose life was extremely turbulent and who was an insanely complex and dynamic person who spent her entire life in a state of profound depression. They say she couldn't stand fame and glamour, and hated having to deal with people. She was a very intricate person in psychological terms, yet she had the great gift of resilience in the face of adversity. Whenever fate would strike her down or someone got in her way, she would muster up her strength and emerge from her shell as a true warrior. That really helped her in life.
Maria Skłodowska-Curie might in fact be a draw for audiences, but I wouldn't want that to happen the wrong way; I don't want people to come and see the stereotypical old lady. Perhaps all the media attention given to Maria Skłodowska-Curie during the centennial year will help people find out more about her.
Elżbieta Sikora
Elżbieta Sikora, born in 1943 in Lviv, is a Polish composer who has lived in Paris for 30 years. She earned a degree in sound engineering and went on to study electroacoustic music under Pierre Schaeffer and François Bayle at the Groupe de Recherches Musicales in Paris, before returning to Warsaw, where she studied composition under Tadeusz Baird and Zbigniew Rudziński at the Music Academy. Her work has been performed in most European countries and overseas, including such events as the Avignon Festival, Festival Estival de Paris, Dresdner Musikfestspiele, "Fylkingen" in Stockholm, in Bath, the "Synthèse" Festival in Bourges, as well as at the "Warsaw Autumn" Contemporary Music Festival.
ES: I didn't want Marie Curie to be that person we all know from our school textbooks — a scientist who worked tirelessly from morning till night in search of new discoveries — but a flesh and blood person that had her own intense emotional and academic life, a life in every sense of the word. I wanted to depict her as a real, live person and a woman at that.
The opera is actually an elaborate monodrama. Marie Curie never leaves the stage. The same is true of the score. Aside from the entrances of the choruses and perhaps a few orchestral parts, Curie is on stage and singing the entire time. Marek and I immediately knew that Anna Mikołajczyk was the right singer for the part. She was our first and final choice, and I'm very happy that we managed to cast her in the leading role.
Considering your work and background as a musician — you studied under Pierre Schaeffer and François Bayle at the Groupe de Recherches Musicales in Paris — one might expect there to be some electronic elements to your music. What role do electronic sounds play in this opera?
Madame Curie at the
Baltic Opera
The world premiere of the Elżbieta Sikora's Madame Curie (libretto by Agata Miklaszewska) was held 15 November at the UNESCO conference hall (concert performance). The Polish premiere took place 25 November at the Baltic Opera in Gdańsk. Musical director: Wojciech Michniewski, director: Marek Weiss. Featuring: Anna Mikołajczyk (Maria Skłodowska-Curie), Paweł Skałuba (Pierre Curie), Tomasz Rak (Paul Langevin), and Leszek Skrla (Einstein).
ES: The electronic elements were planned from the very start, and I admit that that's one genre of music that I very much enjoy and have been practising for many years. But I made sure it didn't play a dominating role in the opera. It emphasises certain musical details and signals special situations, particularly those associated with dreams. Some of the effects, such as those in the war scenes, are similar to the kind used in film. Electronics play an important role in Madame Curie by complementing the orchestra. They're not always audible. I tried to compose the electronic sounds to make them just another part of the orchestral sounds.
Was there anything that surprised you in the music to Madame Curie?
MW: I found it to be a very challenging experience. The music is insanely complex and very richly textured, and on top of that this was my first time coming to a rehearsal without knowing the piece beforehand. I'm used to having the entire opera in my head by the time I start working with the team. But that just wasn't possible with Madame Curie.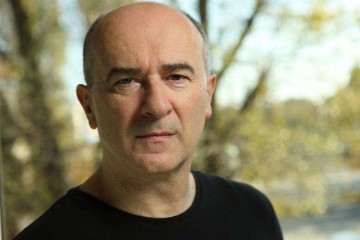 Marek Weiss, www.operabaltycka.pl
Madame Curie seems deeply rooted in modernity, not just in terms of music, but also the set. The character of Maria Skłodowska-Curie can be treated as a reflection of the modern woman. She was, in a sense, ahead of her times. She was regarded as a liberated woman, a feminist.
ES: The opera does have a very strong contemporary message. I'm a contemporary person and I write music that can be described as contemporary, since we have yet to come up with a different name for it. The music used in the opera also places it in modern times. That's my personal musical language, and so it's hard for me to step back, judge it and give it some label.
The problems associated with being a woman were not my main concern. My assumption was that Marie Curie was a strong and active woman. The problem lies elsewhere, in her anxiety — or so we assume, as that's something we'll never know for certain, and anyone can suffer anxieties of that type for any number of reasons, in any era.
translated by Arthur Barys