We are in for a ghastly year: they will be hassling us with Chopin and Chopin with us. As a consequence of the Mozart Year no one wants to talk about the music of Mozart to this day today. The idea of the Chopin Year, the fact that we will be harping on about Chopin all year round, seems anti-Chopin and terrible to me, given the intelligence, gentleness and otherness of his music. Is it really something you can exploit throughtout a whole year?
I remember my first encounter with Chopin very precisely. I think it was two years after Stalin's death, in 1955, maybe 1954. I was about fifteen years old. Classical music was not listened to in my family home. My father was tone-deaf, although my uncle, Wawrzyniec Żuławski, later became the Chairman of the Polish Composers Association and everyone in the family was musical. My father used to sing horribly out of tune. Music was not a topic at my home.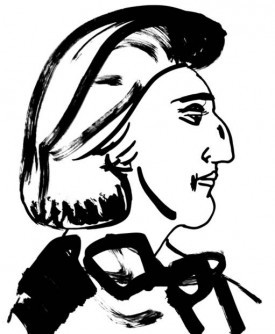 illustration: Edward DwurnikAt that time, I was in love with Julian Tuwim's adorable adopted daughter, whom Mrs. Tuwim, Zosia, had found in an orphanage. Her parents had probably died in the ghetto. The girl was smart as hell. One day, when we were at her home, she said to me: "Listen, I need to turn on the radio because they will be broadcasting Mr. Chopin's Second Concerto. I especially love this one so forgive me, but please stop talking to me now..." We were kids, it was a platonic love, actually the only one in my life that I have good memories of… She turned on that radio – I cannot remember who played, I did not have any idea about it then anyway. She made me sit through the concert. And so my ears opened.
It is not like I did not know classical music at all. But it had been more Debussy, Ravel, relatively easy things, my father being unable to perceive anything else. But suddenly I was confronted with music that, while it keeps the appearance of being very easy, is extremely difficult, deeply moving and subtle. Eclectic, I would say.
After that evening I started to listen to Chopin. I had to persuade my stingy parents to buy records, and they were not easy to get. I was also able to spot a little bit on the radio. And actually, beginning from when I was fifteen (and I will be seventy this year) music in general, and Chopin's music in particular, have never left me.
When I was working on the film La Note Bleue, about Chopin and George Sand, I got hold of all of Chopin's recordings produced by the great company Eratonis, at that time still on tapes. I listened to that on my walkman with relentless admiration, with a feeling of great closeness.
I listen to all kinds of things. I like to listen to rock'n'roll, if  it's good. I listen to the Americans, minimalists, Carter, John Adams, Gubaidulina. I listen to music in general. But I keep returning to Chopin.
There were attempts later to put young people in Poland off Chopin, as he was made the official, flagship composer of the Polish People's Republic. They played his music from dawn to dusk whenever the slightest opportunity occurred. First it was on the radio, then on TV in newsreels, at Party or military celebrations. People began to associate his music with pseudo-patriotism; because the authorities seemed to think Chopin's music was plain. What is more, someone cooked up a story that this music was based on elements taken from Polish folk music, which, as it is commonly known, is completely untrue. As if it was ours to the bone, music of the land. Not some kind of fashionable, sophisticated stuff from Paris, but our own music.
I was not so eager to listen to Chopin in those days. And when it all, fortunately, collapsed, fell apart and it was possible to take up Chopin again, the great wave of love returned to me to the extent that, when they threw me out of Poland and I landed in Paris, I was plagued by the thought that Chopin's experiences might be close to me; because he also died and lived the love story of his life there. A very difficult one, with a Frenchwoman. I started reading his excellent correspondence and realised he was a highly intelligent man. Incredibly virulent, but at the same time apt and accurate in his psychological descriptions of people's characters and situations. In the salons of Paris they called him an oyster sprinkled with sugar. There had to be something to it.
One day I decided I would make a film about him that would focus on the last day of his life with George Sand. Not only because it was then that the cocoon he had laboriously built himself in exile began to fall apart, but also because, generally, he composed nothing new after that. He only corrected things he had outlined before. And then he died, a few years later, probably from worry. To this day it is unknown if he did suffer from tuberculosis.
So, from that very early day spent with the young Ewa Tuwim until this day when, as a very grown–up person, I made the film – Chopin has stayed with me. He is like a family member.
I am not a professional biographer so I will not bother Chopin anymore. What I had to say, I said in the film.
When we were making the movie we used to sit down over a glass of wine with Janusz Olejniczak, every evening after shooting, and we asked ourselves whether Mr. Chopin would be pleased with us. But not in the hagiographical terms, more in terms of some kind of truth. Also musical truth. I admit, with pleasure, that I contributed to making this thing more true as I forced Janusz to play historical instruments. After all, iron piano frames were only introduced in the year of Chopin's death. He played on wooden frames. This is a different sound, much more difficult to modulate. And Janusz agreed, with great pain. He said: "I'm driving a Mercedes and you want me to switch to a Trabant." My reply was: "Well, but Chopin played such a Trabant and it was what he composed this on."
This is a very modest confession, although it does not sound so, but the best Chopin recording I know is Janusz Olejniczak's album with music from the film La Note Bleue. Besides, Pogorelic's concerts are admirable. Martha Argerich has her great moments too. But there is not so much of that. I get terribly irritated when they sing praises to that whole Polish school, whose last quintessence is Mr. Blechacz. Blechacz is a very decent student, period. Nothing more.

interview by Anna Opolska
translated by Michał Czarniecki