A purported psychological portrait of the emo subculture and the gaming community, Suicide Room struck me as much deeper than the advertisements claimed it would be, and seemed consciously old-fashioned. Not so much in the style of the music or the costumes, which were loosely based on what young people actually listen to and wear; and not so much in its antiquated depiction of the internet as a symbol of escape and detachment from reality. It doesn't even matter that high schools like the one mocked up in the foyer of the Agora publishing company don't actually exist in Poland. Komasa made a film ruled by the laws of emotion, the dynamics of hysteria, and the aesthetics of a melodrama.
1. Who's the lonely one?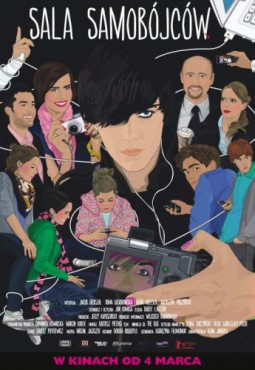 Suicide Room, dir. Jan Komasa.
Poland 2011, in cinemas 4 March
(world premiere at Berlinale
12 February 2011) The tangent chosen by the director is signaled within the first few minutes. The story, framed by scenes depicting the stage of an opera house, opens and closes with solo performances: the first is a rendition of Schubert's "Der Doppelgänger", and the finale features a ballerina dancing to one of Chopin's mazurkas. We are then presented with survey of the family members, the movie's leading roles. Sadly, the personal world of each individual character is one that we will not leave throughout the film's entirety ― characters who never meet, never understand each other, never see each other. The tears come effortlessly.
Meaningfully, a large part of the film takes place during a family outing to Gluck's Orpheus and Eurydice. We accompany the characters in watching the opening of a production by Mariusz Treliński, where Eurydice commits an over-the-top suicide, combining slit wrists with an overdose of pills. The image the mother, father, and son watching the play disinterestedly from their balcony seats foreshadows the finale. But the only one to mourn the death of the heroine is a government minister's blonde daughter, whom the adults unsuccessfully attempt to pair up with the film's main character. Is it because self-destruction, unavailable to her in real life, can cast a shadow on her soul when experienced in art?
Gluck wrote his opera almost the same year as Goethe published The Sorrows of Young Werther, which provides obvious context to the emotional suffering of Dominik (Jakub Gierszał). Komasa is clearly interested in "painful beauty" and the picturesque nature of sadness and grief. The aesthetic fascination with suicide has its roots in Japanese culture, Romantic literature, and the writing of de Sade, not to mention Sleeping Beauty. The recent popularity of morbid eroticism, from True Blood and the Twilight vampire saga, to the dark makeup on the faces of emo kids, has made its long-awaited appearance in Polish cinema. As I watched Suicide Room , I drifted off towards distant Japan.
2. Arty martyrs
Melancholy demands that we believe in the profundity of emotions, not happiness. It treats feeling as a purpose in itself, one amplified by loss, catastrophe, and drama. It finds everyday affairs superficial, and searches instead for authenticity, in the belief that only love (a community in death) can bring change. This philosophy is especially prevalent in the Japanese tradition. From the ancient codes of the samurai, through the kamikaze tradition, up till today's anime, Japan's romance with death is apparent.
Why, then, is sadness so beautiful, and death so attractive? Firstly, it makes us sensitive. Sweet sorrow over a tragic fate, painful participation in someone else's suffering, holds a longing for the unattainable, a heart-rending desire. Melodramatic sensuality evokes feelings of "devotion, nonchalance, the closeness of danger, the wonderful mixture of nothingness and vital strength" (Yukio Mishima, Confessions of a Mask). It also gives us the sense that we are exceptional. It makes every gesture and every word theatrical. And life, if it has no meaning, can at least have artistic value. Finally, it makes us feel alive. Our fragile vitality foreshadows the end. It is the fear of death that tells us we are alive. According to Japanese tradition, it is death that confirms the existence of life. Is it pretentious? Of course. Suicide cannot be unceremonious. But on the other hand, every good drama is an elegy.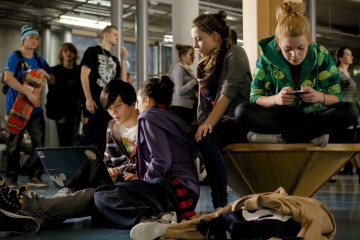 screenshot from Suicide Room, dir. Jan Komasa
Going back to the movie: one scene in Komasa's film depicts Dominik flying by a moonlit, Burtonesque graveyard, like a virtual Peter Pan, on his way to the ocean, where he sits upon a swing suspended in thin air under the starry sky. The names on the gravestones are far from random ― among them is Yukio Mishima.
Mishima, a Japanese devotee of the philosophy of the end, glorified a kind of death that was not sudden, but instead resembled a "murmuring brook, endlessly pouring its pure waters into our world." He might not have gone down in history if he hadn't committed seppuku after a failed coup d'état on November 25, 1970, crowning the theatrics with his own death. Finally ― life and art become one! Sarcasm might be inappropriate; after all, it isn't just a fulfillment of a myth, it's the fate of a particular person, an artist. Youth and genius become immortal: James Dean, Kurt Cobain, Heath Ledger, history has seen scores of them. (Only suicide at a young age can bring out what is most valuable in death.) The first, of course, was Arthur Rimbaud.
3. Can one kiss change everything?
The most believable scene depicts students kissing at a prom, an erotic play caught on a cell phone and posted on YouTube. Two girls kiss on a dare, with no emotion. But something happens when two boys do the same: tension, risk, the pleasure of breaking a taboo. This moment truly feels "here and now", and the jealous crowd tears it away from them, claiming it as their own. Is Dominik's sudden realisation of his homosexual identity the cause of his grief? Does he take his life because he was rejected by the square-jawed Alexander (Bartosz Gelner), an embodiment of a gay fantasy? Was it the public ridicule he suffered on Facebook? I don't buy the suggestion that the spoiled students of an elite Warsaw high school would be troubled by such a turn of events ― certainly not the hipsters in v-neck sweaters and thick-frame glasses, boys singing manneristic verses in falsetto voices. But no such characters can be found in Suicide Room. There are none, because the film does not aspire to diagnose a generation. The film doesn't suggest that "one kiss changed everything", nor that Dominik's coming out was the cause of the tragedy.
The only element of gay poetics used by the director can be seen in the character of the boy's suffering. "If they only knew how I feel! They'll find out one day. But it'll be too late!" Dominik could cry. He remains a mystery to himself, believing in his own exceptionalness. Egocentric and desperate, he wards away any attempts to approach him. His finds confirmation of his otherness in his own suffering.
4. What the hell is wrong with you?
At the core of the film lies a family drama, reinforced by the scene in the dance club bathroom, where the son reenacts three variations of family hysteria: "Like hell are you gay!" he mocks his father. "What the hell is wrong with you?" (his mother). "The internet ― please, turn the internet back on!" (himself). His mother (Agata Kulesza) and father (Krzysztof Pieczyński) are just as lonely as he is. They poorly play out the farce of being a family and have tasteless affairs. We have no doubts about what it is that keeps these two together as they indifferently have sex in the car after their son's prom. They evoke anger and grief as they helplessly ask their son what he expects of them, what he wants them to give him. Their task-oriented approach is aptly and comically portrayed when Dominik refuse to take his final exams at high school, causing them to seek the help of someone who will "get him out of his room" and get him to take the exams. Denial, avoidance, a series of naïve questions about his musical tastes and girlfriends/boyfriends all provoke shuddering and anger. The aging parents' emotional incompetence makes you want to reeducate them, but what they really need is forgiveness. The cult of immaturity, which they have fallen victim to, at times turns into patriarchal rigidity and hysteria.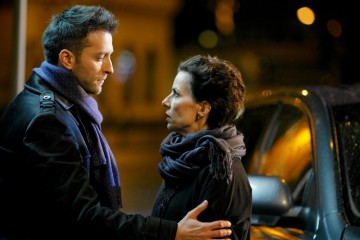 screenshot from Suicide Room, dir. Jan Komasa
The son employs the same techniques: revenge ("you need to suffer like you've never suffered before") and abandonment ("you'll never see me again"). Strangeness, clichés, a lack of understanding, and emotional frigidness all doom the family to failure. It's a vicious cycle in which everyone plays out their own role, and the whole arrangement survives until one of the characters disappears.
The relations at home are juxtaposed with intense, virtual friendship. The pink-haired, masked Sylwia (Roma Gąsiorowska) becomes an empathetic companion to Dominik, urging him on in the fight for individuality and encouraging him to flex his muscles. She breaths life into him with words like: "You need to be a terrorist", and "You have everything you need inside you." He starts carrying a pistol in his hoodie instead of showing off his Christlike wounds.
Anyone who has ever used Skype knows that virtual intimacy can be moving. In one scene, the girl gazes at the boy as he sleeps. For just a fleeting moment, the pair succeeds in regaining paradise, although the (emotional) void can not be filled permanently. Komasa subverts the mass delusion of the family as protection against immaturity, loneliness, and the meaninglessness of existence. It gives us no protection, after all.
5. Why did he choose her?
Sylwia's lack of authenticity is striking; she sighs and recites her lines mechanically. She's neurotic, meaning she reads too much, thinks too much, and loves (herself) too much. And yet she manages to slip into his world, seducing and blackmailing him. Their melancholy poses, neither serious nor ironic, become the language through which the pair learns to communicate with each other. Dominik does not wish to become Gluck's Orpheus; he does not want to be responsible for the death of Eurydice. He therefore assumes her role and imagines her suffering, which enables him to avoid his own grief.
6. Let's wrap this up with a review
Komasa revels in contrasts and isn't afraid of employing kitsch in the imagery, dialog, and music. While the audiovisual side of the this film struck me as overly polished, I was delighted by grandiose one-liners like: "I bleed, living in silence", "I want to kill myself to die", and "Razor blades are my friends, they have very sharp tongues." The humor is subtle and finds its fullest expression in the bathroom scene. An excellent and surprising role is that of the primitive psychologist, masterfully portrayed by Kinga Preis, who plays a therapist who doesn't listen to her patient, leafs through random books, and breaks her way into the boy's vulnerable psyche. She is as funny and frightening as she is real.
I didn't mind the flatness and primitive animation of the excellently performed computer game scenes in the least. The dubbing truly brings them to life, making us believe that there really is someone behind each avatar. Jasper (Mateusz Kościukiewicz) is immediately recognisable, even though he doesn't make a single appearance in the film; he builds up his role perfectly, pouring strength and colour into the animated character. Jakub Gierszał, on the other hand, is most interesting when he holds back his emotion. The scenes of screaming, trances, anger, and panic ring hollow, but the actor certainly displays promising talent.
What did I find lacking in Suicide Room? Authentic, non-MTV grief and a bit of distance to the characters' Hamlet-like behavior. I'm also curious to know what happened to Karolina (Aleksandra Hamkało), Dominik's prom date. She starts out as one of the most important roles, only to end up in the background, while her flirting with the closeted homosexual Aleksander seem unconvincing, to put it mildly.
screenshot from Suicide Room, dir. Jan Komasa
The director took the story three endings too far in the finale. The powerful scene in which the mother takes over the son's avatar would have been enough for final word. Komasa succumbs to the urge to close the theatrical frame. The character of Sylwia bellowing in the courtyard can be read as another of Gluck's heroines, Iphigenia, who suffers against her own will. Sylwia turns out to be one of the "queens whose exceptionalness was often nothing more than exceptionally powerful suffering". Her cry is unbearable.
If every suicide is a bit amusing, then the finale must naturally be in bad taste. Empty loneliness in the urban jungle awaits the drop of the curtain. The movie's Polish tagline says: "A screenname is not a name. The world is not the matrix. Life is not a game: you can't just log out." And even if Komasa hasn't succeeded in making a good movie, he has succeeded in trying. Don't be misled by the media hype. Suicide can't subvert humankind's innate longing for happiness. Sometimes wallowing in one's own sorrow can be the greatest of pleasures. The blonde idiot that cries over Euridice knows that all too well.
translated by Arthur Barys