This year's Warsaw Autumn won't make history, although it wasn't really that bad, but the organisers' idea – to place the keyboard at center stage – was something of a failure, and for two reasons. Firstly, a restitution of the piano keyboard already took place in 1988 with Lutosławski's Piano Concerto. Since then, composers have no longer feared the instrument, and with varying results: during the successive Autumns, we've had the premieres of great concerts by Paweł Szymański, Zygmunt Krauze, and Paweł Mykietyn, as well as less successful pieces by Krzysztof Penderecki and Jarosław Siwiński (to mention but two) – in any case, the piano has long ceased to be a 19th-century zombie and has since been successfully co-creating the musical atmosphere of our time.
Secondly, the idea was carried out inconsistently: several "keyboard" pieces were been commissioned (or contracted) but so were many that had nothing to do with the theme – the result was a rather uninspired mixture and had it not been for the programme, no one would have probably realised the whole thing was about something at all.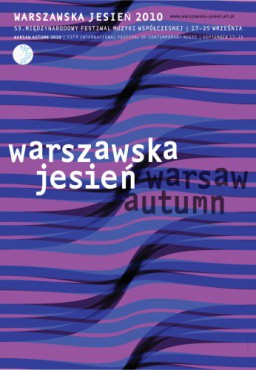 The organisers could have instead added a historical background by bringing out of limbo, for instance, one of Bogusław Schaeffer's concertos (none of which has ever been performed at the WA); doing a monographic evening of Krauze and presenting his phenomenal Concerto No. 1 in a new interpretation; reminding the public that Hanna Kulenty is also an author of such concertos and including one of them in the programme instead of commissioning the failed Twenty-Five from her; noticing the existence of Bettina Skrzypczak's interesting Concerto, and so on. The word "concerto" repeats itself here because for some reason composers have recently stopped writing sonatas – and the genre could have been caressed a little by opening the door for sonatas, such as those by Salvatore Sciarrino or Galina Ustvolskaya (playing them one after another in either sequence would have been very instructive indeed) or commissioning a few from the young ones to give them a workout.
But let us leave aside what didn't happen. The opening evening was indeed an apotheosis of the piano, with as many as four appearing on stage, four players performing on them, first Tomasz Sikorski's Omaggio, then Zygmunt Krauze's Letters. The former, as we know, a masterpiece of minimalism, contains blocks of sounds either delicate or brutal, bonded together by an elegiac tone. The latter — not as good but satisfying (especially when compared with the composer's 2006 Iwona, so manneristic it made your teeth ache); Krauze himself, speaking at a meeting moderated by Ewa Cichoń a few days later, confessed he had lately been having trouble going beyond himself, getting rid of the "melody" that he had taken years to develop and had now outgrown him. It was an honest and estimable confession and such are the Letters in which, with all their overall Krauze-like feel, the author's does wrestle with his own artistic predilections, although I'm not sure whether he is right to do it by paying tribute to tradition, the bar line, and so on. Perhaps he would have done better by returning to his own roots (during the same meeting Krauze presented his old Monody and Fugue, which sounded surprisingly fresh, like a premonition of Szymański's Two Etudes, which we shall discuss in a moment).
Unfortunately, the second part of the evening was less satisfying. Two musical toys were delivered, definitely too swollen for their meagre contents. Two pianos were removed and on the two remaining two other piano players performed Louis Andriessen's piece based on a motif from Liszt's Rhapsody No. 2, which the composer, as he coquettishly stated in the programme, had never heard before. The orchestra didn't really manage the "hoketus-style" accompaniment and in their place, I wouldn't have tried too hard either. It would, I thought as I listened, have been much better if instead of this nothing they had performed Poulenc's Concerto, equally cheerful but more intelligent. Then came Ondřej Adamek's purely orchestral self-player, supposedly written as a reflection of his impressions from visiting an old factory. Well, I've heard something like that before; it was, I think, Prokofiev's The Steel Step. I felt really sorry for Reinbert de Leeuw, who actually got so carried away in his mechanical conducting that the score fell from the stand. I'd have preferred to listen to the old Rite of Spring under his baton.
This not-very-superb inauguration was followed by a night concert of chamber miniatures. I've already laughed at Kraków composer Katarzyna Szwed's self-commentary: "Like all my works, Something Like Indian Summer is an attempt to capture something important. Important because it arises from an experience of delight and wonder, a sudden flash of vision. Writing the piece, I ate a lot of chocolate." Despite the pretentious title and description, the composition proved quite decent, as actually did all the other pieces (selected from different pigeonholes according to who knows what key), with the exception perhaps of Paths by Graciela Paraskevaídis, who, with the use of a small drum, tried very hard to prove to us she was a true Argentine.
The next day was devoted to waiting for pieces by Paweł Szymański and Rytis Mažulis – but both proved a nasty disappointment. Mažulis was first played back from a laptop, again some frolicking based on a simple idea, first for a million pianos (virtual, of course), then for nine (also virtual) harpsichords. After these yawns, two piano players from the Netherlands (those who delivered the Andriessen) appeared on stage and played a piece so primitive that you didn't want to listen to it. Fortunately, a child started crying and whining that wanted to leave, splitting the audience into the pissed off and the amused. Interval. Szymański. Eight harp players and one male piano player, a nice line-up, but the whole attraction ended at that. Initially, the piece reminded me of Mykietyn's Piano Concerto (a case of the pupil surpassing the master?) but then it all turned into sweet plucking away on the harps that might have gone well with the vocals of Sinead O'Connor.
But the festival went on. I didn't get to hear everything so forgive me for omitting a few things here and there. On Saturday, guests from Oslo performed and I finally achieved complete satisfaction in the form of Sam Hayden's Accordion Concerto – dense, post-Carterian music, noisy at times, but always under control, with an eye to both the detail and the whole. Using a MIDI instrument that sounded like an old Casio keyboard was a disaster – I hope composers finally realise that all this gadgetry is not good for them. For dessert, we got four Chopin mazurkas in the interpretations of young Norwegians, very tasty, especially that among the composers was Eivind Buene, my great favourite since this year's Sacrum Profanum festival.
The climax came on Monday with the performance, following three average pieces (Mundry, Stroppa, and Praszczałek, recently hiding behind the "international" stage name of Prasqual), of Beat Furrer's Piano Concerto – absolutely innovative in its musical sophistication, and not descending into any time-sanctioned prettiness at that, built rather with ugly, cluster sounds, delivered kind of "aside", plus the fact that the solo instrument was doubled by the orchestra's piano, resulting in a peculiar blurring of the musical contour, causing weightlessness and vertigo and, with the situation changing like a kaleidoscope, virtually involving the listener physically, not letting them rest for a moment or feel comfortable amid familiar landscapes.
While you felt like listening to Furrer's piece to no end, Wojciech Ziemowit Zych's one and a half hour Différance for two pianos and a percussion left you begging for no more after just twenty minutes (the public was leaving en masse like at no other performance) – the composer, with a predilection for monumental sounds, told the performers to either frantically hammer on the instruments or freeze in solemn adagios; this time too the two pianos played almost identical parts (which was probably to express the Derridian différance) but instead of slackening the spatial and logical relationships, it produced a sense of being imprisoned in a homogenous sound, which revealed its entire potential right at the very start.
And that was, more or less, the end of the keyboarding. Agata Zubel's Symphony No. 3 proved an ordinary concerto for double trumpet and orchestra, but the composer had become so fixated on presenting the solo instrument's articulating possibilities that she forgot to allow it to play anything. Hanna Kulenty (Twenty-Five) failed miserably in her attempt to create a large symphonic piece, all the charms of her chamber music turning into weaknesses. The piece was one great pleonasm stretched to impossible limits. Misako Mochizuki told the percussionists to fire guns (oh, how frightening!), whereas Carlos Sánchez-Gutiérrez tried to pit himself musically against the dadaists' "kinetic sculptures" but his miniature series proved somehow un-mechanistic and sentimental rather than amusing.
Two good pieces were performed during the last show that I attended (unfortunately, I couldn't listen to the finale). First Claude Vivier's Hiérophanie, an antique piece from 1972, bringing to mind the Schaefferian concept of "instrumental theatre". Then Mauricio Kagel's In der Matratzengruft, a deathbed series of songs for Heinrich Heine's deathbed poems; naturally, this time we didn't get the familiar Kagel-as-joker, although he remained an ironist to the end, the effects of which were very nice, despite the essentially romantic illustrativeness of the orchestra's part.
How the concert was tied to the festival's central theme remains to be guessed. Perhaps we shouldn't care too much about such guiding ideas, enjoying instead the opportunity to listen to recent music from around the world. No revolution took place during this year's Warsaw Autumn, but a certain weakening was noticeable of the neo-consonant camp on behalf of the advocates of "difficult beauty", which, even if its forms are not really quite satisfying yet, is nonetheless uplifting and allows us to look into the immediate future with some optimism.
translated by Marcin Wawrzyńczak