I wonder if every use of the revolving stage brings up the world-as-theatre metaphor, with all its metaphysical and moral consequences. I think that's the case with The Great Gatsby directed by Michał Zadara at the Polish Theatre in Bydgoszcz. But by invoking the theatre metaphor, Zadara subverts its metaphysical dimension. The giant, revolving, tiered structure representing in turn Gatsby's mansion, Myrtle's apartment and Wilson's workshop, makes the characters seem like puppets controlled by the skilled hand of the Great Puppeteer.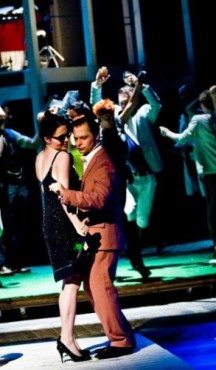 The Great Gatsby by Francis Scott
Fitzgerald, directed by M. Zadara,
Polish Theatre in Bydgoszcz,
premiered 4 June 2011,
photo: K. BielińskiBut he is already present in the world conjured by Fitzgerald in the form of a grotesque eye on a huge, flaking billboard advertising the services of doctor T. J. Eckleburg, which stood next to a railroad. "God sees everything," maniacally repeats the cuckolded Wilson, forcing his wife to gaze into the eye; but after her death Wilson cannot really say what he believes in or what church he belongs to. "That was a long time ago," he says. It happened back when God was replaced by Dr. Eckleburg. The ingenious structure designed by Robert Rumas enables the epic adaptation to take place, it becomes a metaphor of history, which at first gave Jay Gatz the social advancement he wanted (or at least a semblance of advancement) only to mercilessly sweep him off the stage later.
Adapting Fitzgerald's novel for the stage seems at first to be a daunting task. Nick Carraway's narration is set in the past tense and is somewhat cinematic in tone. It pits different timeframes and different places against each other: content, WASPy Louisville, which is Daisy's hometown with the wild coast of North Dakota's Lake Superior, where Jay started out as a clam digger and yacht repairman. Traditional, old West with the cosmopolitan, exciting, feverish, and nouveau riche East. Just like on a movie set, different social strata meet in Gatsby's ballroom, creating a diorama of the post-WWI world with its intense social transformations, social mobility, and inevitable casualties of these processes like Gatsby and the Wilsons.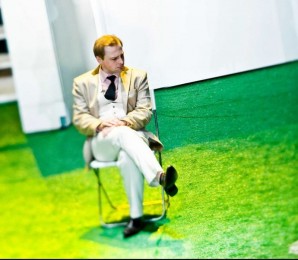 photo: Krzysztof Bieliński
As cinematic as the novel's structure is its melodramatic plot, a love story with a tragic ending, inverting the traditional happy-ending-in-the-arms-of-the-prince Cinderella blueprint. This is rather a story of a princess and a beggar, who despite having enough money to purchase princely clothing, is rejected and punished for his misplaced desire. The novel can be interpreted in two ways: as a melodrama, it is a story of unfulfilled and unquenchable desire, the object of which is forever out of reach, the farther out of reach it is, the more loved and desired it becomes, thus leading the infatuated to their deaths; and it can be read as an epic novel, embedding this psychoanalytical framework of love in a precise historical reality.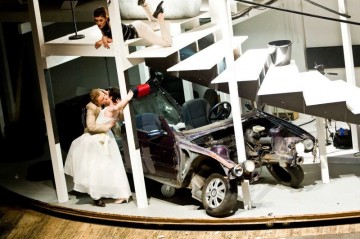 photo: Krzysztof Bieliński
Zadara saw an analogy between the United States in the 1920s and the last 20 years of Polish history. He saw an intense regeneration of social hierarchies once abolished with the establishment People's Republic of Poland, the creation of new elites and pseudoelites, and spheres dominated by the nouveau riche with their arrogance and ostentation. This is how we should read the spiced up dialogues, updated fashions, obsessions (health food and sushi, for example), and gadgets (during the first dinner at the Buchanans, Myrtle calls Tom on a cell phone. The atmosphere of Gatsby's parties is also updated, thanks to the musical arrangements and Julia Kornacka's costume designs, they look like modern parties or launches of God knows what, attended by various sorts of celebrities and covered by tabloid press and daytime television. However, the aforementioned analogies are mostly superficial. Nothing substantial comes of them. What we're really left with after the play ends is that other, melodramatic dimension of the novel. A story of a tangled love polygon, shown from a new perspective due to the specifics of theatre. Zadara weaves in front of us not only a story about love, but also about marriage, which ultimately triumphs over the passions of both Tom and Daisy.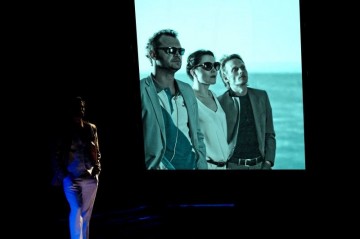 photo: Krzysztof Bieliński
In front of the stage there are two screens, which enable us to peek inside the Buchanan home. At first we see Daisy and Jordan – as Nick first saw them – stretched on a huge sofa. Later we see the Buchanans and their guests having dinner. The atmosphere seems a bit tense. The voices and poses are stiff and artificial. Tom reacts with unease to Myrtle's phone call, while Daisy starts to cry. We can see that something is not right. When they're alone, Jordan will tell Nick that Tom has a mistress. The camera, like the binoculars of a voyeur, allows us to peek into the intimate space of the Buchanan home and their relationship. If the revolving stage gives us a wide shot and epic imagery, then the camera gives us close-ups and enables us to focus on psychological nuance; allows us to see who the characters of Zadara's Gatsby really are. It is a really interesting gallery of characters, and the acting is especially good.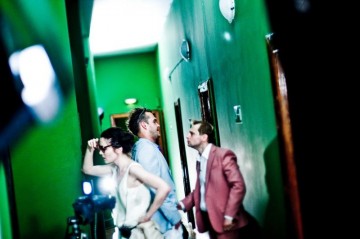 photo: Krzysztof Bieliński
The simulacrity of that world is highlighted by the play's ending: you were in the theatre, there were no true emotions here and nobody really died, it's all just a show – says an actress walking out on the proscenium, finally closing and ultimately invalidating the world-as-theatre-stage-in-front-of-Dr.Ecklenburg's eyes metaphor.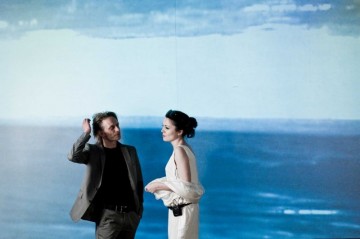 photo: Krzysztof Bieliński
translated by Arthur Barys