Whether this record is sincere or a mere marketing gimmick is hard to tell, and probably a waste of time, anyway. Critics of the work of Czesław Mozil — who is either a celebrity (thanks to his role as a judge on a popular TV show) or a sensitive crooner (author of the excellent Debiut) — might argue that the album is just an artistic whim calculated to cash in on Miłosz Year. Supporters of Mozil's uncompromising stance might point out his obliviousness as evidence of the fact that what Miłosz needs, above all else, is a sensitive and intelligent interpreter of his words, and that a thorough familiarity with his oeuvre isn't a prerequisite for understanding the verses found in such collections as Hymn of the Pearl.
The success of this ostensibly risky poetic venture hinges on one of Czesław Mozil's greatest artistic virtues: trust. On his previous three albums, Mozil attempted, more or less convincingly, to prove himself as an artist whose work is spontaneous rather than calculated; he plays it by ear (so to speak). It thus comes as no surprise that the artist has admitted, unpretentiously and candidly, that he hadn't read Miłosz before he started recording the album. Not that this matters much to listeners. The stance Mozil audiences have come to expect of the singer is more akin to that of the musical amateur than the self-absorbed artist.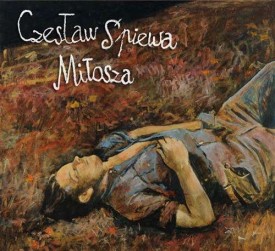 Czesław Śpiewa Miłosza,
1 CD, Mystic Production 2011This artistic (or aesthetic?) manifesto is contained in Mozil's stage name: Czesław Śpiewa. Czesław Sings. He sings Miłosz. The first tracks, Słońce (The Sun) and A jednak (And Yet), with their somewhat absurd and nonsensical musical and vocal arrangements (Miłosz's poetry is, after all, non-musical) announce that Czesław isn't giving us a TV dinner version of Miłosz. The compositions are concise (the whole record clocks in at half an hour) and seem to simply coexist rather than form a whole. So condensed and closed are the songs that when Mozil stops singing, you know the poem is over. This is particularly audible in Poeta (The Poet), in which the end of the vocals/melody may be compared to a poetic full stop or dash.
Czesław Mozil's Miłosz is a brass band Miłosz. Mozil, who often plays along on the accordion, juxtaposes the lyrics with unexpected instruments such as the trumpet or trombone. The above mentioned Poeta even features a baroque violin, a viol, and a harp. And there's a humorous side to Mozil, too: one can't help but smile at the vocally and musically exaggerated Na ścięcie damy dworu (On the Beheading of the Maid of Honour).
"Today I, the greatest in all the county, / Can announce the verdict…" Mozil defiantly sings on the closing track. If this is his first encounter with Miłosz, he doesn't let it show.
translated by Arthur Barys