The exhibition concept prepared by German sculptor Katja Strunz encourages viewers to explore layers of subconsciousness in the paintings of Władysław Strzemiński. Strunz is no stranger to the work of Strzemiński – one might even describe her as fascinated by the artist's work. Strunz has arranged the exhibition space around the Unistic artist's renditions of the letters of the alphabet, in which he employed an extraordinarily frugal style, reducing them to the bare minimum, a challenging yet intriguing form, especially for artists. The ms² has also featured the work of Mirosław Bałka, who created a neon alphabet influenced by Strzemiński's work.
Katja Strunz arranged Strzemiński's letters into the German words Zeit (time) and Raum (space). Put together, they form yet a third word, Traum, which is German for dream, but sounds alarmingly like trauma in Polish and English. So what we have is time, space, and trauma, all incorporated into the exhibition space at the ms² Museum of Art in Łódź, and visible only from above. There is something Baroque about this concept.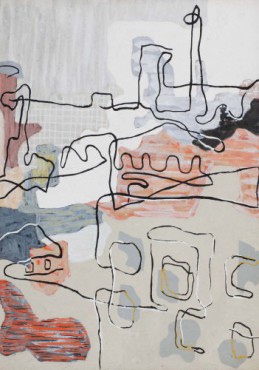 Pejzaż łódzki
Władysław Strzemiński 1932,
Łódź Art MuseumThe exhibition space has been transformed into a labyrinth of sorts, the sense of which can only be discovered when we understand the concept behind Strunz's design. Does it serve to better present Strzemiński's work? I personally like it. It enriches the meanings of the pieces in an irreversible manner. As soon as we realize that the artist returned from World War I (in which he fought as an officer in the Czar's army) without an arm and a leg, the choice of the word trauma becomes inevitable. Strzemiński worked hard, never cutting himself any slack, but how could one forget such a significant disability?
I mentioned the concept behind the spatial arrangement, but "Afterimages of life. Władysław Strzemiński and rights for art." is a completely retrospective exhibition, not a thematic one. It brings together 170 of the artist's 200 surviving pieces and encompasses all of his numerous fields of artistic activity; Strzemiński was a painter, illustrator, typographer, furniture and textile designer, art theoretician, and even an architect (one building model designed by him is known to exist).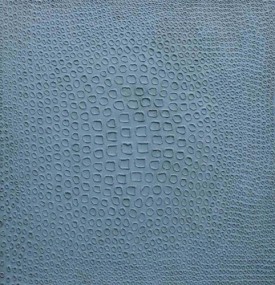 Kompozycja unistyczna
Władysław Strzemiński 1934,
Łódź Art MuseumVisitors to the exhibition will see a full range of Strzemiński's work. He was not an artist at the highest European level from the very start, but his architectons, Unistic paintings, and afterimages achieved that level, while Strzemiński himself became a great experimental artist.
The exhibition is accompanied by an elaborate educational program. 11 lectures will be given, reflecting the number of letters in Strzemiński's surname. The talks will touch upon a variety of issues present in his art. One would be hard-pressed to imagine a richer program promoting the work and philosophy of the co-creator of the collection at the Museum of Art in Łódź.
"Afterimages of life. Władysław Strzemiński and rights for art." The ms² Museum of Art, November 30, 2010 – February 27, 2011. Designed by: Katja Strunz; curated by: Jarosław Lubiak and Paulina Kurc-Maj
translated by Arthur Barys