A sick man lies on a futon with a catheter between his legs and a IV drip suspended from a camera tripod over his head. A typical image in Polish independent cinema, which has little to do with actual independence — especially of the intellectual variety. "Amateur cinema" would be a more apt term. Matwiejczak's rushed, sloppy, one-sided, and tacky picture is nothing more than a big misunderstanding, but that's not the actual problem. We will all see many such misunderstandings in our lifetimes. There is another, more salient point. The above image comes from the first Polish film to tackle the Smolensk catastrophe. A movie that is merely a cynical attempt to latch onto a tragedy and brutally exploit the genuine grief of those who lost their loved ones in the crash.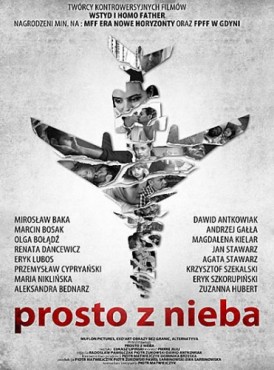 Straight from Heaven,
dir. Piotr MatwiejczykThe filmmakers went to great lengths to avoid any possible lawsuits. No famous names are mentioned in the film, which takes place in an imaginary land where everyone just happens to speak Polish. It just happens to be April 10. Five stories, five families, five future victims arguing or saying goodbye to their households. Everyday life running its own course, even after the passengers have shut the door behind them. The kids are hungry, an older man would like a cup of tea, a cheating husband meets up with his mistress, an unsuccessful filmmaker teases his sister, a life-weary woman meets a man from her past.
Matwiejczyk sets his imagination in motion in search of a way to emphasize each separate plotline. His imagination tells him to use a "Big Brother" style with one of the stories, a Tarnation format with another, and take inspiration from Bergman in yet another. All of them deal with meaningful themes: the difficulty of staying together; children as the only guarantee of immortality; the heavy burden of old age. Matwiejczyk keeps his standards high. He is only interested in important issues. There's nothing wrong with that. Too bad the director has practically nothing to say about them. Let's be honest: there's nothing particularly profound about adages such as: "every end is a beginning"; "never put off till tomorrow what you can do today"; or "what goes around, comes around".
The theme of Smolensk is little more than a lure in Straight from Heaven. Matwiejczyk has built a narrative corpus that could easily be used for any other occasion: car accidents, mining catastrophes, train collisions. A man leaves his house and never comes back. His family finds out that he's gone forever. The crying begins.
There is so much innocent death in this soulless world. If we can't win with quality, maybe quantity will work. Those of us who don't agree with this strategy can only pray and hope that there's a bit more wisdom to the philosophy of "transforming quantity into quality" than there is in Matwiejczyk's film.