I had an inkling who was going to win. But I wanted to go to Gdynia anyway. Not in hopes of being proven wrong, or out of a sense of concern for the state of Polish film: I know it'll do just fine without my concern; as for the hope, I prefer to save it for special occasions. Perhaps it was just a question of curiosity, a motivation they say is pointless anyway. The tides turned a year ago when Michał Chaciński took over as the new artistic director, marking the festival's reorientation towards the audience and a willingness to challenge viewers.
In terms of organisation, this year's edition was a significant improvement over recent years. There were workshops with world-class experts, Q&As with renowned filmmakers, panel discussions, and retrospectives of forgotten masterpieces. There wasn't enough time in the day to attend everything, but at least there was something to choose from. This year's selection wasn't as controversial as it was in years past. Then again, Chaciński didn't have much to choose from this time. There's no point in blaming him for the state of the Main Competition and the Polish Panorama, both of which have drawn criticism for the quality of the films screened in the sections, their unimpressive number, and the fact that many of the pictures had already come out in cinemas. Several filmmakers simply refused to submit their newly-completed movies. Some have proposed that that filmmakers receiving funding from the Polish Film Institute should be contractually obligated to screen their work at the festival. A sound idea, though it remains unclear to what extent premiering a film at a national festival harms a picture's chances of screening at the international ones.
The Verdict
GRAND PRIZE, GOLDEN LIONS: In Darkness, directed by Agnieszka Holland
SILVER LIONS PRIZE: Manhunt, directed by Marcin Krzyształowicz
SPECIAL JURY PRIZE for courage in form and content and for exceptional artistic merit: Crulic – The Path to Beyond, directed by Anca Damian
INDIVIDUAL AWARDS:
– Agnieszka Holland, Best Director, for In Darkness
– Piotr Trzaskalski and Wojciech Lepianka, Best Screenplay, for My Father's Bike
– Leszek Dawid, Best Debut Director or Second Film, for You are God
– Agnieszka Grochowska, Best Actress in a Leading Role, for In Darkness
– Robert Więckiewicz, Best Actor in a Leading Role, for In Darkness
– Marcin Kowalczyk, Best Professional Acting Debut, for You are God
– Jolanta Dylewska, Best Cinematography, for In Darkness
– Piotr Dziubek, Best Music, for The Path to Beyond
– Erwin Prib, Katarzyna Sobańska, and Marcel Sławiński, Best Art Direction, for In Darkness
– Joanna Kulig, Best Actress in a Supporting Role, for Elles
– Dawid Ogrodnik and Tomasz Schuchardt, Best Actors in a Supporting Role, for You are God
– Sebastian Włodarczyk and Piotr Witkowski, Best Sound, for The Path to Beyond
– Wojciech Mrówczyński, Best Editing, for Manhunt, and Michał Czarniecki, Best Editing, for In Darkness
– Katarzyna Lewińska, Best Costumes, for Elles, and Katarzyna Lewińska and Jagna Janicka, Best Costumes, for In Darkness
– Janusz Kaleja, Best Makeup, for In Darkness
Controversy erupted over the verdict of last year's edition, and while controversy is probably achievable this time around too, there likely aren't enough critics willing to take part. Surprisingly enough, the verdict completely omitted the film Aftermath, a picture that is not without its flaws, but was certainly among the most needed films to screen in Gdynia. In contrast to last year's festival, which featured Daas and Rose, there was not a single accomplished film in this year's program, but there was one spectacular picture: a high-budget production with excellent photography, slick production design, and good acting, and it is this film that won the grand prize. But for a picture that many regarded as a certain Oscar winner, the Golden Lions are little more than a consolation prize, an award with no useful effect or promotional value, and one that will do nothing to improve box office sales. Once a film is distributed as a glossy magazine insert, it's too late.
Just like last year, the jury gave the award to an accomplished director for a film that was among their weakest. And once again, a fear of authority underpinned by provincialism appears to have been the motivation behind the decision. This time around, though, it is the political correctness that was particularly glaring. In Darkness is a conciliatory film, one that approaches the topic of Polish history with a very conciliatory — and thus safe — attitude. At least Pasikowski wasn't afraid to speak his mind, and has already been criticised by some for allegedly going too far. But I'll take bold exaggeration over shrewd, cold strategy any day.
In Darkness wasn't the only politically correct film this year. Polish filmmakers have obviously been reading the papers, paying particular attention to the national news sections. The supermarket makes an appearance in three films, while the topic of history is present in several. The supermarket, it turns out, is bad, and history is complicated. Fatherhood remains a problem, while manhood is on the decline. Prostitution continues to be inextricably linked with the financial crisis, and gender issues inherently involve nightmares. Surprises were few and far in between, and even a coherent narrative seemed to be an unachievable goal. Maciej Żak's Supermarket is a perfect example. The production could have at least been a decent genre film, something like Hostel but set in a Polish grocery store, yet Żak appears to be completely oblivious to the convention. What's worse, it remains unclear throughout the film which convention he's actually aiming at.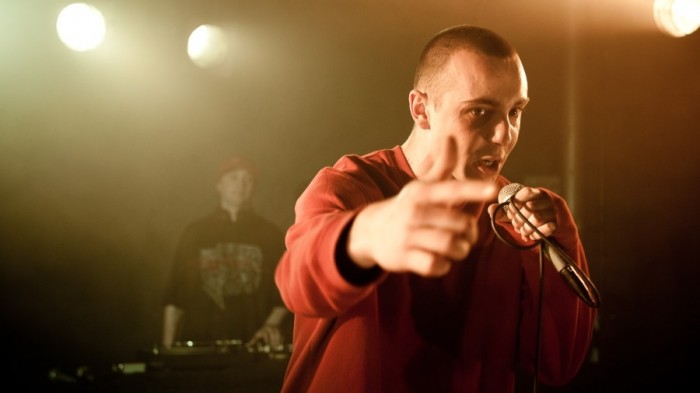 You are God, dir. Leszek Dawid
Piotr Trzaskalski is probably the only director featured at the festival who showed us how not to get lost in clichés. In My Father's Bike, the filmmaker toes the line safely. Trzaskalski makes a fairy tale out of this story of three generations of men taking part in a family reunion, one where everyone's wishes always come true. Nothing can possibly go wrong; years of hurt vanish with a simple gesture. The constant reiteration of the platitude "Every day can be Christmas Eve if you really want it to be" smacks of cynicism, but the people in the audience bought that world. Was it because of its strong resemblance to the world portrayed in Polish TV shows? It's possible, but ultimately irrelevant. In his latest film, the creator of Edi — an explorer of the metaphysical who once drew comparisons to Tarkovsky — executes an even more shrewd manipulation of the viewers' emotions. I shouldn't say that I'm pleased with this evolution, but I am. It's not political correctness that Polish filmmakers lack: it's efficacy. Aside from Aftermath, there were only two films screened in Gdynia that we have no reason to be ashamed of: Leszek Dawid's You are God and Marcin Krzyształowicz's Manhunt.
The weakest part of David's film, which tells the story of the famous Polish hip-hop group Paktofonika and the tragic death of its frontman Magik, is, oddly enough, its famous script — the same script that has been described by some as the post-1989 Man of Marble. Perhaps You are God does strengthen the myth, but it has little to say about reality and offers no convincing explanation of Magik's untimely death (unless the guy was so depressed about not being able to afford a Christmas present for his son that he threw himself out the window). The films anti-consumerist undertones also come across as naïve. The fantastic cast, featuring a trio of young actors in the roles of the musicians (Marcin Kowalczyk, Dawid Ogrodnik and Tomasz Schuchardt) draws the picture in a different direction, somewhat in defiance of the screenplay. You are God can be seen as a film about obstacles, a story about people who don't know how to talk to each other. Magik roams the city alone, listening to music on his headphones. His father watches him from afar, his wife won't pick up his calls, and when one of his bandmates asks him about anything other than a cigarette, he tells him to fuck off. The formula is repeated ad nauseum. The sparse dialogue gives way to a torrent of words whenever the musicians pick up their microphones. Given that the actors make pretty convincing rappers, there's a certain authenticity in their performances that translates into a more powerful film.
But the greatest surprise of the year was Marcin Krzyształowicz's Manhunt. The film provokes a minor sense of déjà vu. A year has passed since the premiere of Rose, and once again we see Marcin Dorociński in the role of a good soldier in the Homeland Army, and once again we see a reversal of the official version of history. But instead of copying off of Smarzowski, Krzyształowicz contructs a world of his own. A partisan division is stationed in the woods of the Bieszczady mountains. The men bear no resemblance to Uhlans; the ragtag band of fighters is dressed in whatever they could lay their hands on: heavy furs, German uniforms, blankets and threadbare sweaters. They live in wooden shacks, or rather vegetate in them, coughing up blood, downing bromide, and dreaming of sex. Corporal Wydra is one of them, but he's not quite the same as them: he is the executioner. He leads convicts deep into the forest, where he shoots them in the back or the head. One day he is ordered take a childhood classmate of his, now a businessman and collaborator, into the woods.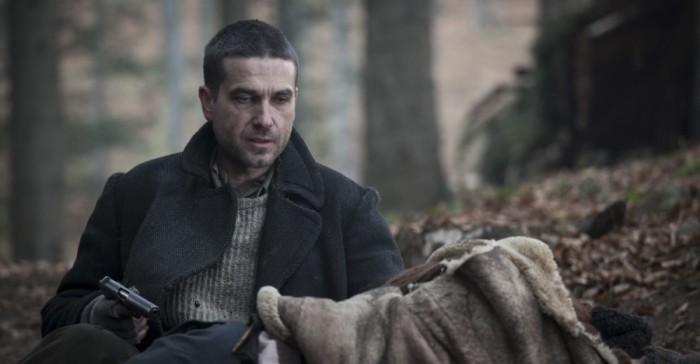 Manhunt, dir. Marcin Krzyształowicz
The story may appear too simple, the characters too flat, but Krzyształowicz conceals these flaws ingeniously and effectively with a nonlinear narrative, flashbacks and short counterpoints.
Manhunt surprises us with its unexpected ending, which is more than can be said about the festival itself. Will next year's edition be any better, or will it be the same thing all over again? One thing's for sure: we'll have Andrzej Wajda's new film to look forward to.
translated by Arthur Barys