PIOTR MIRSKI: The Christening has just come out on DVD. Do you have any afterthoughts about the film? Is there anything you would have done differently?
MARCIN WRONA: No. I consider it complete and there's nothing in it that I'd want to change. I'm constantly evolving as a filmmaker, obviously, but I just have to accept what I've done. The movie shows you my view of the world and those characters at the time. That's what I did with the budget I had and the conditions I was working in. If I were to do it today, I'd end up with a completely different movie. With every film I make, there comes a time when I just grow terribly bored with it. It's not until I start touring the festival circuit and seeing how audiences respond to my film that I begin to come up with new ideas. But these are ideas that I use in future films.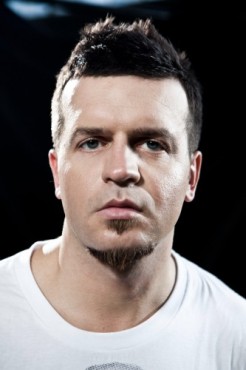 Marcin Wrona, photo bestfilm
Do you end up cutting out a lot of scenes? I heard that My Flesh My Blood was initially supposed to run two hours and that much of the film was later cut out, especially most of the title sequence.
I had estimated that The Christening would run about 90 minutes, but at the editing stage it turned out that character development took up more time than we had planned. We also got rid of a few scenes where Janek grows close to Michał's family, because I wanted there to be some uncertainty about his decision: did he end up agreeing to "take care" of his friend's wife, or not? I changed the beginning and ending after gaining some first-hand experience with criminal circles. I talked to prisoners serving sentences for murder and they gave me a few pointers. I don't mean things like slang, but rather the mindset of a person who has killed someone. My discussions with the inmates are actually what made me decide against shooting the final scene of the screenplay. In My Flesh My Blood, on the other hand, a lot of scenes were cut, but that was because of the cast. Eryk Lubos' role was so strong and expressive that it didn't need any additional characterisation.
We're speaking at the Off Camera independent film festival. What does it mean to be an independent filmmaker in Poland?
I visited Hollywood once and saw how the system works: it's a machine that churns out success. What they do is program artists, typecasting them into a certain genre, where they stay till the end. From that perspective, everything that goes on outside Los Angeles is independent. People like Emir Kusturica, Fatih Akin, or Romanian artists can all be described as independent or even underground, compared to Hollywood. To me, being "independent" means not following the trends, not taking projects that producers try to push you into after seeing a few American films, thinking they can just transplant Hollywood trends into Poland. Being independent means being uncompromising.
Is it hard to be uncompromising in Poland?
Polish Feature Film Competition at Off Plus Camera
This year's edition of the Off Plus Camera festival marked the debut of the Polish Feature Film Competition. The new section featured films made over the past year: Marcin Wrona's The Christening, Agnieszka Łukasik's Between Two Fires, Ireneusz Grzyb and Aleksandra Gowin's The Little Wires, Eliza Kowalewska's Heniek, Przemysław Wojcieszek's Made in Poland, Paweł Sala's Mother Teresa of Cats, Ami Drozd's My Australia, Arkadiusz Jakubiak's Simply Story About Love, and Anna Jadowska's Out of Love. The jury was headed by American actress Rose McGowan and included Hollywood casting director Ellen Chenoweth, production designer Roger Christian, founder and director of the Busan International Film Festival Kim Dong-Ho, and Russian film critic and film historian Andrei Stepanovich Plakhov. The prize, 100,000 PLN and an all-expense paid trip to the Sundance Film Festival, went to Marcin Wrona for The Christening, recently released on DVD. Eliza Kowalewska's Heniek received the Audience Award.
That's the route I try to take. I don't want to make films to order. Obviously, there are times when you're having trouble making ends met and it's easy to give in. People start making commercials and TV shows, and then find it hard to get out once they've grown accustomed to a certain standard of living that comes with it. You keep telling yourself, "I'm just going to make some money to make the independent film of my dreams", but it's often a one-way street. It's hard to stand on the sidelines. A lot depends on the audience and the filmmaker himself. You have to be able to convey your story in a way that the audience will understand and the distribution company will appreciate. But I have no intention of following the ratings or casting Bogusław Linda and Danuta Stenka just because they're popular.
Can you make a living as a film director in Poland, or do you make your income off of the side jobs that come with being a director, such as lecturing in film schools or shooting music videos?
Those side jobs are important too, but I try to organise everything so that my next film remains my top priority. When I'm working on it, I'll shut everything down for two or three months. Unfortunately, you can't make a living off of your own projects, or at least I can't. There are two solutions: you either shoot a new movie every year, or you take side jobs. It's not an easy living. The good part is that you make all your own decisions and you set your own schedule.
The recent fifth anniversary of the Polish Film Institute sparked a debate on whether the institute was doing a good job of supporting Polish film. What's your opinion on the issue?
It's impossible to create a perfect system. You have to look at the results. Polish cinema has improved ever since the Polish Film Institute was founded. There are more films being made, and a growing number of them are being made by budding filmmakers. You could argue about the validity of the "expert system". Everyone in the industry knows each other, and you can never be completely impartial when judging a project. Fortunately, the system is an attempt to avoid situations where people get paid to reject projects by artists they don't like. It's a good idea to have someone accountable for the project they oversee.
Going back to The Christening, I get the impression that the film attempts to blur the line between genre film and art film, a division that remains very clear in Polish cinema.
I like combinations of different genres. You start at a familiar point of departure and everything suddenly starts to come apart at the seams and you enter a whole new dimension. I wrote my thesis at the Jagiellonian University on postmodernist film and I believe that it's becoming increasingly difficult to surprise viewers that have grown up in an audiovisual culture. I think a major way of creating new quality in film is reinterpreting well-known stories. Tarantino is the master of this approach. I want my films to be something more than just another source of entertainment. That's what Sunday afternoon television is for. For my next project, I'm going to try to think only in terms of quality, not genre.
What's going on with that project? Is it still going to be a story about a woman?
Yes, it's going to be a story about a woman. It'll include some crime film themes, inspired by the story of a murderess from my home town. I want to work the myth of Medea into the film. I referenced Cain and Abel in The Christening, which is something that I think helped launch it into a whole different level than just an image of life in Poland in 2011.
Do you believe that directors should also be erudite in the field of film? I heard you assign long lists of required reading to students at the film school in Katowice.
It's not a requirement, but I take responsibility for what I do, and so I believe I ought to have at least some knowledge about the 10th muse. There are of course people who display such great intuition for the medium of film that they don't need to know about its history. Just as there are children who have no trouble with computers, while the older generation still finds them challenging. Nevertheless, I still think a director ought to know who Orson Welles was.
You've won a few international awards. Have you thought about trying your luck abroad?
I have, but I want to wait until I have the right project. I don't want to force anything. As long as I can make films in Poland, I'll continue to do so, and if — God forbid — something were to happen, then I'll try my luck elsewhere. I would find it somewhat ridiculous to make a movie with Polish actors speaking English.
Just like Peter Weir's The Way Back.
I haven't seen that movie yet, but I've heard a range of opinions about it. Then again, in Caligula you have ancient Romans speaking English, but the workings of the American film industry are completely different from ours.
Do your films talk about Poland, or do you try to be more, shall we say, supranational?
I try to think about the characters. Whether they live in Warsaw or Kraków makes little difference to me.
The reason I ask is because some have said that The Christening is a movie about Polish religiosity and its strong patriarchal undertones.
The theme does appear in The Christening, but I think the film combines the Polish mentality with more universal issues. Warsaw, where the action takes place, is only there to portray a big city where small town gangsters take refuge after fleeing my home town of Tarnów.
translated by Arthur Barys