AGNIESZKA SŁODOWNIK: How did you come up with the idea to do away with the distinction between form and content, making them a contiguous whole?
Zenon: It all started with two plays that I staged: Madame Eva, Ave Madame (1992) and Finnegans Make (1996). The shows emphasised a lack of distinction between the stage and the audience. The action could take place everywhere. At one point, audience members would turn out to be actors. There was an element of interaction. I've held this perspective on art for a long time. I consider form to be a key element. Form is also content.
Liberature
Liberature is term that describes a total approach to literature: the author creates both the text and the form, and has control over the book as an object. The form, the design, and the physical aspect also serve to convey a message.

The Reading Lab: Liberate a book – liberature workshops will take place during the European Culture Congress: 8-11 September in Wrocław. The workshops will be carried out by Zenon Fajfer and Katarzyna Bazarnik both in Polish and English. See detailed programme here.
And the message is simultaneous, it goes on uninterrupted. And if it is interrupted, then that is a message as well. Words aren't merely arranged. The way in which they are arranged communicates something.
Are you saying we can't communicate through a traditional arrangement of words anymore?
Zenon: By employing a conventional form, let's say a sonnet, all we do is inscribe ourselves into a certain tradition. For or against, but like it or not, we're a part of tradition. In Oka-leczenie and all of our books, either my own or the ones we write together [with Katarzyna Bazarnik – ed.], a significant part of the message is conveyed through form. Some things just can't be put into words. Sometimes it's just the body that speaks. Sometimes there is tension and contradiction between the body and the words. And even if both are in harmony, that counts, too. It's something to read.
Zenon Fajfer
Zenon Fajfer is a poet, a writer and theorist of liberature, and a playwright. He is a co-founder of the Liberature Reading Room in Kraków and the editor of the "Liberature" series published by Ha!art. Along with Katarzyna Bazarnik, Fajfer has co-authored the liberary books Oka-leczenie (2000–2009) and (O)Patrzenie (2003). He has also written the book/bottle But Eyeing Like Ozone Whole (2004), the multimedia poetry book dwadzieścia jeden liter / ten letters (2010), and a collection of essays on the theory and program of liberature, titled Liberatura czyli literatura totalna. Teksty zebrane z lat 1999–2009" / "Liberature Or Total Literature. Collected Essays 1999–2009 (2010), translated and edited by Katarzyna Bazarnik. He has developed his own literary technique known as the emanative poem. He is half of the duo Zenkasi.
I think the world is a network of interdependencies and connections. The natural result of this approach is to combine content with form; the number of pages, if there are pages, with the choice of paper. I feel the need to break out of the mold. [laughs]
In the book ten letters, the reader needs to hold certain pages up to the light or cut them apart with scissors. You make the reader work. Don't you think that's a bit much to expect of a contemporary reader whose attention span has been destroyed by the internet and news bites served up on a platter?
Katarzyna: Do you mean to say the liberary work belongs to the old order? Older people who have shown up at our author appearances have remarked on how much our books are in line with the spirit of new media: the emphasis on image, the visual side…
Zenon: They don't all say that we "emphasise" it…
Katarzyna: Well, not everyone, but the visual message really is strong. It's the spirit of image culture, while they, on the other hand, want pure text.
So you do expect a lot of them.
Katarzyna: These books actually do require a more active attitude on the part of the reader, starting with such mundane issues as simply opening the book. It's a problem that the reader is forced to face. Like the first performer of a piece of music, he or she has many options to choose from. How do you open Oka-leczenie? How do you open Butelka (which shapes as a glass bottle)? Each of these books physically resists the reader, who needs to perform manual labour. It's a very physical way of reading.
Katarzyna Bazarnik
Katarzyna Bazarnik is a literary theorist, translator, and co-author of liberary books. She studies the work of James Joyce at the Jagiellonian University's Institute of English Studies, where she is an assistant professor. She is the editor of the "Liberature" series published by Ha!art and a co-founder of the Liberature Reading Room in Kraków. Along with Zenon Fajfer, Bazarnik published the triptych Oka-leczenie (2000–2009) and(O)patrzenie_ (2003), launching a liberary publishing series. She is the author of numerous articles on liberature, published in Poland and abroad. She is the editor and co-editor of Wokół Jamesa Joyce'a (1998), Od Joyce'a do liberatury (2002), James Joyce and After. Writer and Time (2010), and two issues of "Literatura na Świecie" devoted to the work of James Joyce (2004) and B.S. Johnson (2008). Her translation of the B.S. Johnson novel The Unfortunates won a distinction at the 2008 Wrocław Book Fair. She recently submitted her book Joyce and Liberature for printing, and is currently working on a monograph devoted to liberature. Her articles and lectures in Polish and international journals and conferences introduced the concept of liberature to academia. She is half of the duo Zenkasi.
You start by enjoying the very presence of the object. At the same time, you take in the visual side, and only later do you come in contact with the text. The text itself often requires some more effort to decipher. In Oka-leczenie, there's the external layer, which can be read as a traditional text, but the astute or well-informed reader might notice that the initials spell out another text. And they you need to take a piece of paper and a pencil and write it down, until the text becomes a complete word.
Zenon: We talked so much about interactivity before you started recording. We're making an interactive book, and now you go and ask if we're expecting too much of the reader…
There's a difference between the analogue and digital form. We've grown accustomed to interactivity on the computer, where all you need to do is switch it on and move your finger. You just click and that's it.
Zenon: We're taking interactivity into the analogue world.
So you're turning everything on its head.
Katarzyna: The idea is to engage all the senses. Touch, sight, and hearing: after all, you can read the text out loud. We don't encourage readers to lick the book, though. We're keeping taste out of it. But there are people who smell books. Engaging the body in this manner triggers other mechanisms in our brains and other memory functions than purely visual perception does. It's the same with learning: students remember 15 to 20 percent more of the material when it is taught by teachers who wave their hands.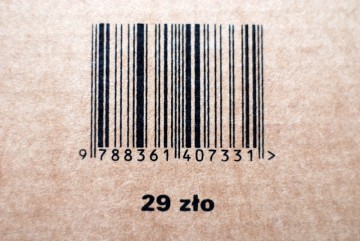 The bottom of the Bottle's box – 29 złotych
(Polish currency PLN) marked as 29 zło.
Zło means evil, photo A. Słodownik
Do you try your new releases out on anybody before they go to print?
Zenon: I try them out on Kasia and myself.
What about your kids?
Zenon: We try them out on our kids, too. When Kaziu was in the fourth grade, he came to me and asked, "Dad, would you give me that copy of 'Tygodnik Powszechny'?" "Which one," I asked. "You know, the one with the poems. I told a friend about them and he really wants to find out more." And they actually took those poems and started deciphering them. Anyway, he can speak for himself, it was his experience.
What are the perfect conditions for a liberature publisher?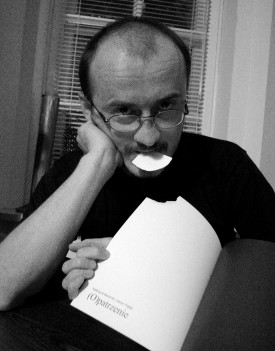 Zenon Fajfer with Ga(u)ze, photo Jerzy SzotZenon: That would be a world in which the reader, the distributor, the publisher, and the printer are all open to new conventions. A world where they don't surrender to the system of editing and literary dogmas. They would treat a piece of literature that consists of a stack of loose leaves, as is the case with one title by B.S. Johnson, as a book. They would understand that a book was once a scroll or a tablet. It would be perfect if the author had complete control over the physical side of the book, if he could make the final decisions about the typesetting, the printing, and every other element. A world without any taboos in this regard.
Is the industry in the West like that?
Zenkasi: It's hard to say. The West has a book distribution system just like we do: bookstores and the internet. The work of critics is also a distribution system. Some are independent, others are faithful to whomever is worth rooting for. They won't review a book unless it's been published by a major corporation. The conditions for publishing liberature would also be better if the readers, critics, and other writers were more open to this type of creative approach. Our hope lies not so much in quantity as in quality. These books need to be good. Liberary tricks don't guarantee high quality. There's just as much room for hacks in liberature as anywhere else. It would make a big difference if bookstore owners were more open towards it. In Kraków, there's only the Korporacja Ha!art bookstore and Massolit Books. And perhaps a few other places that are open to non-traditional forms. If Empik were to order Butelka, Trójksiąg, and other titles, it would show that there's a place for books like these.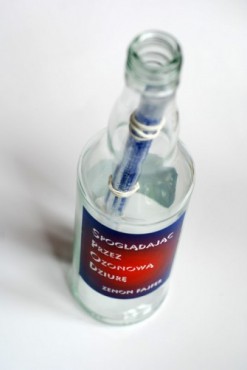 Bottle, photo A. SłodownikSo the acceptance of a commercial entity would legitimise the new form. If something's stocked at Empik, that means it's "normal"?
Zenkasi: The example of Herta Müller's collages, Der Wächter nimmt seinen Kamm, shows just how open people are willing to be about something that comes from a familiar category: Empik, the Nobel Prize… People thought that we knew everything there was to know about Herta Müller. They thought that the Czarne publishing house had released everything, or soon would. Yet it turned out that there was an entire area of her work that had remained untouched. The first of those titles is particularly liberary. It takes the form of a unbound stack of cards placed in a box. It's not even well-known in Germany, as it was only published once, in 1993. And the entire edition has long been sold out.
Ga(u)ze
The book Ga(u)ze, with its torn corner, could not be distributed by itself, as it was considered a damaged book. It was thus packaged in foil and sold along with an issue of the magazine Ha!art. There was no other way. Still, many booksellers returned it, convinced that they had received a damaged copy. We would send back the same book or a message explaining that the copy was not, in fact, damaged.
By publishing Herta Müller after she was awarded the Nobel Prize, we showed that this art form is absolutely mainstream. Perhaps that'll change the way people think about liberature. The Matras chain, for instance, doesn't seem to be too open to broadening their horizons. They recently informed us that they would be returning copies of our books because their booksellers don't know "how to sell them". And this is Poland's second-largest distributor…
Why did the Polish translation of Perec's La Vie mode d'emploi (Life: A User's Manual) end up being published in the liberature series?
Zenkasi: Perec designed the entire book. Although it was published with codex binding, the length of each chapter had been set by the author à priori. First he decided on the length, and only then did he start writing. You could say that Perec first built A User's Manual and then furnished it. Anyone who's ever tried to write knows how important it is whether you have a page or twelve to fill. It completely changes the way you tell the story. Perec's spatial thinking guided his writing process. That perspective shows us a completely new dimension. What makes our edition of Perec's Life: A User's Manual unique is that it is the only translation out of several dozen to retain the spatial configuration. That was lost in other translations.
Here we are, talking about books and paper, but they say that paper is dead. They say it's become a niche form. And yet you're planning new paper titles. Isn't that a backward approach? Don't you think you should start thinking about books that employ new media? What future do you see for the genre?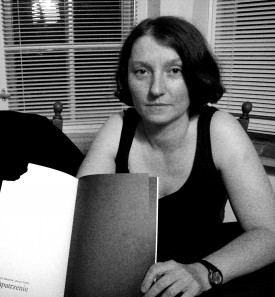 Katarzyna Bazarnik with Ga(u)ze,
photo Jerzy SzotKatarzyna: There's no telling whether people will actually prefer to read a book off of an electronic reader rather than out of a paper object. There's a reason the book has assumed the form we know today. There are a few inventions in culture that have evolved into their most optimal form, a form that turned out to be the most ergonomic, accessible, and convenient. Spoon, knives, and forks haven't changed in the few hundred or thousand years that have passed since they acquired their form. The same is true of books.
But that's precisely what you're doing: you're questioning the form.
Katarzyna: Our books obviously go beyond the codex, but they are still deeply rooted in the form.
And yet you've also decided to go into new media. The book ten letters includes a disc. You don't question modernity completely.
Zenon: No, we combine the old and the new. In the context of liberature, it is the book that is the new medium. Liberature either revives a completely forgotten dimension of the book, or it revives and discovers something new. It doesn't matter whether it's an electronic medium or a new book medium; if we approach a piece of writing in a holistic and total fashion, then not only does the author write the text, he writes the whole book. It's still a fresh medium. Even if it most literature had to move to the internet because of ecological, economical, and technological concerns, there would still be luxury editions, bibliophile editions that would keep that "old" form. Whatever can be virtual, let it be virtual. The kinetic poem Primum mobile published on DVD with the book ten letters, which you mentioned earlier, shows that liberature is simply an approach rather than a strictly defined form.