Documentary film. In Poland, as elsewhere of course, new technologies have changed the game. Everyone with a mobile phone is a potential documentary film maker. Sometimes it results in the emergence of a social movement, other times an opportunity for companies, like a mobile service provider, to advertise through "off" film festivals. The growth of reality television is another game changer. That which was once considered private is now public, ordinary people acting in their own dramas, playing themselves even. Then there is the handheld style creeping into the movies. Television news, that bastion of the objective, is not immune either. "Poetics" of videonotations produced by the Association of the Creative Initiatives "ę", for example, are neither tv-like, nor traditionally cinematic. Some dismiss them as "amateurish", others as "the future", as the real democratisation of visualising "the ordinariness" on screen.
For a start
The more you know about a broad subject like Polish documentary, the more difficult to achieve a credible synthesis. Yet you have to start somewhere. Why not here and continue with names like Wojciech Wiszniewski, Andrzej Munk, Grzegorz Królikiewicz and the notion of creational ducumentary.
Andrzej Kołodyński notes in the book Polish Cinema Now! that although documentary films in the early 1990s were respected and well-reviewed by the press, this did not mean that they were seen by a lot of people. "Distribution made this very difficult, particularly in the early 1990s. The film club movement was also in steep decline towards the end of that period. In practice, television was all that remained as a means for one-off screenings on a scale larger than that possible in cinemas," he notes.
"After 1989 the reality changed, obviously," says Maria Zmarz-Koczanowicz, director of Zamień mnie w długiego węża (Turn me into a long snake, 1997), a film about the plight of Romanian children begging on the streets of Warsaw. "But the Polish documentary film, with its very strong roots, has always had an important role to play, holding a mirror up to society, looking at this reality – whatever it may be – in a way that changes people's perceptions, one hopes for the better!"
Andrzej Fidyk, who at the end of 2010 returned as head of public television TVP's documentary section, suggests that the last 15 years' flood of reality television has also changed the documentary landscape. "This is a challenge for documentary makers," he says. "Reality shows show things as they really are, in a way that was once thought the preserve of the documentary film."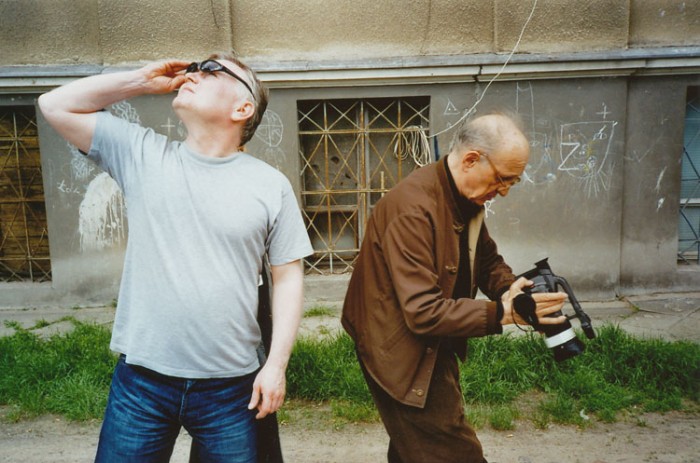 photo: Kazimierz Karabasz archives (K. Karabasz to the right), courtesy of filmpolski.pl
But the challenge is being met. "The documentary milieu is now likely to finally receive strong financial and content-support from Polish public television (TVP) due to the latest reshuffle and the return of prominent film industry representatives to its ranks," says Krzysztof Gierat, director of the Kraków Film Festival.
This is personified perhaps no better than in the shape of Fidyk. He says there is now more money and support for reinvigorating Polish documentary film on public television also. TVP's documentary unit now has an annual budget of PLN 3.5 million for 2012 for productions and co-productions, Fidyk says.
The great divide?
In the old days, before the internet and all that, there were broadly speaking two main "schools" of Polish documentary films, with Kazimierz Karabasz ("the father of the Polish documentary film") and Marcel Łoziński on one side and Fidyk on the other. "The latter is more direct and more visually attractive," says Aleksandra Sekuła, who studied under Łoziński in the 1990s.
The Łoziński School – Łoziński (born 1940) was a peer of Krzysztof Kieślowski, who himself studied under Karabasz, and from a similar tradition and similar aesthetic background – belongs to a trend that is widely seen as a creative evolution of the Karabasz school.
"Łoziński taught us to imagine possible situations and answers and their consequences," says Sekuła. "He has a carefulness, a delicacy in his attitude to people and problems, a kind of humility in the face of reality."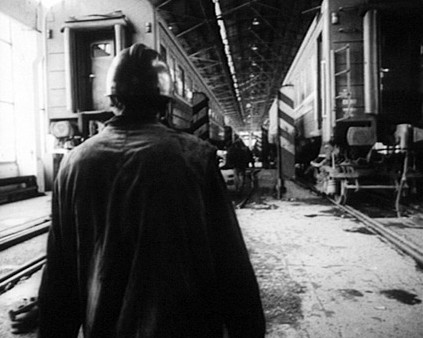 89 mm od Europy, dir. Marcel Łoziński,
photo: courtesy of filmpolski.pl
"When observing them it is not sensation he is searching for but the essence of the matter, the mystery. He is not afraid of staging, does not avoid inspiring events. If there's anything for him to be strict about it is the sense of responsibility for the heroes he portrays," Sekuła says. Łoziński's film 89 mm od Europy (89mm from Europe, 1993) bears most resemblance to a classic documentary of the Karabasz school, Sekuła believes. The 12-minute footage of one apparently trivial event reflects the demarcation line between the eastern and western civilizations, between the poor and the rich. The film's title represents the difference between the width of rail tracks in Europe and former Soviet Union. At a railway station at a border-town of Brest (in Belarus) workers change the wheel track of each train entering their country.
The Fidyk School in turn focuses on contemporary times and changes in customs and morals and is "less interested in everyday life," Sekuła says.
"A good story is a good story and that hasn't changed," Fidyk says. "That is what matters… I am looking for the sensibility of the film maker, not just their technical skills but how they see, feel and think." From Fidyk's point of view a documentary should be a delightful show capable of competing with great Hollywood productions in terms of popularity.
In his first period at TVP, starting in the summer of 1996, Fidyk was appointed the Head of Documentary Film Department at the Polish Television Channel 1 (TVP1). Under his leadership the production of documentaries attractive to mass audiences began to flourish. Other directors followed in Fidyk's footsteps and found topics in other cultures or at the junction of cultures. One of the directors here is Jan Sosiński, the author of Czarne tulipany (Black Tulips, 1997), featuring Russian veterans of the Afghanistan war and Tato, pamiętasz (Daddy, do you remember?, 1999), a story about a mature half-Polish, half-Albanian woman who goes to Tirana to meet her father for the very first time.
There are perhaps two other significant "schools" worth a mention, one being historical documentaries. Sekuła points to Agnieszka Arnold's Sąsiedzi (Neighbours, 2001), a film that provided the impetus for Jan Gross's book of the same title also in 2001, about the massacre of the Jewish half of the north-eastern Polish town of Jedwabne by their Polish (Catholic) neighbours. The so-called "blank spots" were a common theme. Wincenty Ronisz's Wojna polsko-bolszewicka 1918–1921 (The Polish-Bolshevik War 1918–1921), 1992); Zbigniew Kowalewski Wszystko dla Orląt (Everything for the Eaglets, 1992), about the defence of Lviv in 1918, Krzysztof Nowak-Tyszowiecki's Cud nad Wisłą (The miracle on the Vistula, 2005). Another subject was Poles exiled to Siberia. Maciej Drygas's Jeden dzień w PRL (A day in People's Poland, 2005), a film portrait of one specific day: 27 September 1962.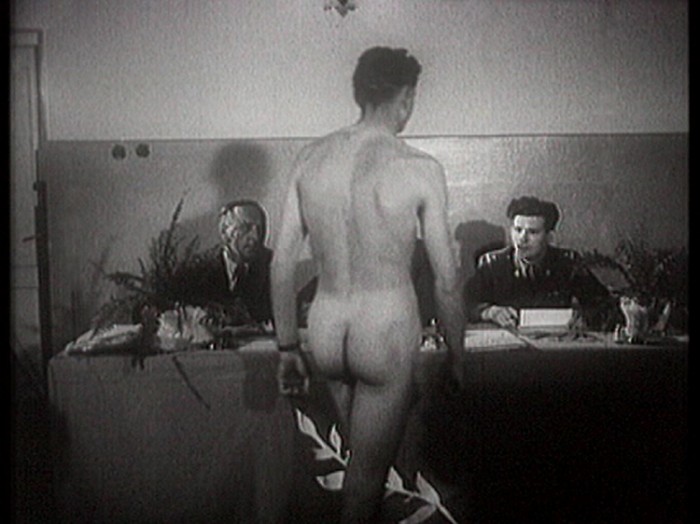 Jeden dzień w PRL, dir. Maciej Drygas, photo: courtesy of filmpolski.pl
"But still there is another school, mainly of right-wing filmmakers, a school of propaganda," says Sekuła. It is rather a specific manner or trend then a separate school of filmmaking. Trzech kumpli (Three mates) by Ewa Stankiewicz and Anna Ferens produced by TVN is perhaps the best known example. "They want people to say what they want them to and to achieve this they cut their films in a suitable way," Sekuła says. "They tend to have a strong point to make and don't want to stand up to a polyphonic reality – they are not interested in it at all. I consider it as a part of the conservative way of thinking."
"TVP [public television – J.H.], politically corrupted, was in recent years connected with one, right-wing, political centre. Instead of documents they made journalistic and didactic reportages. TVP had its financing limited and the PISF (Polish Film Institute) was practically the only source of money for the documentary film," says Tadeusz Sobolewski, a journalist at Gazeta Wyborcza daily.
Another key "school" has been the now defunct Paladino Film Group (Thierry Paladino, Maciej Cuske, Piotr Stasik, Marin Sauter). "The Paladino Film Group doesn't exist anymore but it was a very fresh phenomenon, the intimate documentary," says Sobolewski. Their films did not aim to serve any mission. Omitting harshness and avoiding preconceptions and easy answers. Maybe we can call it a kind of phenomenological 'looking', attentive observation of people. Paladino's view of documentary had a wide impact though. It is clearly visible in the educational projects, as Piotr Stasik is the head of the "ę" Association. Not to mention the videonotations, which represent the same documentary style.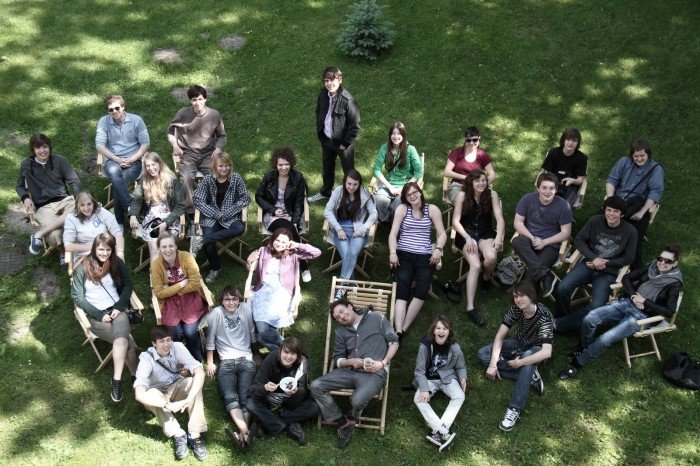 Piotr Stasik and the film workshop participants, photo: courtesy of "ę" Association
Kołodyński notes in particular the works of Ewa Borzęcka, of the Fidyk school. The first in her series of documentaries on sensitive topics, often made in a way that the critics saw as a direct violation of ethics, not to mention good taste, was The thirteensome (Trzynastka, 1996) about a single mother raising thirteen children in poverty. Despite winning the Grand Prix at the Kraków Festival, her film Arizona (1997) stirred up a lot of criticism. A study of people demoralised by poverty and aimlessness, who used to work on a state farm that was shut down in 1990.
"Arizona was a bit voyeuristic," Zmarz-Koczanowicz says, "and created a big scandal, undermining as it did the Łoziński approach, that of empathy above all else. But breaking taboos is part of the genre."
Old politics, new films?
"But the situation at TVP meliorated. Now cooperation between the PISF and TVP which did not exist seems to be possible," Sobolewski says. "The PISF created new groups of experts that will assign funds for documentary film and run by eminent directors: Maciej Drygas, Zmarz-Koczanowicz and others."
Sobolewski mentions Marcel Łoziński's Tonia i jej dzieci (Tonia and her children, 2011), a story of two generations – parents (old communists) and children who emigrated in 1968 – and Chemia (Chemistry, 2009) by Pawel Łoziński and Maria Zmarz-Koczanowicz's Zwyczajny Marzec (An ordinary March, 2008) about the anti-Semitic propaganda of 1968.
But what of the old dance with Politics? "Thank God documentaries do not have to play any subversive roles anymore," Gierat says, "such as fighting against the communist regime. Every time documentaries are involved in publicism they are doomed to failure. For me personally it is always the artistic tale of the human being that is more powerful than any manifesto or propaganda. The 2011 Kraków Film Festival brought to my attention a significant issue – many of our film-makers have left Poland and turned away from the political fuss. They happened to find much more important stories abroad. The impact of documentaries in recent years proves that modern documentary film can be an alternative to fiction. Documentary cinema has the quality to create narratives that are more gripping and truthful than fiction, without forcing the intimacy of the documentary protagonist. What is most crucial is to guarantee a decent slot for documentary cinema both on television and in niche cinema distribution. DVD releases and internet are still not enough to cover our documentary needs."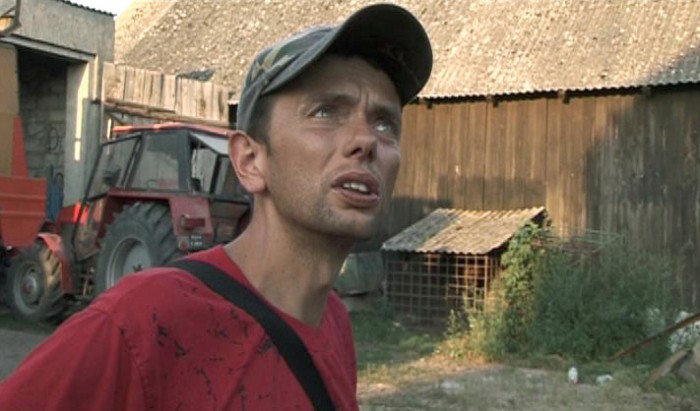 Na niebie na ziemi, dir. Maciej Cuske, photo: courtesy of filmpolski.pl
The future
"In 2011 the situation for Polish documentary cinema positively changed," says Sobolewski. "In a year we'll see the results."
"I would say that the most interesting films are those produced independently, made out of a heart-driven need," says Gierat. Koszałka and his Takiego pięknego syna urodziłam (What a beautiful son I gave birth to, 1999) is one of the most widely talked about.
"These projects are often brought to life outside the so-called official television or film production circuit. It is often the director themselves or their spouse who take on the producer's role. Often the films' finances are not secured even though the production is already underway. Young filmmakers are definitely taking the lead, while the older generation (except for a few masters) are now in retreat. Every year we get to hear new names whose talents originated outside the renowned film schools. What they have in common is their courage and enthusiasm – they are ready to travel miles following their film character and take the risk of shooting without a fixed budget," Sobolewski says.
One of the new young documentary makers is Julia Ruszkiewicz, director the 2009 film Warszawa do wzięcia (Warsaw available), which follows the plight of three girls as they take part in a Church-sponsored project to help girls from the ex-state sponsored collective farms, PGRs, to find jobs and build new lives in Warsaw. Ruszkiewicz spent a year in their company. She was, she says, aware of some of the people's fear of being portrayed like in Borzęcka's Arizona. Watching the film and talking with the director one gets the sense that she succeeded in portraying a fully lived experience, empathising with the characters in a way that previous works had not fully done. The result is rather heart-breaking in its vision of the hopelessness of the old state-run collective farms.
"Some young wolves appeared on the documentary scene a few years ago and one name should be added to old stars is Maciej Drygas," says Artur Liebhart, the chief of an alternative documentary festival Planete Doc Film Festival. "Drygas's debut Hear my cry was chosen by the European Film Academy in 1991 as the best European documentary film, only the second Polish winner after Łoziński's Oscar Award for 89 mm," says Liebhart. He also notes Bartek Konopka's second film Rabbit à la Berlin, an Oscar nomination in 2009.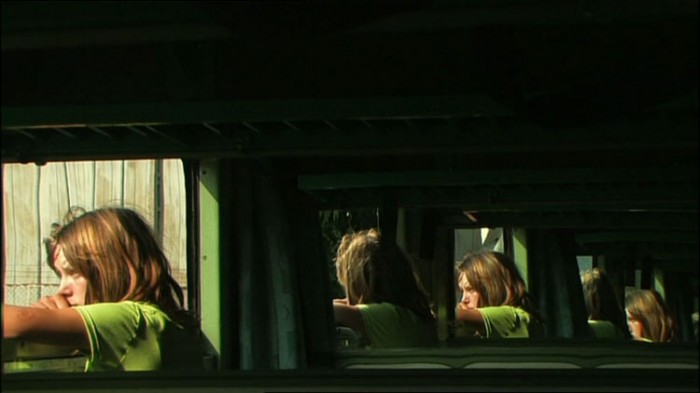 Warszawa do wzięcia, dir. Julia Ruszkiewicz, courtesy of filmpolski.pl
Liebhart says the debut of Michał Marczak, with his film At the edge of Russia in 2010 was an equally ground breaking movie. "Marczak is now working on a film which is widely awaited by world documentary aficionados – Fuck for the forest – showing the radical eco movement and its mission of save Amazon forest," Liebhart says.
"What these two directors have in common and what distinguished them from older ones is simultaneous work on fiction films. They don't see a barrier between genres – something impossible for 'fathers of schools'."
The Planete Doc Film Festival held in Warsaw since 2004 is a different approach to documentary film. It was targeted to mainly young audiences, showing must-see world class films accompanied by panels with well-known journalists. "This means distribution of documentary films all year round, including theatrical releases, a DVD line and TV distribution servicing 12 channels in Poland, which has brought documentary films back to movie theatres and every year more tv slots are opened including for feature length doc films," says Liebhart.
So, does the success of new documentaries imply there will be more changes to come? Bartosz Konopka's film Królik po berlińsku (Rabbit à la Berlin, 2009), which was popular internationally, suggests there might be, Kołodyński argues. The film's starting point is the case of the rabbits that lived in the empty green zone between East and West Berlin, which came into being after the Wall was erected in 1961. The film is obviously a metaphor of society living under a totalitarian system and the director shows footage of the wild rabbits' placid existence, interspersed with documentary. "It is a brave movie, looking back to a painful past while embracing the need for change in the present," Kołodyński writes.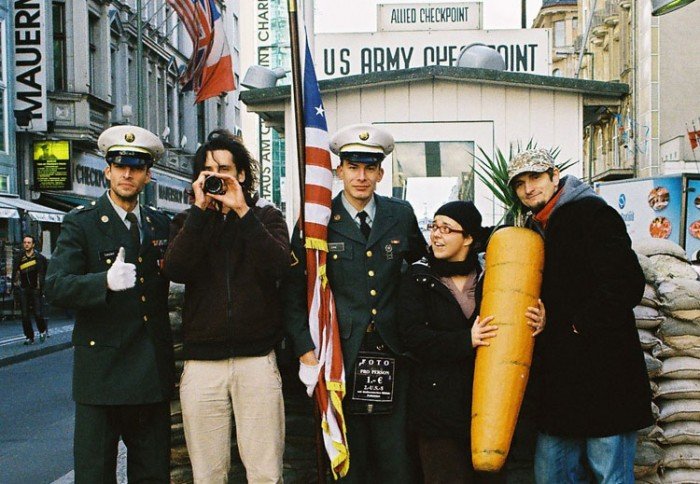 Piotr Rosołowski, Anna Wydra and Bartosz Konopka, photo: courtesy of filmpolski.pl
"One could risk saying that in Poland documentaries have ended up in an exceptionally favourable situation," Kołodyński writes, "actively supported by new, energetic firms and festivals (including the specialised Planete Doc Film Festival) that have begun to influence the DVD distribution market at last. Similar things are happening with competing television channels and the Arthouse Cinemas Network, which are now reviving this 50-year-old tradition by distributing documentaries together with feature films. All this bodes well for the future."
Asked if there were any taboos that couldn't be broached, Zmarz-Koczanowicz smiles. "The Church – or perhaps I should say Father Rydzyk [controversial priest – J.H.] – is still a bit off limits," she says. For the time being only, one supposes.
All photos courtesy of filmpolski.pl.