The first word that comes to mind when listening to these nocturnes is: softness. Nelson Freire plays Chopin as softly as if he were walking on a down carpet, even drifting above it. The sounds are warm, pleasant, soothing, pensive. Absorbing.
Take the first piece on disk two – Nocturne in G minor, Op. 37, No. 1 (Andante sostenuto). The calm that the Brazilian pianist (born 1944, started to play at age 3) pours into these notes is unearthly. Calm and tension. Freire takes not a single motif here for granted. He infuses, illuminates (hence the warmth), opalesces them.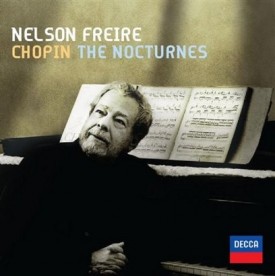 Nelson Freire (piano), Chopin. The Nocturnes,
2 CD, Decca / Universal 2010
And all that is unobtrusive, lightweight (hence the softness, catlike – pianists who are like cats are the most interesting ones), unforced. Twenty nocturnes listened to in a row (and several times) don't dull your senses, don't level the contrasts, don't leave you bored – quite the contrary. The more you hear, the more you want.
The final nocturne from disk two - Nocturne No. 20, Op. Posth. in C-sharp minor (Lento con gran espressione). The sounds like scattered crystals. Or pearls. And suspended in time. Hypnosis.
Or take the last two nocturnes Chopin ever wrote – the Op. 62, No. 1 (Andante) and No. 2 (Lento). You can feel that Freire could shatter the keys into pieces with the power of his stroke yet everything remains beautifully muted here, kept in check, impossibly delicate. As if the pianist were sitting besides someone who was asleep and were playing all the most important things but in such a manner so as not to wake that person up.
It's in the context of these two nocturnes (as well as Chopin's other final works: Barcarole, Polonaise-Fantaisie, Cello Sonata) that Jarosław Iwaszkiewicz wrote: 'But it's precisely the tiredness, the anxiety of these final works that determines their originality, their surprising impact on the listener who, dazzled by the musical ingenuity, values more deeply the moving humanness of these pieces, the heights of musical genius.' (Strange, Freire plays it exactly like this – unsettlingly, movingly, and calmly).
And again Iwaszkiewicz: 'Chopin's nights are full of anxiety, after all. Life passes quickly, slipping through your fingers – and Frédéric is gripped by a fear of void and oblivion. He knows well that at the end of the "terrible" things there will be Poland but knows equally well that he will not see it. And perhaps they will forget about him in that new Poland? Perhaps they will not need him there?' Well, they need him not only here. In Brazil too.

translated by Marcin Wawrzyńczak