TOMASZ CYZ: What does opera mean to you today? It's been twelve years since your opera debuts in Warsaw with Roxanna Panufnik's The Music Programme and Verdi's Don Carlos.
KRZYSZTOF WARLIKOWSKI: With those early productions, I was trying my hand at a somewhat unfamiliar challenge. Opera has since become a world of concrete opportunities, a world that I probe just as I do theatre. It's also become a time of escape from theatre and drama — an attempt to find myself elsewhere. I don't know if that's what you were asking me.
I'm also asking about your technique. Has this decade of experience changed anything in the way you approach a new title, both in terms of the conceptual work and the rehearsals later on?
KRZYSZTOF WARLIKOWSKI
One of Europe's leading theatre directors, head of Nowy Theatre in Warsaw. He has been working in opera for twelve years, and has directed in Warsaw, Paris, Munich, Berlin, and Brussels. His forthcoming premieres include Berg's Lulu in Brussels and Gluck's Alceste in Madrid. His last opera premiere at the Grand Theatre-National Opera in Warsaw was Wozzeck (2006).
Sure it has. Opera opens up a world of opportunities. Premiering a drama production leaves me wondering what it is that I want to talk about in my next piece. I don't really know anything about the next subject or work that I'd like to or could direct. I've gone through several imporant names and musical languages in opera: Wagner, Janáček, Szymanowski, and Berg. The list of names is growing, and with them come new acoustic worlds, stories, subjects and theatres, and that means new spaces and stages. Each of these acoustic worlds serves a different purpose. For example, I'm now going back to Berg. This time it's Lulu, and my encounter with Berg is completely different from the one I had before.
Did any of these experiences in opera strike you as more significant than the others? Do any of them stand out in some way?
I think all of the Paris productions were special in some way. The dialogue I have with an audience in Paris is completely different from that in, say, Brussels or Madrid. Wozzeck was also important in that it was my first full and complete experience with opera. I learned that opera can be more familiar than I had suspected, and that you can find a composer who will give the piece proper attention and follow the librettist's lead. And as for Lulu, I would even say that the opera – left unfinished by Berg, I might add – is better than the Wedekind play it was adapted from.
When you were just starting out in theatre, did you sense that you would someday end up in opera?
No, but it seems rather logical in retrospect. The same goes for my work with a composer like Paweł Mykietyn. Our productions are a collaborative effort. Paweł writes autonomous music, applying his experience in the theatre, and vice-versa: his theatre music draws on his absolute music. The same is true in my case: his music opens up my ears to the sounds of Wagner, Szymanowski and Berg.
Describe your method of working on an opera.
There are different phases that don't always have anything to do with each other. The first one requires the presence of the opera director, one whom you trust and who trusts you and tells you he'd like to see your version of Lulu, King Roger, or Poppea, or something else. Then there's a long discussion that leads to a particular choice. The next phase involves conceptual work and set design. This is a crucial phase, because the decisions you make in it are final, and so they have to be right. And finally there come the rehearsals and work on stage, where you attempt to subvert what you've built so far, taking it further and deeper. It's also the stage where the singers grow familiar with each other and their language, and break out of their routines.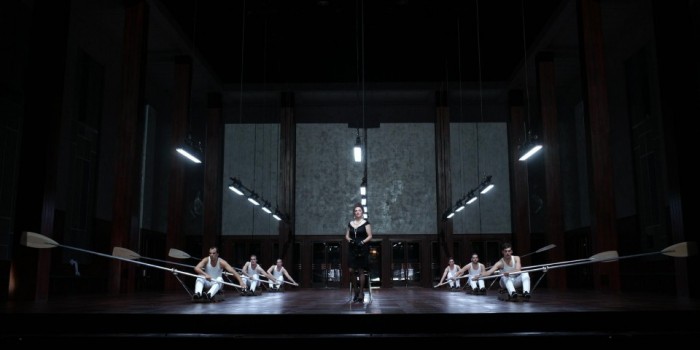 Monteverdi/Boesmans Poppea e Nerone, dir. K. Warlikowski, Teatro Real in Madrid, premiered 12 June 2012,
photo: Javier del Real, Teatro Real
How do you work with the singers?
There has to be a certain element of ingenuity in a singer if their voice is to "meet" the character written into the sounds and melodies by the composer. But the singer is also the product of agents and contracts. Singers are spoiled by the whole opera market: it would be much better for them to sing nothing but oratorios and the occasional recital, and stay away from the stage, where they're also required to act. But with performances on stage comes fame, and hence the compromises. Not to mention the everyday lives of singers, who often have to travel with their entire families and children, or don't have families at all, or visit them during short breaks between performances. The opera is a great sacrifice and enormous effort, not just physically, but mentally, too. In some cases you can be in a different country every two months, often in different climate zones. There are those who revel in it, others hate it, but there's no other way. These people are generally difficult to deal with and you have to be convincing enough to get them to believe that what you're offering is exceptional and, at the moment, one of a kind. Sometimes the singer won't show up until all the sets have been up and you only have them for three or four rehearsals. If an opera wants to have the greatest stars, then compromises like that are bound to happen. But I've been trying to say no to such situations more and more.
How do you feel once the piano rehearsals have stopped and you start practicing with an orchestra?
That's the moment when the singers are covered, when everything that's alive is obscured. On the other hand, it forces you to work with what you've done so far and pull all the most important elements out onto the surface. It's also a time when the singers can grow comfortable with their own voices and the sound of the production as a whole. Finally, it's the stage where the final changes are made. The orchestra introduces logic and sense, and adds a rhythm that's not there with just the piano. There's a greater meaning in the music that's lacking when you're working with just the piano.
Mariusz Treliński (Artistic Director of Polish National Opera – ed.) didn't direct Wagner until he had been working in the opera for thirteen years. You started Wagner much earlier. What was it like to encounter this great artist at the premiere of Parsifal in Paris?
Everything happened so quickly that I didn't even have time to worry. After three premieres on the main stage in Warsaw, I received a rather unexpected offer to direct Gluck's Iphigénie en Tauride with Marek Minkowski in Paris, and the next there was Janáček's The Makropoulos Affair, and then Wagner.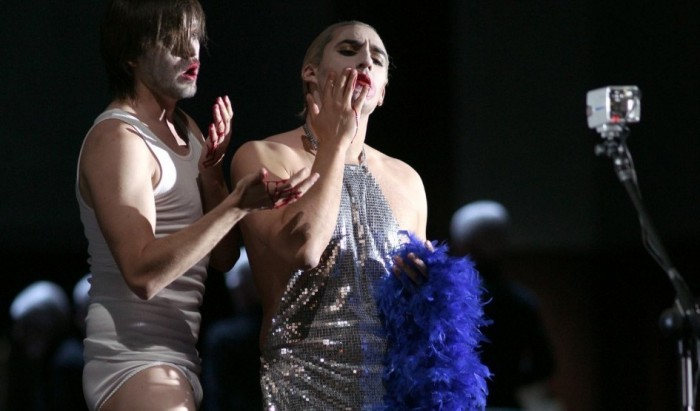 photo: Javier del Real, Teatro Real
Your invitation to the Paris opera could also have been a natural consequence of your theatrical success in Avignon, or perhaps the excellent reviews of your TR Warszawa production at the Odéon.
Probably. It wasn't hard to predict that my opera productions would draw theatre audiences. Anyway, theatre directors are nothing out of the ordinary in today's operas. It was an extraordinary four-year period in which I directed, year after year, titles that most directors dream of doing their entire lives, and that were worlds apart at that.
There's a funny thing with Wagner. Germany is one of the most secular countries in Europe, second only to the Czech Republic, and yet they adore Wagner's music. It's because Wagner demands a certain spirituality of them. Of course, German spirituality has nothing to do with religiosity. The same is true of the theatre: when you direct Hamlet, you have to figure out who – or perhaps what – the ghost of Hamlet's father is. It's the same with Wagner: you can't gloss over the metaphysics of that world, its spirituality, even if you contradict it.
In that case, King Roger could be some sort of sequel to Parsifal.
I think Szymanowski's spirituality stemmed from his homosexuality and was ultimately carnal, and so it can't be a spirituality that relates to God. But there are still some elements of it smoldering in Wagner, although they may somehow be tied to German mythology, the quintessential example of which is found in Bayreuth. It's a place that the Germans need in order to confirm their existence, as evidenced by the fact that the Bayreuth theatre/temple was quickly reopened after World War II to remind everyone that "we're still here".
Tell us about your work on King Roger in Paris.
That was a wonderful period, one of the reasons being that it was supposed to be the last premiere under Gerard Mortier, which opened up some space for more freedom. Also, the soloists – Olga Pasiecznik, Mariusz Kwiecień, and Slovak singer Stefan Margita, with the exception of the American singer Erik Cutler, who sang the part of the Shepherd – understood Polish. My subversion of the meanings in this opera was thus very inspiring and familiar to everyone. People were very much involved in this production; it unexpectedly became central to the entire opera. Having directed The Maenads, I was quite surprised by these two views of Dionysus – that of Iwaszkiewicz and Szymanowski, two Polish homosexuals of the early 20th century. Szymanowski posed many important questions in that piece.
For example?
Spirituality, for one. His and Iwaszkiewicz's voyages towards Dionysian freedom weren't all about God and metaphysics, they were also about the body. Although, interestingly enough, in musical terms Szymanowski remained a child, or even an altar boy, for whom nothing but God mattered.
Are your opera productions born of some kind of defiance against the work, the tradition of its performance, the music, or the subject?
I don't know. I don't have any particular programme. Sometimes the historical context matters, while at other times it's the biographical context. Besides, anything you do in the context of opera is inevitably going to leave a mark.
They say one of the pieces you're considering for your next production is Don Giovanni.
I'm not thinking about it yet, but you could say I'm sensing something. There's no other work in the history of drama quite like Don Giovanni. Not even Molier's Don Juan can compete with it, nor can Wozzeck or Lulu.
Will there ever come a time when you'll want to take a break from opera?
I don't know if it'll be a break from the opera. I might just take a break from the theatre in general.
translated by Arthur Barys