Piotr Anderszewski has always shunned conventions. One would have expected every pianist to focus on the work of Frederyk Chopin during the recently concluded celebrations of Chopin Year, but Anderszewski kept quiet on the matter. He did speak up on a different, but equally commemorative occasion. After all, 1810 was also the year of the birth of Robert Schumann.
The new album by Anderszewski (a Polish pianist of Hungarian descent, permanently residing in Paris) is devoted to the music of Schumann, a musical introvert and sensitive artist who paid the price of madness for his talent and who, after a failed suicide attempt by throwing himself into the Rhine on February 26, 1854, spent the rest of his days at a mental institution in Endenich.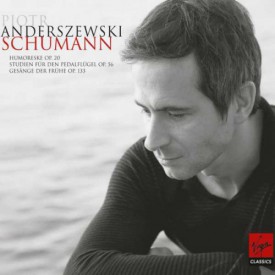 Piotr Anderszewski, Schumann,
1CD, Virgin Classics 2010Anderszewski started with Humoreske, Op. 20 (1839), six emotionally-laden and technically imaginative studies performed with the finesse worthy of a mature master and which explore an entire musical cosmos in the piece. Anderszewski gives us lightness (1), a storm of thought (2), meditation (4), irony (5); ferocity, happiness, and gloom. The strongest emotion is perhaps melancholy, especially in the third study ("Einfach und zart. Intermezzo. Adagio"), but without serving as a cure for despair. And to think that while writing Humoreske, Schumann was vying for the love of Clara Wieck ― a struggle waged not against her, but against his teacher, her father. The wedding took place in September, 1840.
Next comes Studien für den Pedalflügel, Op. 56 (1845), evidence of Schumann's great fascination with counterpoint. Anderszewski takes what looks like nothing and conjures up a world straight out of Bach. It's no secret that polyphony is this pianist's underground kingdom ― especially polyphony of the densest kind, the hidden variety, not at all apparent at first glance. These six studies (and diverse studies at that, as if to demonstrate a wholly different polyphonic problem) show just how great (and modest) a pianist Anderszewski really is. You can listen to these notes if you only want to, but to see yourself in them, you have to know how. And you have to have the courage to place them on the same scale as Bach.
Finally, Gesänge der Frühe, Op. 133 (1853), considered to be a testament of sorts, composed shortly before Schumann's death. Perhaps this explains why Anderszewski's fleeting fingers make Songs of Dawn sound more like a nighttime, dream-like piece. It's not a nightmare, but it's no lullaby either; a swan song that lasts a quarter hour, yet never seems to end. It brings to mind a recent film by Bruno Monsaingeon (commissioned by the National Audiovisual Institute in Poland and the Polish TV channel TVP Kultura) which depicts Anderszewski performing with no audience/witnesses. His repertoire: Studien für den Pedalflügel and Gesänge der Frühe. We see little aside from his fingers, the keys, and fleeting glimpses of the inside of the piano. Anderszewski at the piano, unveiling the body of Schumann's music, and Monsaingeon behind the camera, unveiling the souls of both artists. An electrifying performance.
A great record for dark, cold, and lonely winter nights. I wonder how it will sound in the spring. And I can't wait for Anderszewski to perform Clara Schumann ― a true treat, should it ever happen!