Soyka śpiewa Miłosza is a mere 27 minutes long. That's pretty short. The fact that two of the tracks were already released on the album Studio Wąchock ("Stary człowiek ogląda TV" and "Który skrzywdziłeś…") raised the question: what for? Is it just to mark the anniversary?
Besides, it's almost impossible to write a song nowadays. Now that the major-minor system has been exhausted, not to mention the classic pop sequence: tonic — dominant — subdominant — tonic (and its variations and derivatives), now that everything is built on repetition and endless reprisals, the only hope lies in the lyrics. In the words.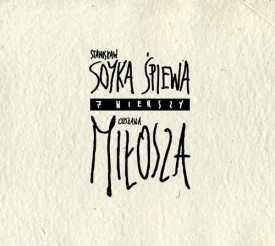 Stanisław Soyka sings 7 poems
by Czesław Miłosz, 1 CD, Universal 2011
And Soyka is right to try his hand at Miłosz. There is rhythm and melody hidden in his poetry. There is power. Take this fragment: "Ach te muchi, / Ach te muchi / Wykonują dziwne ruchi, / Tańczą razem z nami, / Tak jak pan i pani / Na brzegu otchłani. / Otchłań nie ma nogi, / Nie ma też ogona, / Leży obok drogi / Na wznak odwrócona." Can you hear that rhythm? Can you hear that melody? If you can't, if you still can't, then listed to Stanisław Soyka sing it with Czesław Mozil.
There's nothing in the background but a guitar and an accordion. In the foreground is a voice — a common voice, as Soyka and Mozil sing unisono. The quasi-chorus (the verses of poems are often rearranged when set to music) is especially catchy: "Otchłań nie je, nie pije / I nie daje mleka. / Co robi [otchłań]? / [Otchłań] czeka." Even though it's just a variation on the standard formula: subdominant — tonic — subdominant — tonic — subdominant — tonic — dominant — tonic. But fortunately, it's not just a variation, and I can't tell whether it's because of Miłosz's lyrics or Soyka and Mozil's light, unimposing vocals.
Soyka is right to have tried his hand at Miłosz (just like he was wrong to once again take on the writing of Karol Wojtyła; the special compilation album W blasku światła, on which he collaborated with Andrzej Piaseczny, is unlistenable in the long run, although the instrumental piece "Brat naszego Boga" that ends the Miłosz-themed project isn't bad at all).
Songs such as Po osiemdziesiątce reveal Soyka's different approach to setting music to words. His search for the melody doesn't start with the harmony or the chords (familiar, favorite, and well-liked chords) but with the words. A violin plays in the background (Soyka's other instrument, after the piano). And the words lead the melody of the voice. They uncover it. Not unlike Niemen singing Norwid.
The album is a mere 27 minutes (22 if you don't count the instrumental track). That's pretty short, much too short. You just feel like having some more. I think Soyka should make up for it by recording a long-play record (as opposed to this extended play album) featuring the poetry of Czesław Miłosz. There's no need to wait for another anniversary.