Wojtek Mazolewski (born 1976) – composer, musician, double bass player and bass guitarist. Founder of Pink Freud and the Wojtek Mazolewski Quintet. The Gdańsk native has been making music for as long as he can remember and has proven a compulsive creator of new sounds and new bands to bring forth those sounds.
He started off with a determinedly punk rock style in his youth, he's grown to become one of the most significant musicians on the contemporary jazz scene in Poland and a pioneer of Yass, a locally-bred style of music distinguished by an emphasis on improvisation, blending elements of jazz, punk rock and folk. It's a very skilled form of improvisation, a measured musical discipline spiked with a dose of spontaneity and a burst of energy. After all, jazz was the punk rock of its era so it makes sense that as "Mazol" matured, he turned to broader forms of rebellion within the stringent confines of musical classification.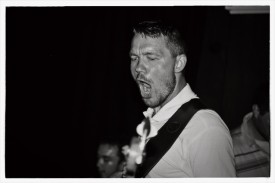 Wojtek Mazolewski, photo: Bartek Felczak
Mazolewski established his first band – Iwan Groźny (Ivan the Terrible) – at the age of eleven. Over the years he dabbled in various yass acts, collaborating with such bands as Inżynier Kaktus and Arythmic Perfection. His first major project was the Bassisters Orchestra, which brought him together with young talents like Fisz, Emade, Bunio, Macio Moretti and Mikołaj Trzaska and was aimed at joining together all sorts of styles and forms to create an independently contemporary, at times even quite peculiar, sound. Later in the 90s, he followed up with Paralaks, another band conjured up for the purpose of creating a platform for experimental, purely improvisational techniques in music.
By the time he established Pink Freud circa 2000, he was already quite well known on the jazz scene. Composed of Kuba Staruszkiewicz on percussion Tomasz Ziętek on the trumpet and Mazolewski himself on bass guitar, with sometime collaborators Sławek Jaskułke on the keyboard and DJs Wojak and Lenar, their unexpected union of punk rock and jazz proved a hit with audiences. A few years later, he established his freshest project – the Wojtek Mazolewski Quintet. WMQ is the quintessence of what Mazolewski has pursued all his life, created in collaboration with Oskar Torok on the trumpet, Marek Pospieszalski on saxophone, Joanna Duda on the piano, Jerzy Rogiewicz on percussion and Wojtek Mazolewski on the double bass.
The band's second album Smells Like Tape Spirit, released in February 2011, contains "those kinds of melodies, the narrative direction, arrangement and reflection on every sound that I have held within me forever," he explains. The album took two years to make, produced using the same technique John Coltrane and Miles Davis would record in the 1950s and 60s – the band would shut themselves in a one-room studio and improvise, recording without a single do-over or interference. The resulting sound is a smooth, natural sound that carries through Mazolewski's innate style of true, disciplined jazz punched through suddenly with a wild, thrashing bursts of energy and incredibly thrilling, unexpected melodies. The inspirations for the pieces are all drawn from life – several songs on the album are dedicated to the composer's young son.
WHO'S WHO AND WHY?
In this section we introduce Polish artists, places, and new phenomena. We always ask the person or the place's representative the following question: WHY ARE YOU HERE? How they answer it is completely up to them. Time for Wojtek Mazolewski.
WMQ is currently touring Poland with Smells Like Tape Spirit, recently performing a packed concert at the Heineken Open'r Festival at the beginning of July. On 15 July, they're playing at the Koneser space in Warsaw's Praga District as part of the Fre3jazzdays na Pradze festival. On 25-28 August, the Wojtek Mazolewski Quintet is billed for the Tauron Music Festival in Katowice. Later this year, Pink Freud tours Europe as part of a series of contemporary Polish music concerts within the framework of the Cultural Programme of the Polish EU Presidency.
QUOTES:
"First I wanted to be the Pope, then an archaeologist. In the fourth grade I found a guitar in the attic and then I realised I was wrong... Then I only ever wanted to be a musician."
"I really like bands without leaders, so-called democratic bands, because there's a greater degree of mutual involvement, a certain sort of healthy competition, while the process of creation might take longer, but this compositions are all the more of a group effort. They lead to long friendships and everything. On the other hand, it's good to have your own auteur project because you can be independent and work when you like. The ideal situation is to do both."
"I love to rehearse, to perform in concert, to record in the studio – I treat it like my career, my life's path and this is what I wish to do every day and perfect it. It has set itself up like this in a natural way – I didn't assume that I would play with so many bands, it just turned out that way, to my luck."
"Since my youth, I have appreciated pieces in which there is a great deal of songlike, wistful, romantic melodies. In a moment of respite, I found the time in which I could recall them all."
"Music must have energy and emotion! This proves its authenticity."
KEYWORDS: jazz, yass, experimental music, improvisation, WMQ, Pink Freud
EXTERNAL:
www.youtube.com/watch?v=5NPiOjFVQRc&feature=related
www.lastfm.pl/music/Wojtek+Mazolewski
www.myspace.com/wojtekmazolewski
www.facebook.com/people/Wojtek-Mazolewski/155784820

WHY ARE YOU HERE?
Music is the best way for me to make contact with the world. I strive to pursue ideals, but in life it often doesn't work. In music it can work, this beautiful world of feelings and emotions transferred through pure energy. In this way I share the best with others.