Eugeniusz Tkaczyszyn-Dycki (born 1962) – poet. His 2009 Nike Prize win – Poland's most prestigious award for literature – came as a shock to the more conservative members of the literary elite as the poet's subject matter, style and lexicon sets him apart from all of his contemporaries. And yet Tkaczyszyn-Dycki secured the prize and a great deal of support from a number of scholars and critics who have named called him the Różewicz of his generation.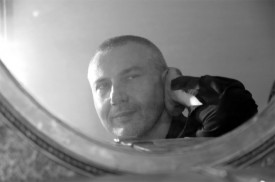 It was his Song on Dependence and Dependencies (Piosenka o zależnościach i uzależnieniach) that won him the Nike honour in 2009. The poem is a concise treatise on language, which can either serve mankind as a steady crutch, or become soft like putty when faced with the greatness of God. While the subject of language may stand in for the greater problem of human will and weakness, language is a key topic and tool for Tkaczyszyn-Dycki – whose very name seems as impossible a tongue twister to Poles as to the rest of Europe. A product of the Polish-Ukrainian borderland outside of Lubaczów, the poet grew up speaking a hybrid blend of Polish and Ukrainian. This lack of linguistic purity gave way to a flexible, creative use of language, free of the rigid restrictions of Polish style and grammar – restrictions that were so necessary in preserving the language through centuries of conquest and occupation. Yet in today's relatively tranquil world, the Polish language and its literature appears to be at a standstill. Much like Dorota Masłowska, Tkaczyszyn-Dycki has pushed the boundaries of the Polish language, saving it, perhaps, from imminent stagnation. His language is an entirely different language, on the edge of Polish, unfamiliar, somewhat magical. Yet it's more of a black magic, each word filled with a shadow of unease.
WHO'S WHO AND WHY?
In this section we introduce Polish artists, places, and new phenomena. Time for Eugeniusz Tkaczyszyn-Dycki.
Tkaczyszyn-Dycki goes deeper than Masłowska. Rather than paint a nostalgic portrait of slick-tongued youths in track suits and tight jeans, he takes the dark tragedies of the small Polish towns out of hiding. His world is one of pain, death, poverty and violence – a miserable existence reminiscent of Wojciech Smarzowski's 2009 film The Dark House (Dom Zły). And yet, his poetry is subtle and it is not altogether pessimistic. The poet's acceptance of the world around him, as dark and putrid as it may be, leads to him to uncover its small blessings in friendship, eroticism and spirituality. His nostalgic descriptions of days gone by and people he's known give these writings a seductive air. His writings have been referred to as a "dark passion".
The poet's style is heavily rooted in repetition, each poem appears to flow from the previous one, ebbing with similar sentiments, often even the same exact verse. It is as if his mind is tormented by memories that continue to return, no matter how hard he tries to drive them away. Just as the earth spins on its axis, his poems revolve as well. Tkaczyszyn-Dycki spills it all – he writes about everything – the slow death of his mother, intimate glimpses on homosexuality. His poetry is dark and intimate, it gives a glimpse into the soul of a human being who is suffering, losing those closest to him. His verses are full of rain, dirt, pain, death and drink.

As Poland and Poles become richer, more bourgeois, the grimier aspects of an impoverished Poland, a nation of unemployed drunks takes on a nostalgic glimmer. Against the plastic sheen of pop culture, the ugly and grotesque is glorified.

Eugeniusz Tkaczyszyn-Dycki has ten volumes of poetry to his name, with the tenth, Imię i Znamię (Of the Name and of the Sign), published by the Biuro Literackie publishing house at the end of September. His first collection of poetry in English, Peregrinary, was published by the Zephyr Press as a bilingual edition at the end of 2008, presenting a selection of poems from the first nine volumes.
V.

I am visited by those who
are no longer here (Jasiejo,
Jasiunio i Jasieczko) perhaps that's why
I meet them as without their presence
there would be no Dycio a fact
widely known though none
can equal my mother's illness
not even after meths
(not even Grenio) though I am
visited by those without whom
I would be nothing pal and that's
nothing to do with said meths

XI.
I still don't know how to say Poland
still struggle to utter in a single
breath Poland and Ukraine Fatherland
and Motherland a word bereft of a future
what does it mean: Mother in the graves
of her sons they know about it
those born yesterday in long
forgotten heroic hymns
why can I still not manage the
word Poland when so many
having feasted on it
torment others
(Translations courtesy of off-press.org)
QUOTES:
"A poet is someone who is at once close to me, and yet a stranger. That's because I grew up in another language and at a certain point, more or less at the age of fifteen, I wanted to be a diablo Polish poet and I conceived that a Polish poet is a poet who not only has trouble with language, and I had trouble with language, all of my attempts at the Polish language was at the same time a problem with accepting not only my mother, but myself. So the Wikipedia definition of a poet would be as such: a poet, a Polish writer, is someone who must constantly weigh against himself, picking up a few surprises along the way."
"Since 2004 I have been a happy person, my mother is gone, she is no longer here. I don't have to rush up to her ever calling, I don't have to listen to what a bad son I am, I don't have to watch her throw up after drinking rubbing alcohol, I don't have to accept all of it."
KEYWORDS: poetry, borderlands, dark passion, Nike literary prize
EXTERNAL:
www.amazon.co.uk/Peregrinary
www.off-press.org/main/wp-content/uploads/2010/06/OFF_-Eugeniusz-Tkaczyszyn-Dycki-5-wierszy-poems.pdf
www.mptmagazine.com/author/eugeniusz-tkaczyszyndycki-3960
www.fuckyeahpolishpoets.tumblr.com