Julita Wójcik (born in 1971) — performance and video artist. Through happenings and artistic interventions, she points out conflicting aspects of social life in a swiftly-changing world. Her aim is not just to undermine certain rules and regulations that govern society, but to create new ways of looking at the stagnant customs of outdated cultural codes. She tests the boundaries of freedom and social access, wafting in a breeze of democracy into the art world, inviting the public into her circle, engaging them in various activities and breaking down the barrier between artist and spectator.
Her primary focus is the tension created by the amalgam of divergent roles set upon women in contemporary society and the negative connotations of provincialism. She created quite a stir in early 2001 with a performance art piece at Warsaw's Zachęta National Gallery in which the artist herself peeled 50kg of potatoes over an entire day, dressed in an apron. Critics questioned the validity of peeling potatoes as an art form, but soon enough Julita Wójcik became a symbol of the drive to shift art's focus beyond the surface and get to the heart of the message.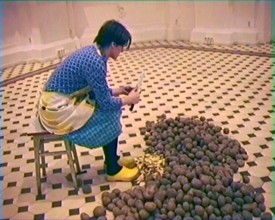 Julita Wójcik in Warsaw's Zachęta National Gallery
Such everyday activities as cooking, housekeeping, childcare are traditional elements of female identity, and yet in a capitalist-driven society, they are overlooked, marginalised, even ridiculed. Wójcik calls attention back to these seemingly insignificant acts, celebrating the ordinary. She does this in a sensitive, subtle way, never allowing form to overtake the message. Rather than declare war on modern-day injustices, she plays upon innate human emotions, tugging on nostalgic associations of childhood, holidays and the unspoiled countryside — relics in a world of virtual living. She makes use of the symbolism of objects — dolls, stuffed toys, potatoes to make a statement on assigned gender roles and experiences — dress codes, management, computation, analysis vs. cooking, cleaning, knitting, creating.
WHO'S WHO AND WHY?
In this section we introduce Polish artists, places, and new phenomena. We always ask the person or the place's representative the following question: WHY ARE YOU HERE? How they answer it is completely up to them. Time for Julita Wójcik
In the process she uncovers a new, yet altogether familiar, aesthetic and the significance these symbols hold. By marrying stereotypes to real-life issues, she provides an opportunity for society to recognise that there are many modes and alternatives for personal and collective identity. She also challenges the dismissive attitude of the Polish public towards contemporary art forms and the lack of informed debate, such as in the "It isn't important, it's only art" group exhibition in 2010. She spreads her democratic view of what art should be as far as it can go — hosting art workshops for the public and creating miniature community gardens and dog parks.
Earlier this month, the Israel Museum opened the group exhibition titled "Life: A User's Manual". Julita Wójcik is among the artists representing aspects of DIY culture and the role of directions in everyday life. On show is Wójcik's 2004 project "View Maker", she becomes the Canaletto of apartment blocks in Gdańsk, transforming the dull grey of Polish social realism to the colourful new reality of capitalism. Once again she is both the artist and the model, however the video presents an unnerving aspect of this otherwise happy-go-lucky practice. There is a man in the background commanding her every stroke, a man whose tone seems to accept no form of insubordination. The exhibition is on show at the Israel Museum in Jerusalem until 1 February 2012.

The artist's latest project-in-progress is a series of "drawing workshops". Rather than host a traditional easel-and-paper workshop, she goes a great deal further. Taking Katowice's coal-mining traditions as her cue, her workshops in this city encourage participants to use shovels, brooms and wheelbarrows as their tools. Her medium of choice is still charcoal — ten tons of it — which will be heaped upon a concrete slab to ultimately create a collective, grand-scale charcoal "drawing".
QUOTES:
"Lace patterns, stitches, crochets, embroidery are the code for the initiated — a secret set of instructions on how to occupy your hands and free the mind from dangerous thoughts. Sets of lace napkins, embroidered pillows and tablecloths are the private collections of everyday images for any arts and crafts enthusiast. A regular anti-show where art happens every day. A slipper-shod revolution with the television in the background."

"I am an average girl and do not feel the need to pose or aspire to be somebody else. Doing my art, I engage in quotidian activities, the same each of us engages in everyday. Naturally, simply, this is the way I am, this is my way."

"Help me to peel this mountain of potatoes! Help me to swipe the floors! Knit with me! Help me to paint this landscape! Help me to be myself… and help yourself to be yourself too!"
KEYWORDS: performance, video art, society, ordinariness, DIY, stereotypes, female identity
EXTERNAL:
www.galeria-arsenal.pl/wystawy/julita-wojcik.html
www.artmargins.com/index.php/archive/194-transcending-cliches-with-julita-wojcik-
www.artfacts.net/en/artist/julita-wojcik-14535/profile.html
WHY ARE YOU HERE?
In my artistic practice I strongly encourage people to break the barriers between the artist, his work and the viewer. I often create works in collaboration with the public, with various groups, in an organised setting or an entirely incidental way, welcoming those who are present at a happening. I make an effort to shape my activities in such a way that they are not aggressive and do not impose any particular roles on participants who are engaged in a project. On the contrary, my activities are mere propositions, which develop their range thanks to the way viewers react to them. Every person is different and this wide scope of interpretation is what I find most striking.