Chłodna 25 (established 2007) – café-club and cultural incubator. The first question that springs to mind is surely: what exactly is a cultural incubator? And even once you've established that it must have something to do with providing the right sort of conditions for culture to flourish – much like bacteria in a lab – what do muffins and beer have to do with cultural progress?
But before one has a moment to formulate the question, Chłodna's got the answer stenciled above the bar: All cultural revolutions take place in cafes. The quote from Tadeusz Kantor goes a long way in showing how strongly Warsaw's cultural life depends on Chłodna 25. And while it's not the only spot on the block with such lofty ambitions, it's certainly the most dynamic and respected of the bunch. It is the meeting place for all sorts of cultural initiatives in Warsaw, such as the Warsaw 2020 project, and the ę Association of the Creative Initiatives. It provided Rafał Rutkowski, an actor from the Monotownia Theatre, with space to stage his play This is No Country for Great People. Most importantly, this was the place where musician Marcin Masecki met the Lado ABC record company, launching a number of joint projects vital to the development of Poland's independent music scene. Masecki is one of the most influential musicians of his generation, known for blending genres and styles across centuries. People still talk about his jazz renditions of Beethoven's Sonatas at Chłodna 25 - which he performed over two years ago. As Masecki has said, "Chłodna 25 is a very specific place. There's coffee, there are concerts, exhibitions, discussions, film screenings and so on, but besides that, there is a certain fertile atmosphere, people meet one another, ideas arise, relationships are formed. It's quite an intensive mini-centre for cultural and social life." On 2 June Masecki is back on the piano at Chłodna 25, this time performing Bach with Tomasz Pokrzywiński on Baroque violin.
WHO'S WHO AND WHY?
In this section we introduce Polish artists, places, and new phenomena. We always ask the person or the place's representative the following question: WHY ARE YOU HERE? How they answer it is completely up to them. Time for Chłodna 25.
Warsaw's cafe-club scene has always been a vital element in driving art and creativity, especially in times of political oppression. Yet in times of relative freedom and prosperity, artists still need a place to get together, rehears, knock back a few beers and talk about their plans. Plans that have the potential to become important new projects in the broader scope of Warsaw's cultural life.
Chłodna 25 owes its success to the man behind the bar – Grzegorz Lewandowski, whose day job is Chairman of the Social Dialogue Commission for Culture within the city's Culture Department. He is truly the "Who" of this piece, the brains behind the entire operation. He set up this "meeting place" whilst a student in 2004 with borrowed money, together with Malina Baranowska. While it took a few years to get the ball rolling, today this spot is packed nearly every night of the week. Situated on the ground floor of a "modernist luxury" building on ulica Chłodna, which aptly translates to "Cool Street". Ironically, the Wola district, while only a fifteen minute walk from the centre, still retains the eerie aura of this area, lagging behind the rest of Warsaw in terms of social or business dynamics. Then again, that is part of its charm – this is a neighbourhood where you can still find crumbling pre-war buildings and sweet shops that are decades old. Chłodna itself is located right where the footbridge linking Warsaw's two ghettos stood – this is the spot you see Władysław Szpilman crossing in Polański's The Pianist. In spite of its tragic history, today this bit of street has gained a special allure thanks to Chłodna 25, drawing crowds of people who sprawl onto the sidewalk because there's not enough room inside and pump life into Warsaw's cultural economy as they sip organic beers and chew granola biscuits.
There's always something happening at Chłodna 25 – whether it's Professor Antoni Dudek presenting his politically-minded new book (2 June) or Pokrzywiński and Masecki playing Bach (3 June).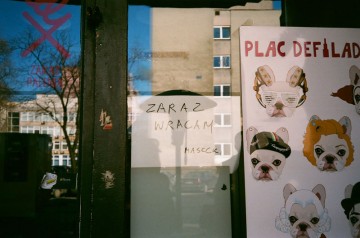 Marcin Masecki wrote I'LL BE RIGHT BACK announcing
his return from South America in 6 months,
photo A. Słodownik
QUOTES (Grzegorz Lewandowski):
"We meet in café-clubs. They belong to us, and we can do whatever we like in them. Very few places around are free of political coercion, or economic pressure. This is where free thought can develop."

"When we started out, we're totally out of the social circle. We knew just a few individuals and then everything started happening bit by bit through link after link of friends."

"There should be a cafe like this on every corner: a local bar where people can meet, come in, eat breakfast, have a beer, watch the game or see a concert."

"In my view, this is just the beginning, and one day we will all laugh remembering there used to be a dozen or so trendy cafe-clubs in Warsaw. I hope they will reach a thousand in number, and be much more interesting, while Chłodna will not change into an institution, but remain a bar on a corner, as it was intended from the very beginning."
KEYWORDS: café-club, culture, Warsaw
EXTERNAL:
chlodna25.blog.pl
www.facebook.com/pages/Klubokawiarnia-Ch%C5%82odna
www.youtube.com/user/chlodna25
WHY ARE YOU HERE?
We were lucky to meet lots of talented people dealing with various issues. The only thing we could do was provide them with space and try to create conditions for their development. This is our mission – to create conditions for the progress of culture, art and all kinds of free thought.