Paulina Ołowska (born 1976) – interdisciplinary artist. Educated at the Academy of Fine Arts in her native Gdańsk and the School of the Art Institute of Chicago (SAIC) and various academies in The Hague, Lisbon, Kitakyushu and Amsterdam. Following her first major international exhibition – Heavy Duty with Lucy McKenzie in 2011 in Edinburgh – she has since exhibited her works at museums and galleries in Berlin, Brussels, Copenhagen, Paris, Eindhoven, Istanbul, Moscow, Chicago, Amsterdam, Barcelona, London, San Francisco, Munich, New York, Miami and beyond. In spite of the geographic breadth of her experience, her work remains heavily rooted in Polish tradition and inspiration. By intermingling popular symbols of both worlds, her works have taken on a strikingly universal appeal.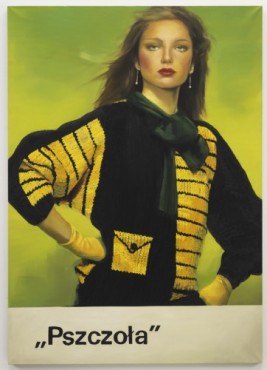 Paulina Ołowska, Bee, 2010
Metro Pictures Gallery, New YorkOłowska doesn't focus on one medium or technique – she is an artist of all trades. By bringing together a variety of forms, styles and genres, she creates an artistic web that manifests the complexity of our swiftly-changing world. As a child of socialist Poland, she thrives on the nostalgia of alternative private realities under socialism. Her work has been said to combine a post-Warholian pop art with Warsaw Pact socialism. She celebrates the aesthetics of those days, such as in her Applied Fantastic exhibition at New York's Metro Pictures Gallery last year, which presented a series of painting inspired by postcards that urged women to recreate stylish western fashions at home. By incorporating the authentic knitting instructions and other consumerist objects and advertisements, she makes a realist commentary on the fascination with the western lifestyle in times when it was quite intangible. At the same time, it is, of course, a statement on feminism and the definition of a woman's place and priorities.
WHO'S WHO AND WHY?
In this section we introduce Polish artists, places, and new phenomena. We always ask the person or the place's representative the following question: WHY ARE YOU HERE? How they answer it is completely up to them. Time for Paulina Ołowska.
The socialist aesthetic is the driving element in her works, inspired by the underground subcultures of the 1960s and '70s and punks in the '80s. In painting, photography, collage, film, music, performance and installations, she uses images from a world of the past, a world that for so many years was locked behind the Iron Curtain – posters, postcards, advertisements, billboards, neon signs, magazine covers. She wavers between what is public and what is private, from the bustle of the city street to the intimacy of the bedroom. The irony is that while Poland's socialist past may be a sore spot for many Poles who wish to forget it as swiftly as possible, for others it is an intriguing glimpse into an entirely novel world of double-entendres and uncanny solutions for literature and art under censure. The rest of the world seems terribly interested in what Poles of today seem intent on sweeping under the rug. And Ołowska delivers.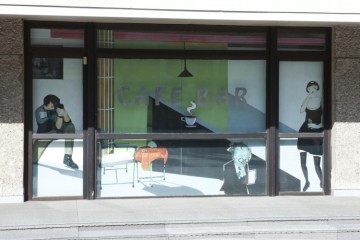 Paulina Ołowska, Cafe Bar, photo Przemek Stanek, MNK
In the summer of 2011 she was part of the group exhibition Ostalgia at the New Museum in New York, which presented private stories from all over Eastern Europe against the backdrop of a rigid social and political regime. Ołowska transported a traditional puppet theatre to the museum halls, a relic of both her childhood and the days when puppet theatre was a prime source of entertainment for children in a world without television or computers.
Poles too are gradually succumbing to the global fascination with modernism. Ołowska's latest project takes a cue from the New Popular project, which she put together in collaboration with Scottish artist Lucy McKenzie in 2003. The duo's salon-café on a popular Warsaw street – ulica Chmielna – references the sorts of fashionable spots, writers and artists would meet. Even in the days of socialism, café culture thrived about the intelligentsia and the institution continues to hold a nostalgic twang for most Varsovians. This autumn, she reignited the project, transforming a space in the National Museum in Kraków into a tribute to the museum's original coffee bar, built in the 1960s. Ołowska has taken some of the original furnishings of the bar, creating an installation that guides visitors through various pieces in the museum's collection that have been inspired by the café-salon-bar ambiance and her own works on the subject. And yet the bar itself is stagnant, covered in dust, cobwebs and mold – suggesting that our own generation no longer craves the exciting atmosphere of such places.
Ołowska extends her grasp towards the past, incorporating symbols of an era gone by to play upon the memory, to elicit a nostalgic longing, or at the very least, an understanding of modernism and its legacy. The show also calls into question the function of a museum and the public space. She also has an exhibition on at the Foksal Foundation Gallery, running through 5 December, 2011. The Revenge of the Wise-Woman presents the artist's illustrations alongside a projection of Suzy Lake's 1975 film A Natural Way to Draw.
Paulina Ołowska's works are in the permanent collections of Sammlung Boros, Berlin Städtiches Museum Abteiber, Mönchengladbach and Fotomuseum Winterthur. She is represented by the Metro Pictures Gallery in New York, Simon Lee Gallery in London, LRRH_Art Edition in Berlin and Galerie Bucholz in Köln.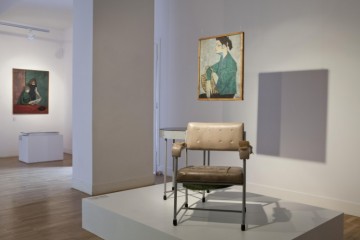 Paulina Ołowska, Cafe Bar, photo Przemek Stanek, MNK
QUOTES:
"My relationship to the past is like a conversation with spirits, with witnesses."
"When you begin moving things around in time, they suddenly start talking to us in a different way."
"Constructing a portrait, constructing a portrait of a show, is not only about selecting likeable works; the assembly confronts classic genre portraits with 'imposed portraits'. What I mean by 'imposed portraits' or 'covert portraits' are portraits that do hide, reverse or mystify the idea that something or someone is being portrayed."

"It's paradoxical, but I always love to reference history to give expression to a certain type of belief in progress, this celebration of a completely new kind of thinking in early Modernism – it's almost impossible not to quote it!
KEYWORDS: Post-Warhol, Pop Art, Modernism, Consumerism, Café
EXTERNAL:
www.artnet.com/artists/paulina-olowska
www.simonleegallery.com/Artists/Paulina_Olowska/Selected_Works
blog.lrrh.de/?cat=20
www.galeriebuchholz.de/index.php?menu_id=artists&artists_id=5
www.metropicturesgallery.com/artists/paulina-olowska/
www.youtube.com/watch?v=NP-ggvEUQ7c
www.guardian.co.uk/artanddesign/2011/apr/06/poland-artist-week-olowska-molska-ziolkowski
www.culture.pl/web/english/resources-visual-arts-full-page/-/eo_event_asset_publisher/eAN5/content/paulina-olowska