Czesław Niemen has always been dear to Stanisław Soyka's heart. His 1992 album Neopositive features a solo, a capella rendition of Niemen's Moja ojczyzna with Cyprian Kamil Norwid poem as the lyrics. And if you listen to Soyka Sings Love Songs, you'll find Wiem, że nie wrócisz, arranged by Bodek Pezda and Piotr Rychlec. Soyka now returns with a new homage to his master, titled W hołdzie Mistrzowi.
"We spent five days recording it. That's not much. But the preparations took twelve years, and that's enough time to do it properly," says the singer, and it's hard not to agree with him.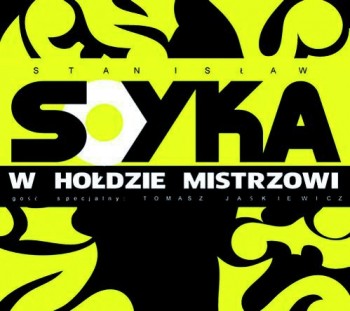 Stanisław Soyka, W hołdzie Mistrzowi, 1 CD,
Universal Music Polska 2012 The album comprises ten songs: aside from newly-recorded versions of the ones listed above, the tracklist also includes such classics as Dziwny jest ten świat, Sen o Warszawie, Sukces, and Jednego serca to words by Adam Asnyk, as well as Jarosław Iwaszkiewicz's Nim przyjdzie wiosna. Backed up by his regular combo (his sons Antek and Kuba, Antoni Gralak on the trumpet, Przemek Greger on guitars, Zbyszek Uhuru Brysiak on percussions) along with Czesław Niemen's guitarist Tomasz Jaśkiewicz, Soyka sings in a style all his own without blurring the wonderfulness of the original, yet without dooming himself to inevitable failure in a vocal duel with Niemen.
Czesław Niemen is one of those musicians – and composers and vocalists – whose style, aesthetics, language, sounds, vibrations and melodies are matchless and unique. One of a kind. Especially his voice, which spanned five octaves and had an electrifying, crystal-clear timbre. Not to mention his compositions, which ran the gamut from rhythm and blues and beat music to iconic examples of progressive rock and alternative jazz.
Soyka is also a musician that can easily be recognised by his trademark vocals, a few chords or melodies played on a piano or keyboard (when you hear the opening of the famous anthem Dziwny jest ten świat come in, you know it's Niemen, but you also know it's Soyka), and a style that remains strongly distinctive even when he performs the work of another artist.
After over thirty years of performing on stage (his 1979 debut Don't You Cry is the recording of a recital at the National Philharmonic from 29 November 1978), Soyka now sounds like a man who's been through a lot. He's still attractive, thanks to his experience, his ability to switch orbits quickly, and his light arrangement (as in Sen of Warszawie with just the piano, and the somewhat festive Stoję w oknie), but not consistently so. Notice that the songs Soyka has selected for his "homage to the master" are mainly hits – what else could you put next to Marionetki or Piosenka dla zmarłej? Perhaps Wspomnienia or Mów do mnie jeszcze. These 40 minutes certainly go by too quickly.
translated by Arthur Barys