It seems that being a father is the better of two bad options. Or so I've been led to believe by films, where fathers are usually treated with respect. Even if they are tyrants and sadists, they are at least shown a bit of understanding and sympathy.
Culture has given dads the role of strict patriarchs and threatening authority figures, roles which they fulfill obediently, often with the use of physical and symbolic violence. If films display a lenient and understanding attitude towards fathers, it is because the directors are usually men themselves, men who have become heads of families, lords of all creation, and overseers of culture. The trauma they inflict upon their children is the same pain they were once forced to bear. And so it is passed on, from generation to generation.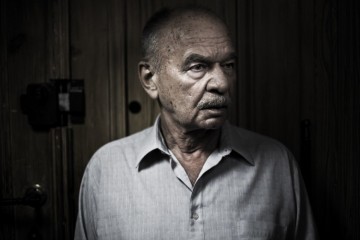 Father (Ryszard Kotys) in Erratum, dir. M. Lechki
The father in Marek Lechki's Erratum must be quite an asshole, seeing as he drove his wife to an early grave and was abandoned by his son. But the crimes committed by the patriarch are never spoken of explicitly, instead remaining a family taboo. What we do see is his son Michał's relentless efforts to make peace with the stubborn despot. After all, the Polish Catholic world cannot exist without God the Father. Not coincidentally, Michał's "peace talks" with his father take place during his son's First Communion. The ritual must be fulfilled, and the continuity must be preserved. It is a cultural requirement that the character be given the blessing of his father, that he be anointed as the next patriarch — but also that he humble himself before him. Michał thus makes a pilgrimage to his father's home, where he must "stand at the door and knock".
In Polish cinema, the absence of a father is a fundamental problem. In Andrzej Jakimowski's Tricks, a little boy uses childish magic to bring his daddy home. It doesn't matter that his dad has long abandoned his offspring and hasn't even kept in touch, much less expressed concern for their well-being. Stefek sees his unknown father as a fabled hero, a king who must be reinstated on his throne in a world overrun by women. In Michał Kwieciński's Extras, a father finally comes home after years of roaming the earth ("It's a manly thing, being away") and immediately wins the heart and imagination of his son. Sebastian forces his mother to abandon her current husband — a down-to-earth dentist who provides for a child that isn't even his — and go back to the long-lost "adventurer". In Piotr Dumała's Forest, on the other hand, the father is portrayed as a hump, a cross that the son must bear his entire life.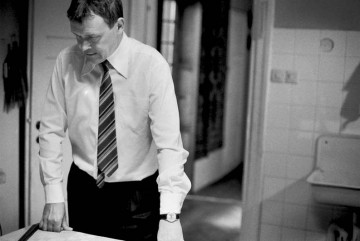 Father (Jan Frycz) in Welts, dir. M. Piekorz
To be fair, Polish cinema has seen a few attempts to expose the father, to portray his horrible, aggressive side, as in Magdalena Piekorz's Welts (screenplay by Wojciech Kuczok) and the short A Man Thing by Sławomir Fabicki. But there has been no continuation of this theme (unless you count the films by Wojciech Smarzowski). One of the main reasons behind its abandonment is, in my opinion, the hagiographic hysteria that followed in the wake of John Paul II's death — the passing of the Holy Father, the Father of All Poles — and the wave of patriarchal movies that accompanied it. Not just film biographies about the late pope, but such movies as Popiełuszko and Katyń. To criticise the father was regarded as an attack on the sacred, on the fundamental values of Polish national culture.
Things are different when it comes to mothers in Polish cinema, although their good name is ostensibly guarded by the image of the Virgin Mary, the standard to which all Polish mothers are held. Any deviations are subject to harsh and ruthless condemnation, as in Marek Koterski's movies, where the mother is portrayed as a "Pinochet" who castrates her son with tomato and cucumber soup; an overbearing, blabbering monster and a caricatural negation of the good, understanding, and silent Madonna. Interestingly, Adaś Miauczyński's father is either marginalised or entirely absent from every film after The House of Fools. It is the mother who is held responsible for the main character's trauma, for his being an emotional and intellectual cripple, and for his inability to be a father. She has tried to "emasculate" Adaś his entire life, in an attempt to stifle him and cut him off from his masculine roots. One can assume that she has succeeded in doing just that with her husband, who now has nothing left but to die.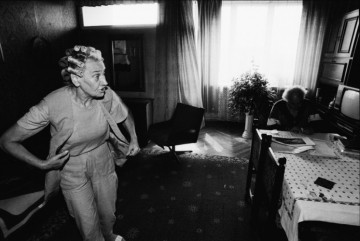 Mother from I Bore Such a Beautiful Son by M. Koszałka
This model is perfectly reflected in two films by Marcin Koszałka, I Bore Such a Beautiful Son and Till it Hurts. In the former, the filmmaker features his own mother, who is mainly occupied with yelling, scolding, cursing, and condemning her child and spouse. The latter film's beast of interest is the mother of a fifty-year-old psychiatrist, Jacek, who still lives with her and remains under her complete control. When the son finally decides to cut the cord and start a relationship with a nurse, his mother ruthlessly attempts to discredit his girlfriend, calling her a whore and a retard. The film ends ironically with Jacek talking about building a home where he could one day move in with his partner and, of course, his mother.
The misogyny and antifeminism of Polish film directors emerges very frequently, most prominently in such films as Julisz Machulski's famous Sexmission or Maciej Ślesicki's dreadful Dad. The work of Koterski and Koszałka should serve as a starting point for discussions on the domestic matriarchy and national patriarchy of Polish culture, and should prompt us to ask why these local machos can't seem to let go of their mothers' skirts. The time is yet to come for reflections of this sort in Polish cinema. They require filmmakers and audiences to cross over to the other side, to see reality from the perspective of belittled or idealised women. Even a mother's point of view would be a good start.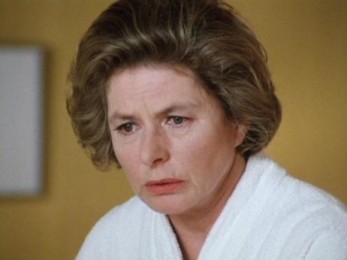 Mother (Ingrid Bergman) from
Autunm Sonata, dir. I. Bergman
Are things any better in the world of international cinema? In foreign films, women are also put on tribunal by their own children. Paradoxically enough, this is often because the fathers desert their families so early that they cannot even be expected to stand trial. Ingmar Bergman was cunning enough to cast his fatherly guilt onto a female character in Autumn Sonata: a mother, a celebrated pianist, a woman so caught up in her artistic career that she has no time left for her daughters. According to an anecdote often told by Liv Ullman, Ingrid Bergman, who played the leading role, protested her character's use of the line "Forgive me" in a scene where she is confronted with her daughter's accusations. The actress believed that the pianist should not have to constantly express remorse, and that she had her own reasons — reasons which the daughter does not even attempt to understand. As the director, Ingmar forced Bergman to utter the words as they were written in the screenplay. She went through with it, but her face expresses her deep defiance and reluctance towards the line.
Pier Paolo Pasolini, on the other hand, was known for his appreciation of motherhood. His own relationship with his mother was very strong, and he would even cast her in his films (Mary in The Gospel According to St. Matthew). In Mamma Romma, Anna Magnani plays a lone prostitute who slaves away to provide for her good-for-nothing son. When the teenager finds out about his mother's true occupation, he flies into a fit of rage and ends up dead. The responsibility for his death, in effect, is placed upon the men who condemned his mother to a life of prostitution. In Oedipus Rex, a father's jealousy over his wive's love for their son sets the wheel of fate in motion. In Pasolini's films, the misfortunes of this world are caused by the arrogance and selfishness of fathers.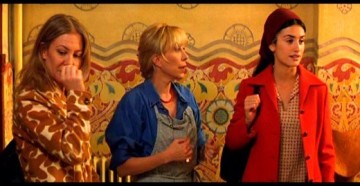 Three mothers from All About My Mother, dir. P. Almodovar
Director Pedro Almodovar continues the cult of the mother in contemporary film, albeit without devotional themes. His All About My Mother is dedicated to "all the people who want to be mothers". Being a mother is more than just a question of cultural or biological gender. It is a role that anyone can assume, but it must be done with complete commitment and selfless love. In Almodovar's films, fathers are often dark, sullen figures. As opposed to Pasolini's characters, they are ghosts from the past who still thirst for power and violence, but are often in a state of dementia and downfall.
The youngest of these directors, Xavier Dolan, addresses the issue of post-emancipatory mothers: women who have won their independence and freedom from men thanks to the social transformation of Western society, but have also been abandoned by these same men. In I Killed My Mother, the father makes rare appearances only to issue orders to his son. The teenaged Hubert has spent his entire life alone with his mother. He longs to finally gnaw through the umbilical cord and escape from under his mother's wing, but he also realises that the bond between them is lifelong.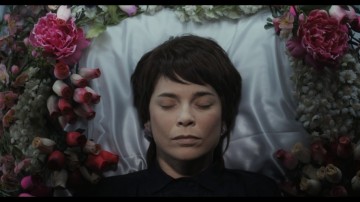 Mother (Anne Dorval) from I Killed My Mother, dir. X. Dolan
Dolan's point of departure is the same as that of Koterski and Koszałka. Hubert can't stand his mother's small-town tastes and habits, he can't stand her yelling, and he defies her orders. But the French Canadian director expresses much more empathy than his Polish counterparts. His film is, in essence, a homage to his mother, a woman who gallantly looked after her difficult, capricious son despite having been left to fend for herself. Hubert may feel limited and depressed by his mother, but she is not a voracious, toxic, and castrating mother figure. He doesn't blame her for creative or sexual impotence, especially since he has no trouble with either.
Castration, however, works both ways: yes, a son can also "castrate" his mother. He can deprive her of her freedom and encroach upon her personal space. The Russian film Mama, by Nikolai and Yelena Renard, depicts an outrageously obese adult son and the petite, emaciated mother who washes, feeds, and clothes him. Mama is a radically minimalistic film. There's no narrative, dialog, or music do be found, almost as if the director had decided that the juxtaposition of these two characters, one enormous and the other tiny, was strong enough to convey the entire meaning of the movie. A bored and impatient viewer can hardly be expected to fill in the blanks in the long, silent shots, but I would encourage them to make the effort to do so. The final scene, in which the mother patiently waits, or actually stands guard by the bed of her sleeping (or dead?) son forces us to pay close attention to the mother-son relationship. Who is the victim, and who is the perpetrator? And must the roles always be split into "victim" and "perpetrator"?
translated by Arthur Barys