Between 1 July and 31 December 2011, Poland will preside over the works of the Council of the EU. Aside from its strictly political dimension, the Presidency also gives the country holding it an opportunity to build up its image. For many years, culture has been a vital element of the activities promoting Poland in the European Union, hence cultural institutions are taking an active part in the preparations for the first Polish Presidency. By way of a decision of the Minister of Culture and National Heritage (MCNH), the National Audiovisual Institute (NInA), Biweekly.pl publisher, has been entrusted with the task of designing and implementing the Cultural Programme – Polish EU Presidency 2011.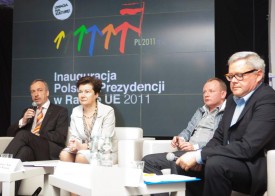 Press conference announcing the inauguration
of Polish Presidency, from the left:
Bogdan Zdrojewski – Minister of Culture and
National Heritage, Hanna Gronkiewicz-Waltz
– Mayor of Warsaw, Paweł Mykietyn – composer,
Michał Merczyński - Director of National
Audiovisual Institute
The Cultural Programme of the Inauguration, planned as an all‑day musical performance on 1 July, 2011, will be given on four stages set up especially for this event, each dedicated to a different music genre. The repertoire will embrace: classical music, interdisciplinary musical performances and projects for children, alternative and jazz music, and music of national and ethnic minorities. The programme will feature Polish and European artists. The programme of the Inauguration will also comprise a premiere performance of a 50‑minute piece by Paweł Mykietyn, Symphony No 3, specially composed for the Inauguration of the Polish Presidency of the EU Council.
WARSAW TALKING – main stage, plac Defilad
22.00 – 2.00

The final concert of the Inauguration of the Polish Presidency of the EU Council on 1st July on the Main Stage on Plac Defilad in Warsaw. A music show entitled "WARSAW TALKING" based on the scenario by Krzysztof Materna and Kuba Wojewódzki, will be the main event during the Inauguration of the Polish Presidency of the EU Council. The programme of the multimedia show, which will take place on three stages connected by multimedia links, will comprise the most popular classical and pop pieces performed by Polish and foreign artists, screening of original film impressions and a spectacular fireworks show around the Palace of Culture.
Admission Free
All concerts and events taking place during the Inauguration on four stages are free and open to the public.

Tickets for Pawel Mykietyn's No. 3 Symphony will be available in the reception of Warsaw Philpharmonic. We will inform soon about their availability.
How would popular songs, such as "Dream of Warsaw", "In My Garden" or "I Lied" sound performed by singers from abroad? Can Polish pop hits be performed together with Chopin's mazurkas, jazz pieces by Krzysztof Komeda and works by Wojciech Kilar? "To present the Polish music culture and put on a mass event is like bringing water and fire together," said Krzysztof Materna, adding that "This is why we prepared a programme that would be appreciated by classical music enthusiasts and millions of Poles alike. It will match the tastes of several generations." The "WARSAW TAKLING " project, organised on the occasion of Poland's Presidency of the EU Council, is an innovative approach to presentation of Polish culture. It is a musical feast with the participation of best Polish and foreign artists, a contemporary presentation of Poland's music, film, literary, theatrical and artistic achievements. The show will end with a party and a fireworks show. Script authors and directors are Krzysztof Materna and Kuba Wojewódzki, the director for music is Adam Sztaba, and stages on Plac Defilad will be designed by Radosław Dębniak.
The 3.5 hour concert will start with anthems of Poland and the European Union. The first part will cover classical, film and jazz music hits. Works by Frederic Chopin, Andrzej Kurylewicz, Jan A.P. Kaczmarek, Krzysztof Komeda and Wojciech Kilar will be performed by distinguished pianists: Janusz Olejniczak, Leszek Możdżer, orchestra: Sinfonia Varsovia, bands: Tomasz Stańko Quintet, Me, Myself and I and violinist Sebastian Karpiel-Bułecka. American trumpet player Chris Botti will perform as a special guest. In the second part, which is to remind us of the milestones of Polish pop music, will cover performances by Perfekt, Myslovitz, Lech Janerka and Kapela ze Wsi Warszawa. The programme also covers surprising interpretations by the following artists: vocal group Manhattan Transfer, singer Michael Bolton, saxophonist Kenny G. as well as singers Angie Stone and Dolores O'Riordan (The Cranberries). During the final fireworks show, "Orawa" by Wojciech Kilar will be background music. "It will be an unprecedented event. In city space, fireworks will correspond to the mood, the dramatic effect and energy of the piece which is a gem of Polish chamber music" emphasised Materna. The evening will end with the third part – a one-hour performance by British trip-hop legend Tricky.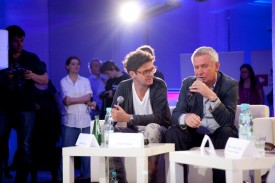 Kuba Wojewódzki and Krzysztof MaternaFor the needs of this impressive event, three multimedia stages were designed that will be linked using state-of-the-art visual technology. Thus, performances will be intertwined and enriched with presentation of film excerpts, graphics and lighting effects. "The event will be a musical and multimedia whole, there will be no introductions or interludes," explained Krzysztof Materna. Concerts will be illustrated inter alia by impressions on the oeuvre of the Polish Film School, profiles of outstanding artists and works essential to Polish culture of the 19th and 20th centuries. The most important moments in contemporary Polish history which were conducive to Poland's membership in the European Union will be presented. "We want to present the happiest moments, no pathos or martyrology. Most of all, we want to emphasise the reasons behind the concert," concluded Krzysztof Materna.
The "WARSAW TAKLING " show will be broadcast by TVP1 and the Polish Radio.
Executive producer: MM Communications
Third Ear – experimental/alternative stage, Powiśle Power Plant and Copernicus Science Centre
18.00 – 3.00, afterparty from 3.00
The industrial spaces of the former power station on the banks of the Vistula and the modern Science Centre will host performances of electronic music, improvised music, alternative, post-rock, and jazz.
The defunct Powiśle Power Plant and the Copernicus Science Centre will host an evening of genre-defying musical projects and experiments. The event will feature internationally-renowned independent and alternative artists, such as Fred Frith, Mouse on Mars, The Ex, and many talented acts from Poland's booming underground scene.
Attention Culture!
All events are part of Cultural Programme – Polish EU Presidency 2011 – Attention Culture!, a half year cycle of unique events and artistic projects, European Culture Congress including, presented within the framework of the Polish Presidency in the EU Council:
- special projects, that will be carried out in the cities hosting high‑level meetings – Sopot, Wrocław, Kraków, Poznań and Warsaw, and additionally in Lublin, Białystok, Katowice and Krasnogruda, as well as
- artistic projects organised by museums, theatres, opera houses and other institutions reporting to the MCNH,
- the most important periodical events and festivals held in, inter alia, Warsaw, Kraków, Wrocław, Poznań, Katowice and the Tricity, approved by the Programme Board for Cultural Agenda of the Polish EU Council Presidency.

www.nina.gov.pl/prezydencja www.culturecongress.eu www.uwaganakulture.pl www.culture.pl
The evening will start off at the Copernicus Science Centre with the improvised music of Fred Frith, who will open the concert with a solo performance and will later be joined on stage by a group of Polish musicians.
The main stage will be located in one of the halls of the renovated Powiśle Power Plant. The concert will start with performances by Polish bands: Paris Tetris, accompanied by Eddie Stevens, their coproducent, famous keyboardist and composer arranging with Moloko group and Rosin Murphy.
The evening will close with a performance by The EX, one of the most important underground bands in Europe, accompanied this time by an unlikely crew: the outstanding saxophone and clarinet player Ken Vandermark (USA), New York turntablist and experimentalist Dj Rupture, and a trio of Ethiopian troubadours, the Ililta Band.
The world of experimental dance music will be represented by the German duet Mouse on Mars, a timeless inspiration for scores of musicians, producers and composers, and by Pantha du Prince – a Berlin-based producer and composer, the author of one of the best electronic records of 2010 and an undoubted hero of last year's European alternative music festivals. The concert will mark Pantha du Prince's first performance in Warsaw.
The main stage performances will feature audio and visual projects in the alleyways and side spaces of the Powiśle industrial complex. Robert Piotrowicz, a musician, publisher, and founder of the Musica Genera Festival, will play a series of conceptual sets in the old control room. Discord Records artists from the city of Wrocław will prepare audio and visual installations, including video mapping projected onto the architecture of the old power plant. There will also be a performance by Konrad Smoleński (associated with the Pink Punk movement) and the group Fluidacje.
The outside stage, located in the catering and recreation zone, will host DJs associated with the Soul Service collective and the ongoing Warsoul Sessions project.
Curator: Michał Borkiewicz
Executive producer: "Plan B" Association
Partner: Menolly Poland
EUharmony – world music stage, New Town Squere
12.00 – 22.00
A 10-hour musical journey through Europe and the cultural minorities of Poland, present and past.
The world music stage, located near Warsaw's Old Town, will feature a multicultural collage of music that combines various genres while mixing tradition and modernity, with inspiration from Polish and European folk culture, as well from the ethnic and national minorities that inhabit or once inhabited Poland. Concerts will be accompanied by projects presenting ethnic minorities and their culture.
Over a hundred musicians from all over Europe will perform at the New Town Square, demonstrating how different musical traditions can mix while maintaining their unique character and forming a new style. Cultures, styles, and modes of expression will intermingle, combining tradition and modernity. Guitars, trumpets, drums, violins, and upright basses will be accompanied by unique instruments such as the hurdy-gurdy, the mandora, the Scandinavian Mora-harp, the karkabuz from Morocco, and the Biłgoraj suka along with the Płock fiddle - historic Polish instruments reconstructed from old illustrations and archaeological findings.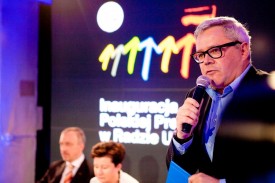 Michał Merczyński, NInAThe folk song and dance group Teka will perform traditional pieces from various Hungarian regions. DROM, a band inspired by Gypsy-swing roots, will take the stage with the outstanding Gypsy singer Adam Kozłowski. The Gypsies from the Bucharest-based ensemble Mahala Rai Banda will be accompanied by Polish highlanders - Tomasz Jabko Łapka (violin), and Stanisław Karpiel Bułecka (vocals), while Gooral (Mateusz Górny) will spice up their traditional sound with an electronic twist. The Warsaw Village Band will appear alongside the legendary Swedes from Hedningarna, performing in Poland for the first time ever. Western Europe will be represented by The Destroyers, a 15-member group from the United Kingdom offering a fusion of Balkan, Celtic, Greek, and Italian music in a punk-cabaret style. The energetic English lads will be joined by Czessband, whose musical program is inspired by Warsaw's folk tradition. An appearance by the band Nefesh, led by Raphael Rogiński, will feature a joint performance by Greek and Turkish musicians, reconnecting two Mediterranean cultures that, up until recently, had lived in harmony. The group Cukunft, which employs modern means of expression to continue the tradition of Jewish music – mostly of the Eastern European Klezmer variety – will perform alongside Israeli musicians whom audiences may recognize from Balkan Beat Box and Boom Pam. The evening will end with a concert by a Spanish underground legend elbicho, known for their brave fusion of flamenco and progressive rock with Afro-Latin rhythms, reggae, and ska.
The cultural mix doesn't end there. During concerts, audiences will have a chance to try the delicacies of the world's cultures: apart from traditional Polish pierogi, cheese from the Korycin region, and the oscypek (a sheep's cheese made by Polish highlanders), they'll find traditional dishes from Vietnam, Senegal, Chechnya, Armenia, Russia, and Hungary, and have an opportunity to sample Tatar and Jewish culinary culture.
Curator: Anna Mamińska
Executive producer: Ethnic Art "Assosiaction Transetnika"
EUgenius – children's stage, Warsaw's Mariensztat Square
12.00 – 20.00, 3.00
At high noon, Warsaw's Mariensztat will become a creative activity space for kids, who will have an opportunity to let their imaginations soar while exploring the mysteries of the human senses.
The square will host a series of installations designed by Polish artists, each forming a piece of the face of a character named EUGENIUSZ. Children will be encouraged to climb into (and onto) his NOSE, tug on his HAIR, twirl his MUSTACHE, apply makeup to his LIPS, look him straight in the EYE, and — following a quick rest break in his enormous HANDS — drop by his EAR for some tunes.
The installations are designed to help children explore the mysteries of the five senses. They might start by jumping into the HAIR (created by: Beza Projekt), which they can comb or tussle. Of course, some of the kids may want to head straight for the MOUTH, made out of scrapped cars (Adam Plackowski) to paint whatever their limitless imaginations come up with. Those who find their way into the middle of the square are sure to take a peek at the NOSE (Mothers of Design), where they'll hear some rather surprising sounds (Marcin Emiter Dymiter). Adventure-seekers are sure to be drawn to the EYES, which will transform into a large-format board game resembling a comic book (Mothers of Design). Kids who come poking around in the MUSTACHE (Marek Happach) will have a chance to hear the story of the Biggest Museum in the Galaxy and model tiny sculptures out of Play-Doh (concept: Sebastian Cichocki). Unless, of course, they choose to take part in Lomography workshops (Rockin'Kids) or a music-theater happening (Drekoty). Who knows, perhaps the adults just might follow in their children's footsteps? Enjoying art in such an uncommon fashion can be fun for everyone, big, small, and tiny. The baby section will feature a BESTIARY (Olga Wasikowska), where younger children can take their first steps or bite, rumple, and taste to their hearts' content.
Other attractions include culinary games (Justyna Marczewska), a chance to kick back in huge sofas shaped like HANDS (Mysikrólik), and trips into the EAR, where everyone is encouraged to dance. (Kajetan Luteracki).
The EAR will feature several musical performances. The Small Instruments will build one-of-kind instruments just for EUGENIUSZ. There will be an appearance by Czech group DVA, who describe themselves as "non-existent radio pop." The band Showman will perform along with the Lumikulu children's choir, and later with a group of six young musicians and Bartek Bunio, as a part of the Efterklang – Efterkids project.
Finally, Asia Mina and her 50-piece wind orchestra will perform songs from her album "RUN OUT!", which premieres the very same day.
Curator: Asia Bonisławska, Iza Rutkowska
Executive producer: Forms and Shapes Foundation
We can't wait!
Biweekly#20. Editor: Agnieszka Słodownik. Cover by Agnieszka Słodownik. Published 27 May, 2011 at 22:14.