Ballady i Romanse — a pop music band established in 2007 by Zuzanna Wrońska (born 1979). Zuzanna's sister Barbara (born 1983) is the other member of this unusual musical duo.
There must be a limit to how many transformations a single reference can undergo before it is flattened completely. In the case of Ballady i Romanse, we are dealing with a quote within a quote within a quote. And that contemporary quote reaches all the way back to the poetry of the romantic poet Adam Mickiewicz by way of Władysław Broniewski who, over a century later, published his own Ballads and Romances based on Mickiewicz's Ballads and Romances. The latter provided inspiration for the former, making use of the layers of meaning and form in the original text to paint a picture of an entirely changed world following World War II.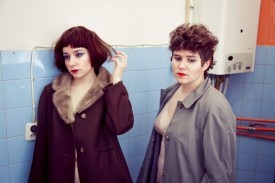 Ballady i Romanse, photo: Joanna Szprocha
The Wrońska sisters appear to be transferring some of the light-hearted spirit of Mickiewicz's poetry back into the ballads. Zuzanna writes the music and Barbara (Basia for short) — who cut her teeth as the lead vocalist for Puski — is the producer. Together they create a sound they call new wave, but which sounds more like a folk version of experimental pop music. Songs like "Oddechy" (Breaths) have an upbeat, fun vibe, while "Co było wielkie" (What Was Great) are soft and nostalgic. The second option seems a more logical one, given the subject matter. The band's attempts at a more bubbly sound — presumably a stab at the kind of thing Gaba Kulka has made her trademark — come across as forced and artificial. The breathy, Ophelia-like vocals make a better impression than their strained '80s-style efforts. All in all, it's got the feel of teenage girls twirling around a maypole with their skirts in the air.
WHO'S WHO AND WHY?
In this section we introduce Polish artists, places, and new phenomena. We always ask the person or the place's representative the following question: WHY ARE YOU HERE? How they answer it is completely up to them. Time for Ballady i Romanse.
Gazeta Wyborcza critic Robert Sankowski has called their music "an absolutely unique thing", calling the 14 songs on the eponymous album "full of a particular naivety at the outset, but at the same time diabolically subversive, humourous, and intriguing". The LP was recorded in 2008 ago as part of the Raster Gallery's Broniewski project, however the full CD, produced by Marek Dziedzic and Adam Toczko, has just been released by Raster. The songs were prepared in a kitchen that had been adapted to function as a studio, with the clatter of pots and pans occasionally providing percussion when keyboards just weren't enough.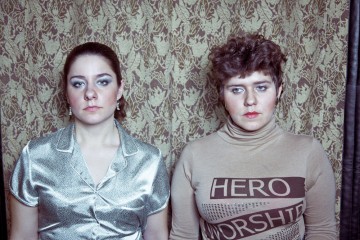 Ballady i Romanse, photo: Joanna Szprocha
The lyrics revolve around the everyday lives of young people in Warsaw of this very day and age. Polite Catholic girls who long to run off into the sunset and pursue truth in nature and escape the stagnant rules of society. And yet fear often draws them back in he form of a "guardian angel" who flies around just like "Superman". The lyrics are intriguing in a doleful sort of way, but the saccharine sultriness of the vocals keeps the message from fully getting across. What keeps it all afloat is the battery of instrumentals that switch between sounds and rhythms at full speed, keeping listeners on their toes at every turn. Besides the aforementioned keyboards, pots and pans, we have trumpets, whistles and bells. It's a fairy ride of an album, indeed.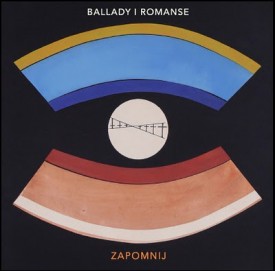 Ballady i Romanse, Zapomnij cover, 2011They've merited comparisons with Coco Rosie, but many may find that a bit of a stretch and not all reviews have been rave, with critics complaining about some weaknesses in the vocals and overall production. In December 2008 Michał Zagroba published his opinion on porcys.com, calling the album "a collection of uninspired, wimpy avant-pop/post-rock/new-wave mash-ups, world and traditional music-influenced unimaginative drags and utterly unbearable sung poetry bullshit". Still, their record albums have really cool graphics and the collage effects in the video for "Ozimina" are fantastic.
The band's latest release is Zapomnij (Forget), released by Chaos Management.
"Kto przepłynie" (Who will make it to other side?) — Lyrics
Kto przepłynie, a kto nie?
Kto utopi się?
Kto przepłynie, a kto nie?
Kto utopi się?
Na krawędzi muru cytadeli, obłąkani winem, upaleni.
Śmiechem nerwy ratujemy, niepokoi dziadków pogrzeb.
Lecz rodzice czują się dobrze.
Who will make it to the other side, who won't?
Who will drown?
Who will make it, who won't?
Who will drown?
On the edge of the citadel wall, dumb with drink, smoked up.
We salvage our nerves with a laugh, rattled by our grandparents' funeral.
But our parents feel all right.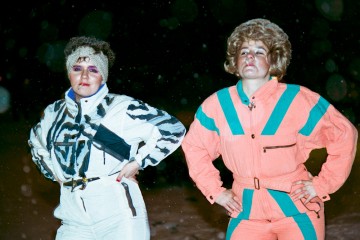 Ballady i Romanse, photo: Joanna Szprocha
QUOTES:
"We see ourselves not as vocalists, but as singers. A singer is someone who often makes up their own melody, these melodies are sincere and flow straight from the heart, they don't chase after any sort of style." (Zuzia)
"Today sung poetry doesn't have a very positive association. Perhaps that's because it's not the same kind of poetry that was once sung. Deep, serious lyrics often sound cheesy and sulky. We try to sift out its ceremonial character and pathos." (Basia)
"Zuzia writes super lyrics that are powerful, expressive and carry something more than just words. She communicates emotions that I react to like litmus paper. This exchange of energy and words build the music and something intricately emotional comes about." (Basia)
KEYWORDS: folk, Adam Mickiewicz, Romantic poetry, new wave
EXTERNAL:
http://www.myspace.com/balladyiromanse
http://www.youtube.com/watch?v=r-GA-uQH6ZE
http://raster.art.pl/galeria/publikacje/ballady_romanse/ballady_romanse_TRUDNY.mp3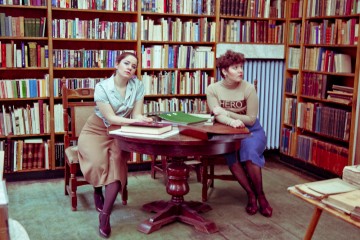 Ballady i Romanse, photo Joanna Szprocha
WHY ARE YOU HERE?
What Ballady i Romanse sings is not altogether poetry, but we do have to get catalogued somehow. We try to capture certain observations and changes in a colloquial way. Sometimes our statements are even called brutal and extreme. I think that this type of 'poetry' is something new and welcome in our time. Many of our listeners identify with our music or find other similarities with their own lives. Ballad's lyrics touch upon the realm of mankind's contemporary existence, which is a state of being lost, broken, pressured, weak and going forward without any particular goal. Today's music doesn't really treat these topics and there's a gap between love songs, break-up songs and songs about nothing at all.