Goshka Macuga (born in 1967) is an interdisciplinary artist working across a variety of media, including sculpture, installation, photography, architecture and design. She fuses various sources together into one cohesive, meaningful narrative. The Polish-born artist now lives and works in London, having completed her studies at the Central Saint Martins School of Art and w Goldsmiths College. In 2008 she was nominated for the Turner Prize.
Macuga's methodology stretches beyond the typical confines of the artist, venturing into the realm of curatorship and exhibition design. She creates large-scale shows that examine her subject from a variety of perspectives, incorporating her own original works, along with pieces that appropriate elements of the works of other artists and historical artifacts. She strives to revive the ideas behind these works by placing them into a new, contemporary context. She most often cites the works of modernists or precursors to modernism, drawing from the output of such artists as Paul Nash and Eileen Agar, Francis Picabia, Marcel Duchamp, Andy Warhol, Sigmar Polke, Martin Kippenberger and even Picasso, along with incorporating various political and historical documents.
WHO'S WHO AND WHY?
In this section we introduce Polish artists, places, and new phenomena. We always ask the person or the place's representative the following question: WHY ARE YOU HERE? How they answer it is completely up to them. Time for Goshka Macuga.
Macuga has likened her artistic practice to a voyage or a pursuit of answers. Her subjects are predominantly rooted in politics, sociology and ethnography, however they also employ quite a bit of self-referencing in order to create another layer of meaning through an examination and critique of curatorial and archival practices, ultimately devising a statement on today's art world. In both instances, she adopts archival materials, surveying how things have changed, and how they have also stayed quite the same, the world reverting to a constant cycle through pro-social and anti-social tendencies. For Macuga, art is not merely art. Her works go beyond ornamentation in order to delve deep into the role of the artist and to use that privileged role to voice strong opinions on the injustices or idiosyncracies of the world.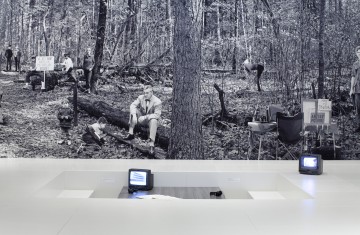 Goshka Macuga, It Broke From Within, 2011
installation view, Walker Art Center, Minneapolis
photo: Gene Pittman

Her perspective is admittedly subjective — it is her gaze filtering the information at hand, her own instinct and judgment rifling through the great store of reference material and choosing specific pieces that are to be fused into a composite of media and meanings. Macuga doesn't just create art, she is her own curator as she fills a particular gallery space with an entire show of carefully-chosen installations. For many of her most recent shows, she is presented with an empty gallery space and given leave to fill it as she pleases. In 2008 she filled a gallery of the Tate Britain with her show of Objects in Relation, presenting objects from Tate's own archive in an entirely new setting — juxtaposing the works of the British art group Unit One, which referenced the "natural world", with authentic objects drawn from nature's "archive" in the local wood. This exhibition earned her a Turner nomination.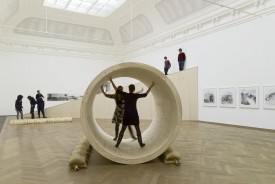 Goshka Macuga, I Am Become Death,
Kunsthalle Basel 2009
installation view, courtesy Kunsthalle Basel
and Kate MacGarry, London
photo: Serge Hasenböhler © Kunsthalle Basel
For her 2009 I Am Become Death show in Basel, she went further, fusing anthropology and the relics of war to illustrate an idea on the neo-colonial stance of such nations as the United States. She used Aby Warburg's photographs of Hopi Indians in everyday situations together with photographs taken by a soldier in Vietnam. The images are placed in the context of interactive sculptures based on those Robert Morris made for the Tate Gallery in 1971 — the exhibition that was swiftly shut down after several visitors hurt themselves. The collective symbolism aimed to make the link between the US's deplorable policies in Vietnam and the extension of similar policies in Afghanistan and Iraq in our day.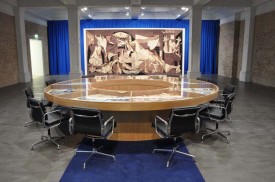 Goshka Macuga, The Nature of the Beast, 2009
installation view, The Bloomberg Commission,
Whitechapel Gallery
courtesy: Whitechapel Gallery and Kate
MacGarry, photo: Patrick Lears
One of Macuga's best-known works was created for The Nature of the Beast exhibition at the Whitechapel Gallery in London, which cited Picasso's Guernica — literally presenting tapestry made in cooperation with Picasso in 1955 which was hung in the UN building in 1985, yet covered up on 5 February, 2003 when Colin Powell gave a speech to the council on the planned invasion of Iraq. The fact that this symbol of the atrocities of war proved an impediment to the message Powell was trying to send is a testament to the power of Picasso's own message. The original painting had been shown at the Whitechapel Gallery in 1937, creating yet another link of the chain of historical and humane references.
Following major successful solo shows in Europe and, most recently, in America at the Walker Center in Minneapolis, Macuga is slated to create her first solo show in her native Warsaw. The exhibition incorporates many of her earlier works, along with a new work created especially for the Zachęta National Gallery. The subject revolves around issues of art censorship in Europe, using archival materials to show how the relationship between art and its audience has changed, how the political system has impacted values, but how the mechanisms of censorship are not so easily done away with and the limitations it has placed, and continues to place, on the artist's freedom and the channels of communication available to him or her still exist. Examining certain situations over the past 20 years of exhibiting in Poland's major art institutions, Macuga illustrates how the fall of communism did not immediately entail the fall of censorship, showing how the works of Piotr Uklański or Mauricio Cattelan were destroyed, how artists, curators and works of art were targeted by both the government and the public itself, long nurtured with the tough gruel of propaganda. She collects these histories and revives an interest in the matter, leading the art world to question how much has changed in the past two decades.

Goshka Macuga, Letter, 2011,
tapestry
photo Przemysław Pokrycki

Goshka Macuga's Untitled is on at the Zachęta National Gallery from 3 December, 2011 — 19 February, 2012.
Keywords: archive materials, curatorial practices, politics, society, context, censorship
Quotes
"I was born and educated in Poland. There, under communism, socialist realism was a tool in the transformation and education of the masses in the spirit of socialism. Artists were considered 'engineers of the soul'."
"Everything can be an inspiration. Usually one inspiring thing takes me on a journey to find another. It has become my way of living."
"My methodology is similar perhaps to detective work, when you find one clue you become very curious and that takes you (on) a whole journey. And then you arrive somewhere where you extract certain things out of this journey and you make it into a visual display."
"Of course the most exciting time is the time of research."
"Partly I make things, but I also borrow things, so I have this kind of dynamic practice, I think, in which everything and anything can happen."
External
http://www.saatchi-gallery.co.uk/artists/goshka_macuga.htm
http://www.tate.org.uk/britain/exhibitions/artnow/goshkamacuga/biography.shtm
http://www.artfacts.net/index.php/pageType/artistInfo/artist/33301
http://www.youtube.com/watch?v=QAYjeDun6yQ
http://www.tate.org.uk/britain/turnerprize/turnerprize2008/artists/macuga_video.shtm
http://channel.tate.org.uk/media/26401794001
http://www.andrewkreps.com/artists_portfolio.html?aid=58
http://www.andrewkreps.com/artists_bio.html?aid=58
http://www.culture.pl/web/english/resources-visual-arts-full-page/-/eo_event_asset_publisher/eAN5/content/goshka-macuga
Why are you here?
Have you ever had an experience of going to an exhibition and loving the work so much that the only thing you wanted to do was to go back home or to your studio and make art? I would like my work to provoke this kind of reaction in people.