Nicolas (Mikołaj) Grospierre (born 1975) – photographer and interdisciplinary artist. Nominated for the 2011 Passport Award granted by Poland's Polityka weekly.
Grospierre's foray into the ranks of Poland's art scene has been full of unexpected twists and turns. He was born in Geneva to parents of French and Polish descent, grew up in France, completed his studies in Sociology and Political Science at the Institut d'Etudes Politiques in Paris and the London School of Economics. Since 1999 he has been based in Warsaw, working as a photographer whose works have delved beyond the realm of documentation into art that carries with it a specific message about its subject and the times we live in.
Grospierre began dabbling with photography as a hobby, giving up a predictable job at a television station for part-time work documenting buildings for architects and developers. After moving to Warsaw at the end of the '90s Grospierre was instantly fascinated by its modernist architecture and socialist legacy – the geometric forms of pragmatic apartment blocks, the silent hotel rooms of the defunct Europejski Hotel and the city's remaining handful of cosy milk bars. Soon enough he was documenting its brand-new high-rises and other sites and spaces across Europe.
WHO'S WHO AND WHY?
In this section we introduce Polish artists, places, and new phenomena. We always ask the person or the place's representative the following question: WHY ARE YOU HERE? How they answer it is completely up to them. Time for Nicolas Grospierre.
Grospierre's interest in architecture is not quite so far-fetched when one factors in his relation to Jerzy Jarnuszkiewicz (1919-2005), one of Poland's most prolific sculptors who created a number of large-scale reliefs etched into the facades of buildings built in post-war Warsaw. Today Grospierre's practice is founded on a concise blend of disciplines that marry his background in sociology, politics and economics with his interest in art and architecture. He is known an artist with a mathematical mind, perfectly calculating, a proponent of symmetry and order. He uses this order to point the way to an imminent chaos lurking beneath. His chief goal in choosing a specific form or structure is the inherently conceptual symbolism it represents, creating a narrative of "dramatic architecture", which extends beyond its physical scope.
In 2008 Grospierre and Kobas Laksa won the Golden Lyon at the Architecture Biennale in Venice for their joint project Hotel Polonia. The Afterlife of Buildings. The project takes several of Poland's most recognised buildings – the gleaming Rondo One skyscraper, the National Stadium, the opulent basilica in the small town of Lichen – and transforms them based a
geo-political-economic matrix of principles that envisions dire new purposes for each of these now-defunct structures.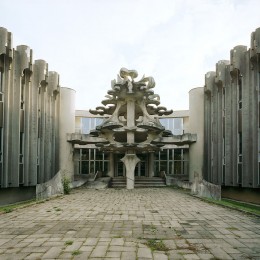 Hydroklinika, 2008,
coutresy of BWA Warszawa
Since then he's presented his works in galleries all over Poland and across Europe, plus New York's Location 1 Gallery and Chicago's Graham Foundation, offering up a varied panoply of objects and structures. These subjects, from skyscrapers and concrete blocks to ballrooms, libraries and swimming pools, are hauntingly silent, yet pristine in that the human element has essentially been swept away. He has even taken architectural forms and flattening them out – as he did with the Paper Planes exhibition, in which he took the 3D forms of the Warsaw Aviation Museum and reducing them to their primary geometric forms. A really intriguing project is the ever-expanding image (The Picture which Grows), presenting a series of photographs of the well-ordered work space of Tadeusz Sumiński. The trick behind this project is that in documenting the space, Grospierre takes another photograph which includes the earlier photograph and so on, and so on, ad infinitum, creating in effect, a remarkable impressionist medley of images and colours contained within the original space.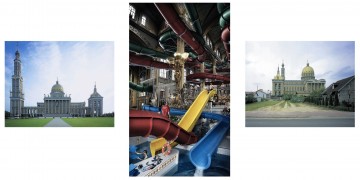 From the series Afterlife of the Buildings:
Lichen Basilica by Nicolas Grospierre,
and Lichen Water Park by Kobas Laksa,
as part of the After Life of Building project (2008)
His most recent project centres around the bank vault. The current show at the BWA Warszawa Gallery welcomes viewers into a virtual bank vault filled with photographs of real-life vaults rearranged according to Grospierre's own fancy. It is both an insight into the aesthetics of the way vaults and deposit boxes are built and ordered, but it simultaneously questions the disorder governing world banks and the demise of the global economy. In effect, these vaults, too, are quite empty.
This is not all, however, as Grospierre's work has filled up not one, not two, not three, but four exhibitions in Warsaw this season. After the solo show Bank, his works are part of several group shows: "Something which is to Come. Architecture of the 21st Century" at the National Library – a photography series of buildings through the lens of several photographers, Enklawa at the Centre for Contemporary Art at Ujazdowski Castle – an artistic insight into the physical terrain and the metaphysical status of the borderlands of Poland and Lithuania – and, finally, Skontrum, Grospierre's own personal catalogue of the sculpture archives of the National Museum.
He has recently been nominated for the Polityka Passport Awards. Chances are that once the votes are in, 2012 is truly set to be his year.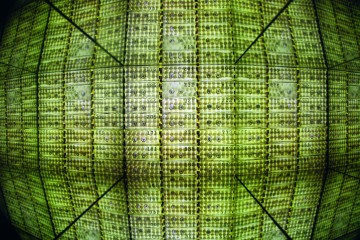 The Bank, 2008-2011, coutresy of BWA Warszawa
QUOTES:
"I have this feeling that art is there for people to dream, not have nightmares."
"I have a passion for numbers and organising, classification. The Bank in BWA Warsaw is, if you haven't seen it, a fake vault, with pictures of approx. 2500 safe deposit boxes. However, these safe deposit boxes are organised according to my own preference, and not according to the normal way that it is usually done. Normally, a bank vault has all its doors placed with growing numbers, from 1 to... In my vault, all the numbers have been mixed up, but there is a certain order. Indeed, the number form a secret message, hidden, that the viewer is invited to decipher. In Typologia (at Królikarnia), I photographed approx. 1500 statues belonging to the National Museum collection, and then classified them according to my own criteria. Some are obvious, some less. Some are serious, some more playful. But I need to stress that these two works were not created with the purpose of being shown simultaneously! It is just by chance that they were shown at the same time. And of course the topics of both works are very distant."
"The buildings in the Za Żelazną Bramą neighbourhood (Warsaw – ed. ) are really the only truly massive objects around, even more massive than the new skyscrapers being built nearby on al. Jana Pawła II. It's fascinating how they supposedly are identical, but it is only when I photograph them and make a big print that I can appreciate the details that make them all different."
KEYWORDS: architecture, geometry, photography, after-life of buildings, banks, apartment blocks, milk bars
EXTERNAL:
www.grospierre.art.pl
www.facebook.com
vimeo.com
www.bwawarszawa.pl
www.culture.pl
www.csw.art.pl
WHY ARE YOU HERE:
I like games, based on what one can see in my works, and that I invite the viewers to participate in. One can appreciate the visual aspect of the work (or not!), but can also be amused, tickled, or irritated by the game that I propose.