Agata Bogacka (born 1976) – painter and photographer, affiliated with the Raster and Karowa galleries. Agata Bogacka graduated from the Academy of Fine Arts in Warsaw in 2001. Two years later she had her first major exhibition – I'm Bleeding at the Centre for Contemporary Art (CCA) at Ujazdowski Castle in Warsaw. These first paintings demonstrated the young artist's self-aware approach, executed in a simple, graphic style in pastel tones and crisp lines. Bogacka's early style is reminiscent of that of painter Maciej Maciejowski, but hers is defined by a finer line and a subtler sense of irony and humour. Later she graduated to a larger canvas, bolder, rounder lines and increasingly abstract figures. The themes in her painting centre around femininity, sexuality, familiarity and a domestic sort of eroticism that is at once intimate and starkly impersonal. These works document her life as a young woman, a member of an artsy bohemian crowd that treads the line between Dionysian exploits and somber introspection.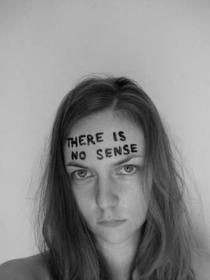 Agata Bogacka,
courtesy of Platan Gallery
Bogacka's paintings invite the viewer to delve deeper into the narrative, to formulate an opinion about the subject and the situation depicted, to create a story behind a seemingly abstract composition of people and spaces. The stark lines and lack of depth within the works create an aura of loneliness and seclusion which make a stark statement about the relationships between the subjects depicted on the canvas – and even the subject's relationship with his or her own self. Over the years, she has created an authentic, albeit humorous, chronicle of everyday life in the big city, full of reflections on how the city impacts our personalities, our dealings with others and one's own self esteem.
The works she presented as part of the group show of young painterly talents –Indeed, the young ones are realists – held at CCA later that year pushed forward an ambitious agenda with regard to voyeurism and the emotions inspired by diverse aspects of the voyeuristic gaze. These enigmatic works are capable of locking the viewer into the intricate chain of voyeur and subject.
Agata Bogacka's latest show is on at the Zachęta National Gallery of Art in Warsaw between 13 August and 9 October. Diaries presents a new stage in the artist's oeuvre, with paintings inspired in major part by family history that has been recalled or discovered anew. Her grandmother's diaries form the foundation of one piece that revives the life of a young woman in the time of World War II. The series draws from original sources, memories and maps – creating a personal history that is ultimately quite abstract – these works are not as compelling as her earlier works as they don't share a universality that inspired a greater degree of identification on the part of the viewer. The artist's aim was to launch a broader reflection on the theme of memory and examine the distortions that result as memories evolve through the years.
WHO'S WHO AND WHY?
In this section we introduce Polish artists, places, and new phenomena. We always ask the person or the place's representative the following question: WHY ARE YOU HERE? How they answer it is completely up to them. Time for Agata Bogacka.
QUOTES:
"This are not documentary images – they don't represent events, only mental states. I'm coming closer and closer to the surrealist tradition."
"I paint my life. Those with whom I'm linked through common experiences. Sometimes those whom I envy for some reason, or someone who I'd like to keep nearby. Painting is therapy for me or a form of keeping a diary. I keep a painterly diary of mental states. But I think I also tell a sort of universal story."
"I'm interested in showing real, unmasked psyches – physical nudity is a supplement to such a portrait."
"I'm interested in the moment of leaving home, unexpectedly, when one have but a few minutes – or not even – to pack and escape. To go forward, drive, whatever. To move. In a particular direction, or not, chaotically. In, often after years, the point comes when one can stop, but (this moment) is impossible to foresee. I transferred this journey onto the canvas. I think that because of what seemed monstrous, burdensome, chaotic within it has taken on a new sense."
KEYWORDS: painting, intimacy, psyche, nudity, self-exposure
EXTERNAL:
www.raster.art.pl/gallery/artists/bogacka/bogacka.htm
www.artbiznes.pl/jsp/artbiznes/artysci.jsp?Typ=detal&IdArtysty=103284
www.artfacts.net/en/artist/agata-bogacka-36175/profile.html
www.zacheta.art.pl/en/article/view/429/agata-bogacka-diaries
WHY ARE YOU HERE?
I've never asked myself that question and I really can't think of an answer.