Mikołaj Długosz (born 1975) – photographer, designer, graduate of the Polish National Film School in Łódź. He makes a living as a photographer for illustrated magazines, yet we focus on exhibitions associated with his artistic activity. He is the author of an album titled Real Foto, which consists of photos found on Allegro, the Polish auction website, selected by himself. Initially, these images had a purely practical purpose: to sell the product. In the album though, the same photos become something more. Much more. Author of the album Such nice weather, such a pity we must go (Pogoda ładna, aż żal wyjeżdżać) – a collection of Polish postcards from the 70s and 80s.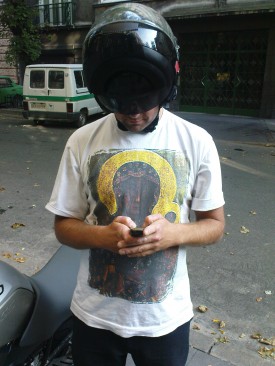 Mikołaj DługoszOne of his recent pieces is a series of mugs designed with references to the type of crockery designed by co-ops in the People's Republic of Poland. They were available at an art yard sale at Centrum Cybernetyki in Warsaw last December, and then they quickly disappeared. Luckily, there's a second batch, also available online.
Visit Długosz's new exhibition 1994 in Galeria M2 at Oleandrów 6 street in Warsaw. It's a meditation over the foundations of modern Polish consumption culture. Długosz presents images from the times defined by the turbo-capitalistic acceleration of the Balcerowicz Plan, dreams of products and consumption, things available for half price and mass production in supermarkets. The photos shown at the exhibition are pack shots made by Długosz in 1994 for advertising purposes.
The exhibition runs through July 7th.
QUOTES:
"Photography, as art, is dead. The truth is, it's a purely utilitarian art at the moment. We use it to make magazine covers, illustrate articles, to make it nice and sweet. We use it as decoration, but there's nothing new in photography at all. "
"I love the small-town atmosphere. I could sit on Allegro for hours. I stare, I follow every detail, I zoom in. These photos quite often have stunning composition, completely by accident. Their authors weren't thinking of capturing a decent shot, they just wanted to display the product. They're clumsy, photographically 'incorrect', but so authentic."
KEYWORDS: photography, applied arts, design, real
EXTERNAL:
www.mikolajdlugosz.com
WHY ARE YOU HERE?
I'm here, because I was born here. It's my place, and there's no reason for me to change that.