How was your Easter?
Did you cook, bake, clean, eat, rest, play, talk, laze about?
Or did you sneak into your work inbox, just to prevent the world from falling?
I ate. I went for a walk. Two even. The spring is irresistible. I can't help myself from making attentive analysis of those leafs saturating with density and colour. How about you? Aren't you just hypnotised?
This is the time, when the nature vs. culture dilemma is easy to puzzle out.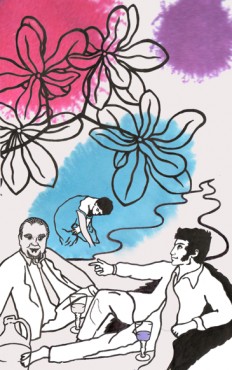 cover by Maciej BoenischNaturally, the minute we have sorted this problem out, we can reach for a book, determine which film to see, and when is the best time to approach a gallery. Hopefully Biweekly can be of help. In this issue we talk a lot. With Jan Tomasz Gross and Irena Grudzińska-Gross about Golden Harvest, still steering emotions in Poland. With Marcin Wrona, who recently won the Polish Feature Film Competition at Off Plus Camera 2011. With Grzegorz Kowalski and Jan Fabre, as a part of the European Culture Congress set, since the Congress is coming. And we write about talking – provoked by Marek Lechki's Erratum.
We listen to Julia Fiedorczuk's poems.
And there is also our small talk: Pen Pals.
Perfect content for the first days of May.
Biweekly#18. Editor: Agnieszka Słodownik. Cover by Maciej Boenisch. Published 29 April 2011 at 16:59.