When I lived in Nepal, I quickly ran out of books to read in Polish. It might have had something to do with the fact that I had only brought one with me. An acquaintance whom I had befriended in situ recommended an English bookstore in Kathmandu, and that was all I needed. They were well stocked with everything from Kurt Vonnegut to Kafka, and I devoured their tasty volumes one after another. Yet after a while, a certain dissatisfaction became apparent, and I began to long for Polish literature. Having no access to the language, I asked the owner of the store whether he had any Polish authors. Once again, he did not let me down. He sold me a paperback copy of The Street of Crocodiles by Bruno Schulz, published by Penguin Books in 1987. Yellowed pages. Slightly dog-eared. Edited by Philip Roth. Incidentally, the series was called "Writers from the Other Europe", a title that strikes me as rather strange now that I've read James Hopkin's column in the current issue.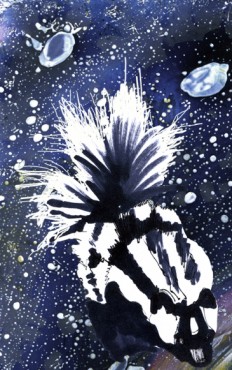 Cover by Michał SzuszkiewiczI had already read The Street of Crocodiles back in my teenage year. It was obligatory reading in elementary school, if I remember correctly. Celina Wieniewska, the translator of the book, managed to transform one language into another without the ambience going astray. The boyhood of Bruno Schulz, a merger of the real with the imaginary, was just as enthralling as in it had been in my school days.
"The kitchen window was open onto the black night, saturated with dreams and complications," reads one of many enchanting sentences I have underlined with my pencil.
To all the translators, who give access to beauty.
Biweekly#17. Editor: Agnieszka Słodownik. Cover by Michał Szuszkiewicz. Published 16 April, 2011 at 12:40.