During the German occupation of Poland, Has studied in Kraków at the Szkoła Handlowa (School of Commerce), and later – until it was disbanded in 1943 – at the Szkoła Przemysłu Artystycznego (School of the Art Industry), which was in fact an underground embodiment of the Academy of Fine Arts. When the war ended, he went on to study at the Academy of Fine Arts in Krakow. In 1946 he also completed a one-year course in film. That same year he began producing educational and documentary films at the Wytwórnia Filmów Dokumentalnych (Documentary Film Studio) in Warsaw, and in the 1950s moved on to the Wytwórnia Filmów Oświatowych (Educational Film Studio) in Łódź. In 1947 he debuted with a medium length feature titled Harmony [Harmonia] and in 1957 began making full-length feature films. In 1974 Has became a lecturer in the directing department of the Łódź Film School. From 1987-1989 he was artistic director of the Rondo Film Studio and a member of the Komitet Kinematografii (State Cinema Committee).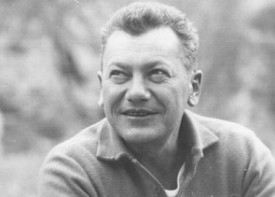 In 1989-1990 he served as dean of the directing department at the State Higher School of Film, Television and Theatre in Łódź. In 1990 he became the school's provost and remained in this position for six years. He was the managing director and chief professional advisor at the school-affiliated Indeks Studio. In 1999 he received the Polska Nagroda Filmowa (Polish Film Award) for Lifetime Achievement, while at the 8. Miedzynarodowy Festiwal Sztuki Autorów Zdjęć Filmowych Camerimage / 8th Camerimage International Festival of the Art of Cinematography in Łódź in the year 2000 he received an award for exceptional visual sensitivity. That same year the State Higher School of Film, Television and Theatre in Łódź bestowed an honorary doctorate on the filmmaker.
Has made himself known as an artist of great individuality, one who avoided political or commercial tones in his art. He was a creator apart, if not to say an alienated artist. He produced his most important films at the height of the famed Polish School, however, his films were stylistically different, from those of this current, and manifested a unique poetic that was all Has's own.
FILMOGRAPHY
Documentaries and educational films
1947 Ulica Brzozowa / Birch Street (director and writer)
1949 Parowóz P.7-47 / Steam Locomotive P.7-47 (director)
1950 Moje Miasto / My City (director)
1950 Pierwszy plon / First Harvest (director)
1951 Mechanizacja robót ziemnych / Mechanization of Earthwork (director)
1951 Scentralizowana kontrola przebiegu produkcji / Centralized Control of Production Processes (director)
1952 Harcerze na złocie / Scouts at a Meeting (director)
1952 Karmik Jankowy / Janek's Feeding Trough (director)
1952 Zielarze z Kamiennej Doliny / Herbalists from Stone Valley (director)
1955 Nasz zespól / Our Ensemble (director)
NEW HORIZONS Studio
Starting from this year the ERA New Horizons Festival introduces a new element to its programme – the NEW HORIZONS Studio is a workshop for young film professionals. The first edition of the NEW HORIZONS Studio will take place 26-29th July 2010.
Feature films
1947 Harmonia / Harmony (medium length, undistributed)
1957 Pętla / The Noose (screenplay: Marek Hłasko, Wojciech Jerzy Has)
1958 Pożegnania / Farewells (screenplay by Stanisław Dygat and Wojciech Jerzy Has)
1959 Wspólny pokój / Roomers
1960 Rozstanie / Partings (screenplay by Jadwiga Żylinska based on her own short story)
1961 Złoto / Gold Dreams
1962 Jak być kochaną / How To Be Loved (screenplay by Kazimierz Brandys based on his own short story)
1964 Rękopis znaleziony w Saragossie / The Saragossa Manuscript (screenplay by Tadeusz Kwiatkowski based on a novel by Jan Potocki)
1966 Szyfry / The Codes (screenplay by Andrzej Kijowski based on his own short story)
1968 Lalka / The Doll (screenplay by Wojciech Jerzy Has based on the novel by Bolesław Prus)
1973 Sanatorium Pod Klepsydrą / The Hourglass Sanatorium (screenplay adapted from the prose works of Bruno Schulz by Wojciech Jerzy Has)
1982 Nieciekawa historia / An Uneventful Story (screenplay by Wojciech Jerzy Has based on a short story by Anton Chekhov)
1984 Pismak / Write and Fight (screenplay by Władysław Terlecki based on his own novel)
1985 Osobisty pamiętnik grzesznika... przez niego samego spisany / The Memoirs of a Sinner (screenplay by Wojciech Jerzy Has based on the novel by James Hogg)
1988 Niezwykła podróż Baltazara Kobera / The Tribulations of Balthazar Kober (screenplay by Wojciech Jerzy Has based on the novel by Frederick Tristan)
This content was originally published on the Era New Horizons website.