A sweltering summer afternoon. Picturesquely situated island. A bunch of elegant and very refined people. Beautiful ladies and handsome gentlemen dressed in stylish costumes from the 30s. A criminal intrigue masterly designed by Agatha Christie will begin when guests find in their rooms a strange nursery rhyme: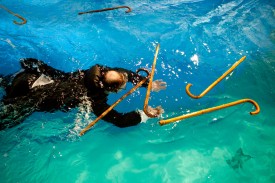 And Then There Were None,
photo fotografowie.comTen little Indian boys went out to dine
One choked his little self and then there were nine.
Nine little Indian boys sat up very late
One overslept himself and then there were eight...
After three days on the island there will be none. The question is: who killed?
Will the perpetrator be judged and punished?
The premiere on 2 July in Teatr Dramatyczny.
Biweekly#22. Editor: Agnieszka Słodownik. Cover by Enenek. Published 25 June, 2011 at 23:45.