Between 1 July and 31 December 2011, Poland will preside over the works of the Council of the EU. The Cultural Programme of the Inauguration of Presidency, an all‑day musical performance on 1 July, 2011, took place on four stages set up especially for this event, each dedicated to a different music genre. The programme of the Inauguration also comprised of a premiere performance of a 50‑minute piece by Paweł Mykietyn, Symphony No 3, specially composed for the Inauguration of the Polish Presidency of the EU Council.
Third Ear – experimental/alternative stage, Powiśle Power Plant and Copernicus Science Centre

The industrial spaces of the former power station on the banks of the Vistula and the modern Science Centre hosted performances of electronic music, improvised music, alternative, post-rock, and jazz.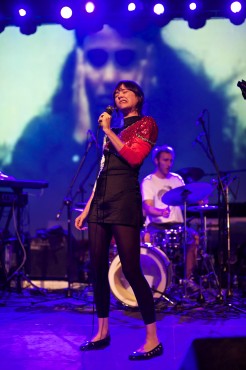 Paris Tetris, photo Miłosz PolochThe defunct Powiśle Power Plant and the Copernicus Science Centre hosted an evening of genre-defying musical projects and experiments.
The evening started off at the Copernicus Science Centre with the improvised music of Fred Frith.
The main stage was located in one of the halls of the renovated Powiśle Power Plant. The concert started with performances by Polish bands: Paris Tetris, accompanied by Eddie Stevens, their coproducent, famous keyboardist and composer arranging with Moloko group and Rosin Murphy.
The evening was closed with a performance by The EX, one of the most important underground bands in Europe, accompanied this time by an unlikely crew: the outstanding saxophone and clarinet player Ken Vandermark (USA), New York turntablist and experimentalist Dj Rupture, and a trio of Ethiopian troubadours, the Ililta Band.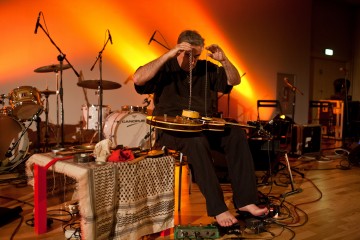 Fred Firth, photo Michał Lapecki
The world of experimental dance music was represented by the German duet Mouse on Mars, a timeless inspiration for scores of musicians, producers and composers, and by Pantha du Prince – a Berlin-based producer and composer, the author of one of the best electronic records of 2010 and an undoubted hero of last year's European alternative music festivals. The concert marked Pantha du Prince's first performance in Warsaw.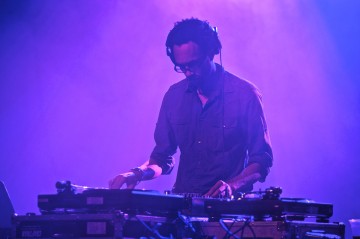 photo Miłosz Poloch
The main stage performances featured audio and visual projects in the alleyways and side spaces of the Powiśle industrial complex. Robert Piotrowicz, a musician, publisher, and founder of the Musica Genera Festival, played a series of conceptual sets in the old control room. Discord Records artists from the city of Wrocław prepared audio and visual installations, including video mapping projected onto the architecture of the old power plant. There was also a performance by Konrad Smoleński (associated with the Pink Punk movement) and the group Fluidacje.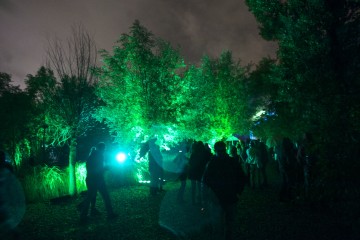 photo Miłosz Poloch
The outside stage, located in the catering and recreation zone, hosted DJs associated with the Soul Service collective and the ongoing Warsoul Sessions project.
Curator: Michał Borkiewicz