Between 1 July and 31 December 2011, Poland will preside over the works of the Council of the EU. The Cultural Programme of the Inauguration of Presidency, an all‑day musical performance on 1 July, 2011, took place on four stages set up especially for this event, each dedicated to a different music genre. The programme of the Inauguration also comprised of a premiere performance of a 50‑minute piece by Paweł Mykietyn, Symphony No 3, specially composed for the Inauguration of the Polish Presidency of the EU Council.
EUgenius – children's stage, Warsaw's Mariensztat Square

At high noon, Warsaw's Mariensztat became a creative activity space for kids, who had an opportunity to let their imaginations soar while exploring the mysteries of the human senses.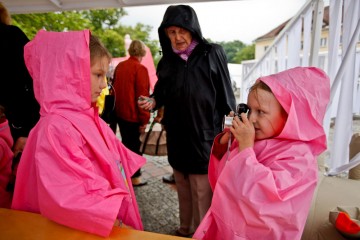 photo Marcin Oliva Soto
The square hosted a series of installations designed by Polish artists, each forming a piece of the face of a character named EUGENIUSZ. Children were encouraged to climb into (and onto) his NOSE, tug on his HAIR, twirl his MUSTACHE, apply makeup to his LIPS, look him straight in the EYE, and — following a quick rest break in his enormous HANDS — drop by his EAR for some tunes.
The installations were designed to help children explore the mysteries of the five senses. They could have started by jumping into the HAIR (created by: Beza Projekt), which they could have combed or tussled.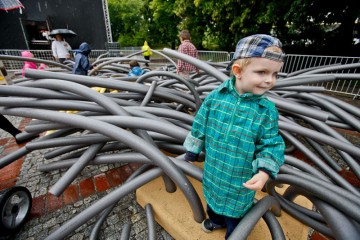 photo Marcin Oliva Soto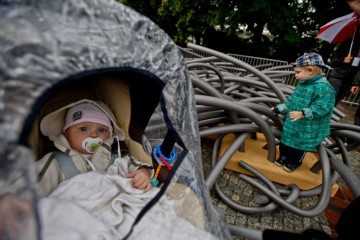 photo Marcin Oliva Soto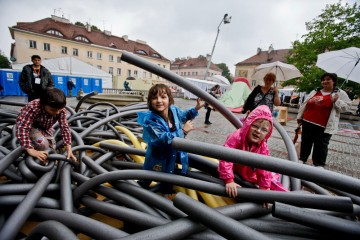 photo Marcin Oliva Soto
Of course, some of the kids wanted to head straight for the MOUTH, made out of scrapped cars (Adam Plackowski) to paint whatever their limitless imaginations come up with.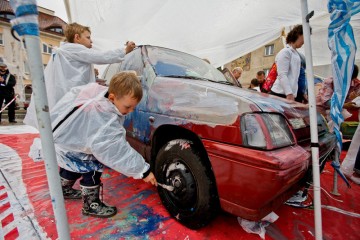 photo Marcin Oliva Soto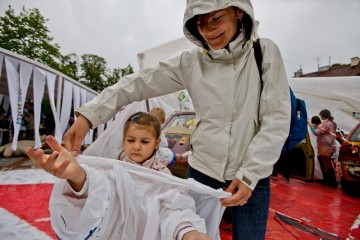 photo Marcin Oliva Soto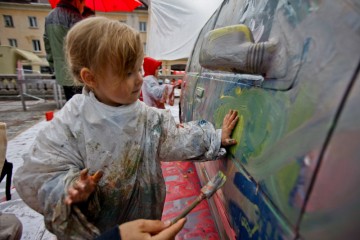 photo Marcin Oliva Soto
Those who found their way into the middle of the square were sure to take a peek at the NOSE (Mothers of Design), where they heard some rather surprising sounds (Marcin Emiter Dymiter).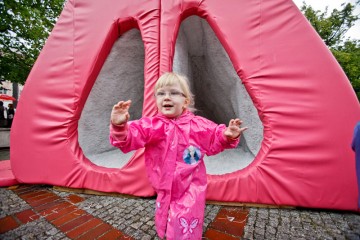 photo Marcin Oliva Soto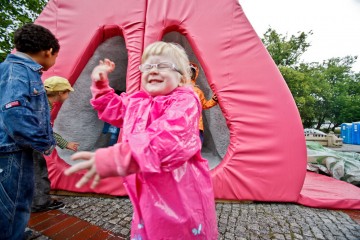 photo Marcin Oliva Soto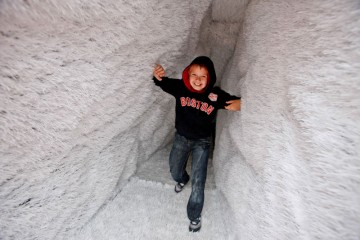 photo Marcin Oliva Soto
Adventure-seekers were drawn to the EYES, which transformed into a large-format board game resembling a comic book (Mothers of Design). Kids who come poking around in the MUSTACHE (Marek Happach) had a chance to hear the story of the Biggest Museum in the Galaxy and model tiny sculptures out of Play-Doh (concept: Sebastian Cichocki). Unless, of course, they choose to take part in Lomography workshops (Rockin'Kids) or a music-theatre happening (Drekoty). Enjoying art in such an uncommon fashion was fun for everyone.
Other attractions included culinary games (Justyna Marczewska), a chance to kick back in huge sofas shaped like HANDS (Mysikrólik), and trips into the EAR, where everyone was encouraged to dance. (Kajetan Luteracki).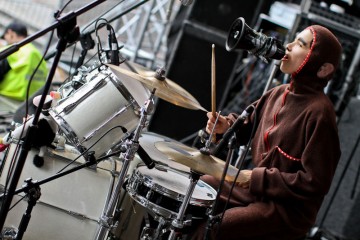 photo Marcin Oliva Soto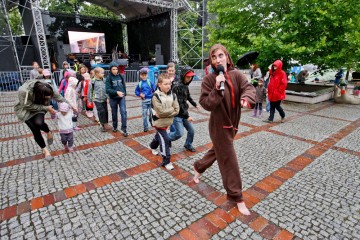 photo Marcin Oliva Soto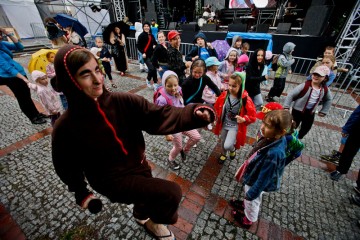 photo Marcin Oliva Soto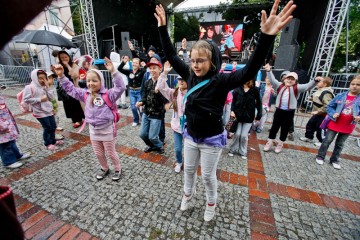 photo Marcin Oliva Soto
The EAR featured several musical performances. The Small Instruments will build one-of-kind instruments just for EUGENIUSZ.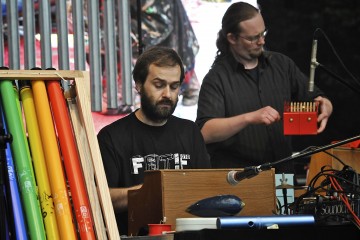 Small Instruments, photo Miłosz Poloch
There was an appearance by Czech group DVA, who describe themselves as "non-existent radio pop". The band Showman performed along with the Lumikulu children's choir, and later with a group of six young musicians and Bartek Bunio, as a part of the Efterklang – Efterkids project.
Finally, Asia Mina and her 50-piece wind orchestra performed songs from her album "RUN OUT!", which premiered the very same day.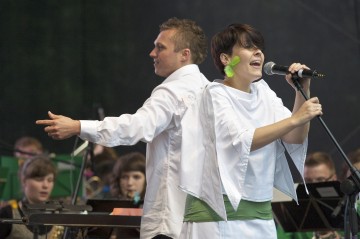 Asi Mina, photo Miłosz Poloch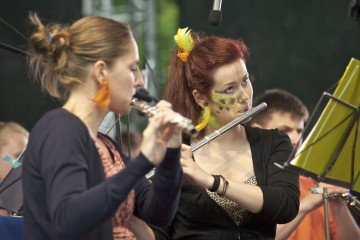 Asi Mina, photo Miłosz Poloch
Curators: Asia Bonisławska, Iza Rutkowska