Culture 2.0 Conference (27-29 October, 2011) is devoted to culture, new technology, and the overlap between the two. Each edition of the event is devoted to a different aspect of the topic. The main theme of this year's event will be media education: how it works and how it can be implemented.
Participants will discover innovative ways to use media education in the classroom and explore the challenges that lay ahead. Culture 2.0: Media Aware is held as part of the celebrations of the World Day for Audiovisual Heritage.
Accompanying to the Conference is the Enter Level 2.0 exhibition.
What's coming this year? There's a selection for you.
C.A.P.E. Brussels
CREW
The Brussels-based performance group CREW enables audiences to visit other worlds thanks to technology known as augmented reality. C.A.P.E., short for Computer Automatic Personal Environment, allows users to visit environments separated from their own by culture, distance, and time. This feat of teleportation is made possible thanks to special eyewear, headphones, and a computer worn on the user's back.
28-29.10.2011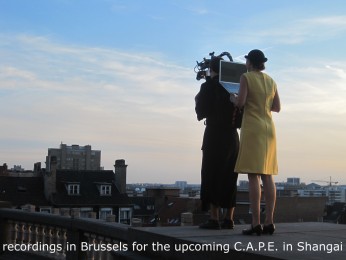 CREW performance
EXPERIMENTAL STUDIO: REACTIVATION
During the Culture 2.0 conference, students of Warsaw's University of Music will start classes with Paweł Cyrta and Dorota Błaszczak as part of the Interscholastic Multimedia Specialisation. The name EXPERIMENTAL STUDIO: REACTIVATION is intended more as a postulate rather than a reflection of the significance of the events held at Level 2.0. It w3ould be imposible to recreate the original phenomenon. The world-famous Polish Radio Experimental Studio, despite having produced such notable work as the series curated by Michał Mendyk and Michał Libera (will be available in the store during the Conference), is hardly a household name in Poland. From today's perspective, the significance of the Experimental Studio lies in its mission — a mission that IMS students will attempt to reactivate.
27-29.10.201

THE WORKSHOP OF AN EXPERIMENTAL MUSIC COMPOSER
Footage recorded in Polish Radio while documenting the making of 15 stron świata (The 15 Corners of the Globe) about Eugeniusz Rudnik, a legendary member of the Polish Radio Experimental Studio, which ran from 1957 to 2004. Rudnik is a sound engineer, composer, and winner of numerous awards for his collages and sound effects for radio shows, film, and theatre. All of his pieces are made by splicing together bits of tape with scissors and glue, a technique that foreshadowed today's remix culture.
27–29.10.2011

NON-VIDEO GAME
panGenerator (Piotr Barszczewski, Krzysztof Cybulski, Krzysztof Goliński, Jakub Koźniewski), text: Michał Danielewicz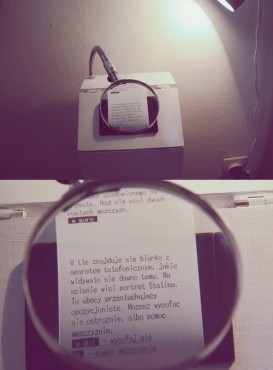 photo A. GórnickaA non-video game consisting of an 8-bit Nintendo set and a thermal printer that premiered at the Reading Lab at the European Culture Congress in Wrocław. The plot of the first version was based on a novel by Łukasz Orbitowski, Only Max. This time, we dug deep into classic Polish literature (and film) and came up with Jerzy Andrzejewski's Ashes and Diamond. The player impersonates Maciek Chełmicki, the main character. He can die on the ash heap of history, or revolt… The length of the printout offers a tangible record of the decisions the player makes along the way. The game features numerous narrative branches that require several run-throughs to fully explore.
27–29.10.2011

DODECAUDION
panGenerator (Piotr Barszczewski, Krzysztof Cybulski, Krzysztof Goliński, Jakub Koźniewski), manufacturer: HEDOCO
A spatial audiovisual controller. Dodecaudion — a flagship project by panGenerator, manufactured by HEDOCO — is an implementation of the group's intermedia and interdisciplinary concepts and activities. The key idea behind the project was to create a new musical interface that would make a full range of expression available to performers of electronic music. Operated by moving one's hands and body, the Dodecaudion offers an alternative to twiddling knobs and hiding behind a laptop screen. All of this is made possible thanks to open source platforms such as the Arduino and Processing. Dodecaudion will touch down at Level 2.0 on Saturday, 29 October, following the concert at the metal shop. To find out more about the inner workings of the instrument, visit Hyde Park on Thursday.
27 October: Dodecaudion @ Hyde Park
28 October, 20:00: Concert
29 October: Presentation at Level 2.0
WHAT'S THE YOUTH OF TODAY LIKE?
Kinga Gawronek, Nikodem Janicki, Karolina Jung, Karolina Mikulska, Łukasz Nejman, Urszula Pelc, Katarzyna Piątkowska, Michał Sapieha, Olga Tykwińska, Joanna Taracha, Karol Węgrzynowski, Agata Wierzbowska
This interactive installation, created with Augmented Reality, was inspired by Marcel Łoziński's film Workshop Exercises. The students offer their own answers to a question posed in the movie: "What's the youth of today like?".
Studio: Multimedia and Image Processing
Anna Klimczak, Ph.D., Marcin Wichrowski, M.Sc.
Faculty of New Media Art
Polish-Japanese Institute of Information Technology
27–29.10.2011

THE WALL – INTERNET RECYCLING
Huncwot. Łukasz Knasiecki, Arek Romański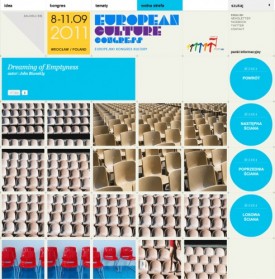 A project created as part of the website for the European Culture Congress (http://culturecongress.eu/wall), held in Wrocław in September as the central point of the National Cultural Programme of Poland's EU Presidency.
The Wall is an application that allows users to create collages of images found on other websites. It's also a way to link to those sites and build new meanings, a means of self-presentation and expression, and simply a way to share links to your favourite online content.
27–29.10.2011

VHS TAPE COLLECTION DRIVE
Tomasz Dubiel, Maciej Diduszko
A collection drive for 90s VHS tapes. The purpose of the drive is to digitise personal video archives. Bring your old VHS tapes and they'll be returned to you along with a digital copy. Selected pieces of video footage will be edited into a documentary film. It will examine evolving of reality's perception during the period of transformation.
27–29.10.2011

SOUND POSTCARDS
Rui Silva, Mat Schulz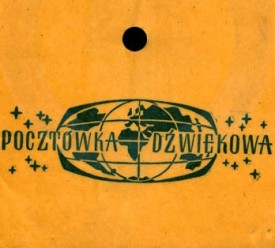 During the 60s and 70s in Poland, at a time when vinyl records were hard to come by, sound postcards became extremely popular. This exhibition, shown originally at UNSOUND Festival, not only reveals the forgotten artistic merit of these cards, each with a design or photograph, but allows the public to listen to their songs transferred into mp3 format, drawing attention to the way sound recording technology has changed over time.
27–29.10.2011

THE MASS BIO0RNAMENT
Dotka: Barbara Dzierań, Urszula Kowal, Justyna Zubrycka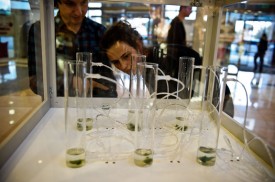 Dotka group (Barbara Dzierań, Urszula Kowal,
Justyna Zubrycka), The Mass Bio0rnament,
Mindware. Technologies of dialogue,
Warsztaty Kultury, Lublin 2011, photo Wojciech PacewiczInteractive bioinstallation whose tissue is formed by contact with the user. Visitors affect its shape directly via touch interface. Touching the panel activates a pulsating motion of nourishment in transparent tubes, which will be delivered to the glass containers with algae. Protista development is visible through the increase in volume and colour change, depending on the frequency of ongoing interaction with people.
This work is a manifestation of Siegfried Kracauer's theory "das Ornament der Masse" (the mass ornament). He analyses the most superficial human actions, as an unconscious emanation of the epoch. These activities – forms detached from their meanings, that he called the mass ornament, shape the culture. (Kracauer, 1927)
The installation shown originally at Mindware. Technologies of Dialogue in Lublin, October 1-7, 2011.
27–29.10.2011
And Biweekly.pl will wait for you on an iPad with a cat to put on your lap while reading. See you at the exhibition.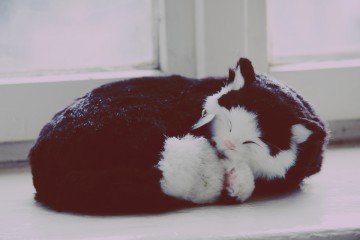 photo A. Górnicka