Slam Sensing Nation Sensation is the idea of a concert/ happening designed on the idea of the "Chinese whispers" game. Marcin Cecko's poem, originally translated and published in the first issue of Biweekly, went through an evolution of translations, from one language to another in the pre-established order: Polish – English – Dutch – Spanish – Hebrew – French – Japanese – Polish.
During the concert each version will be an independent piece.

There are 7 translators, 8 performers, and 9 musicians taking part in the project.
Polish version:    Weronika Lewandowska, Plan.kton
English version:     Sean Pom Palmer and his choir
Dutch version:     Redbad Klijnstra, Jan Duszynski
Spanish version:     Luis Escobedo, Manuel Alban Juarez
Hebrew version:     Roni Lahav, Wojtek Król
French version:     Ben Guillou, Quentin Carenzo
Japanese version:     Natsuri Kitamikado, Marcin Masecki
Polish version:     Sebastian Pawlak, Daniel Pigoński
Creative Commons licence
If it wasn't for the CC licences that translators, and performers have chosen to use for their works, it would be really difficult, close to impossible, to put the Slam to life. Jarosław Lipszyc, head of the Fundacja Nowoczesna Polska [Modern Poland Foundation] and Biweekly's columnist, will give a short introduction to the concert, looking at the event from the copyright point of view.
13.11.2010 (Saturday), 20:00 – Marta Wakuła-Mac: exhibition of prints inspired by translations, Coffee Karma, Plac Zbawiciela 3/5, Warsaw

16.11.2010 (Tuesday), 20:00 – Slam Sensing Nation Sensation concert, 1500m2 do wynajęcia, ul. Solec 18, Warsaw

18.11.2010 (Thursday), 20:00 – Slam Sensing Nation Sensation concert, "Culture 2.0" Conference, National Audiovisual Institute, ul. Wałbrzyska 3/5, Warsaw
Slam Sensing Nation Sensation starts with an exhibition of prints by Marta Wakuła-Mac's inspired by each translation, and a short film introducing the performers. The exhibition will be followed by two concerts.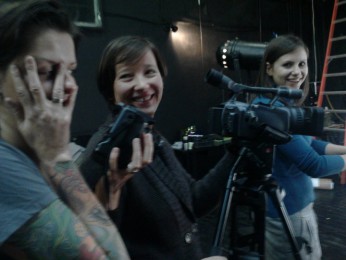 Rehearsal photo by SSNS team
The concert is the main part of the happening in which artists will present the poem in their own language. Each performer works with a different musician, who creates an arrangement for the given translation. Each couple aims at achieving an independent piece, allowing us to observe if and how much the poem changes through different wording or pronunciation. Later, the translations will be confronted with the first original and unpublished version performed by the author himself. The SSNS website might help and even encourage people to exchange thoughts, create their own translations, and help to develop and expand the project.
The project has several dimensions: poetic, musical, linguistic, and anthropological, but can also be just fun for both participants and the audience. Therefore, the aim is to try to explore the phenomenon of choice within these areas, but also to create a creative effect and present it to as many interested people as possible. Additionally, thanks to the international nature of the project, we hope to reach international residents of Warsaw, to propose the future organization of similar events abroad.
Produced by: SENSING NATIONS GROUP
Co-producers: Warsaw-Center City Hall, the National Audiovisual Institute
Patrons: The French Institute in Warsaw, the Embassy of Israel in Warsaw
Media patrons: biweekly.pl, dwutygodnik.com, TVN Warszawa, Emmapak
FREE ENTRANCE